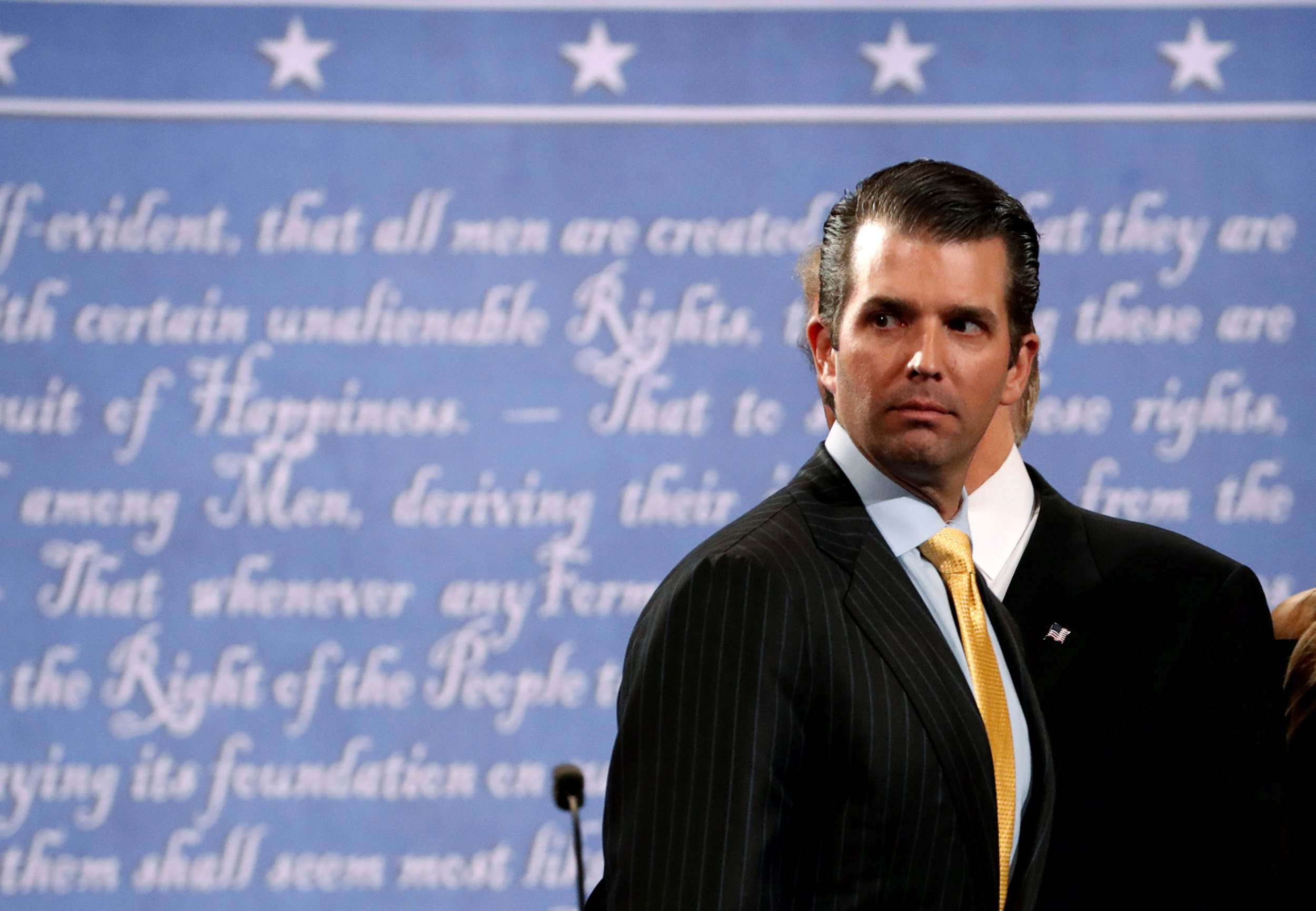 Donald Trump Jr. on Tuesday said the federal criminal investigation into his father's presidential campaign is an example of a "rigged system" with top government officials conspiring to take down the president.
"There is, and there are, people at the highest levels of government that don't want to let America be America," Trump Jr. said at the Turning Point USA Student Action Summit, a meeting of young conservatives, in West Palm Beach, Florida.
Trump Jr. Mocked Obama, Cruz With Giant Cookie
Trump Jr. echoed the infamous accusation his father made last year of a "rigged system" intended to anoint Democrat Hillary Clinton president via supposed voter fraud.
"My father talked about a rigged system throughout the campaign, and people were like, 'Oh, what are you talking about?'" Trump Jr. said. "But it is. And you're seeing it."
Trump's eldest son also cited the recent news that a former member of Mueller's team was kicked off over the summer for sending texts disparaging Trump during the 2016 race. Trump Jr. said that if federal officials did that with former President Barack Obama, there would be a "revolution."
"What do you think would happen?" Trump Jr. asked. "Do you think the media would cover that? Yeah. Do you think it would be brushed under the rug like, Oh, it's nothing. It doesn't mean anything. There'd be revolution in the streets. So I'm glad that this is coming out now, because it is good, because real people have to see this."
Members of President Donald Trump's inner circle and Republican support system have been alleging in recent months that Special Counsel Robert Mueller, who is probing the Trump campaign's possible Russia ties, is running a partisan sideshow meant to discredit the improbable president. Trump himself has often called the probe a "witch hunt." These attacks have come in spite of the fact that Mueller's investigation has so far led to charges against four former Trump campaign associates, including former campaign manager Paul Manafort and former national security adviser Michael Flynn.
The allegations of a so-called "deep state"—a conspiracy theory about a cadre of longtime government officials pulling the levers behind the scenes—has been a long-running talking point for Trump Jr.
"If there was ever confirmation that the Deep State is real, illegal & endangers national security, it's this. Their interests above all else," Trump Jr. tweeted July 7 about leaks coming from the U.S. intelligence community.
Two days after that tweet, The New York Times revealed Trump Jr. had set up a campaign meeting in Trump Tower with a lawyer linked to the Kremlin in an attempt to gain opposition research on Clinton. Trump and his son have repeatedly denied any campaign collusion with Russia.
Republicans and Trump have accused the FBI and Justice Department of failing to investigate Clinton and the Democrats properly while allowing Mueller much latitude and funds to probe the president.
However, Justice informed the head of the House Judiciary Committee, Representative Robert W. Goodlatte, the Republican from Virginia), in November that senior federal prosecutors, reporting directly to the U.S. Attorney General and Deputy Attorney General, would be looking the 2009 Uranium One sale and its ties to Clinton.
The sale of Uranium One to a Russian state-owned atomic energy company happened when Clinton was secretary of state and involved some Clinton Foundation donors, but she was not directly involved in the sale's approval.
Goodlatte has suggested appointing a second special counsel to oversee Mueller's team and has apparently decided to subpoena top FBI and Justice officials for evidence of possible anti-Trump bias.