Trump Team Rejects Georgia Recount Confirming Biden Win, 'Sorry, Media That's Not How It Works'
President Donald Trump's re-election campaign has defiantly rejected the recount in Georgia that has confirmed President-elect Joe Biden's victory in the Peach State.
The Associated Press called Georgia on Thursday for Biden after election officials there released the results of the state's hand ballot recount required by state law.
The recount, which was not in response to any suspected problems with the results or an official recount request, showed most counties had reported no change in their tallies.
There was only a small change in the overall margin between the candidates, which was around 12,000 votes in Biden's favor out of nearly five million counted, handing him 16 Electoral College votes.
Georgia's Secretary of State Brad Raffensperger said in a statement the "historic first state-wide audit reaffirmed that the state's new secure paper ballot voting system accurately counted and reported results."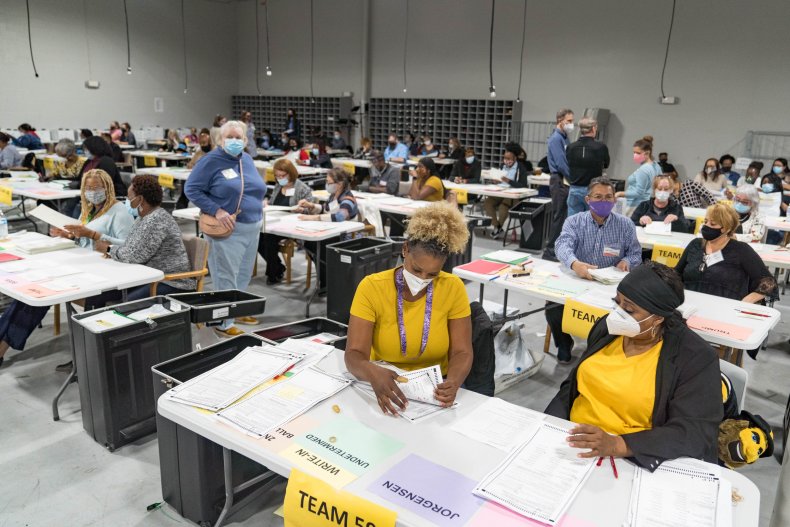 Meanwhile, Ben Adida, Executive Director of VotingWorks said "Georgia's first statewide audit successfully confirmed the winner of the chosen contest and should give voters increased confidence in the results."
However, the Trump campaign's senior legal adviser Jenna Ellis rejected the recount result and promised to "pursue all legal options" insisting that media reports were "falsely reporting" that Biden was the winner in the state.
"Sorry, media, that's not how it works. The State of Georgia has not certified its results and it should not," she said.
"This so-called hand recount went exactly as we expected because Georgia simply recounted all of the illegal ballots that had been included in the total. We continue to demand that Georgia conduct an honest recount, which includes signature matching."
This was referred to by Trump's personal lawyer, Rudy Giuliani during a press conference on Thursday where he said that the recount "will tell us nothing because these fraudulent ballots will just be counted again because they wouldn't provide the signatures to match the ballots." The Trump campaign has provided no evidence that any invalid ballots were accepted.
The state has until 5 p.m. Friday to certify results that the counties have certified and submitted. The Trump campaign will have two business days to request a recount, which it is entitled to do because the margin was within 0.5 percent.
Meanwhile, Democrats are looking to use the recount result as momentum to win the Senate runoffs in January. Jon Ossoff, who is running against Sen. David Perdue, tweeted: "We still need to organize, mobilize and register voters like we've never done it before."
The graphic below from Statista shows the amount of money spent in this century's elections.