Trump Legal Team Says Sidney Powell Had No Formal Role, but Record Shows They Loved Her Involvement
The Trump campaign's sidelining of attorney Sidney Powell comes after she was touted as a team member and had her sentiments amplified by those now downplaying her role.
Powell appeared and spoke at length at a recent Trump campaign press conference where she claimed the president "won by a landslide," a quote shared by the official GOP Twitter account, and insisting evidence—thus far lacking—would bear this claim out.
However, in a statement Sunday, Trump's personal lawyer Rudy Giuliani and Jenna Ellis, a senior legal adviser to the Trump campaign and attorney to the president, distanced themselves from Powell.
"Sidney Powell is practicing law on her own. She is not a member of the Trump Legal Team," they said of the attorney, who previously represented ex-national security adviser Michael Flynn.
"She is also not a lawyer for the president in his personal capacity."
Powell, in a statement shared by Flynn on Parler, said she did not dispute the Trump team's statement.
"I agree with the campaign's statement that I am not part of the campaign's legal team," she said.
"I never signed a retainer agreement or sent the president or the campaign a bill for my expenses or fees. My intent has always been to expose all the fraud I could find and let the chips fall where they may—whether it be upon Republicans or Democrats."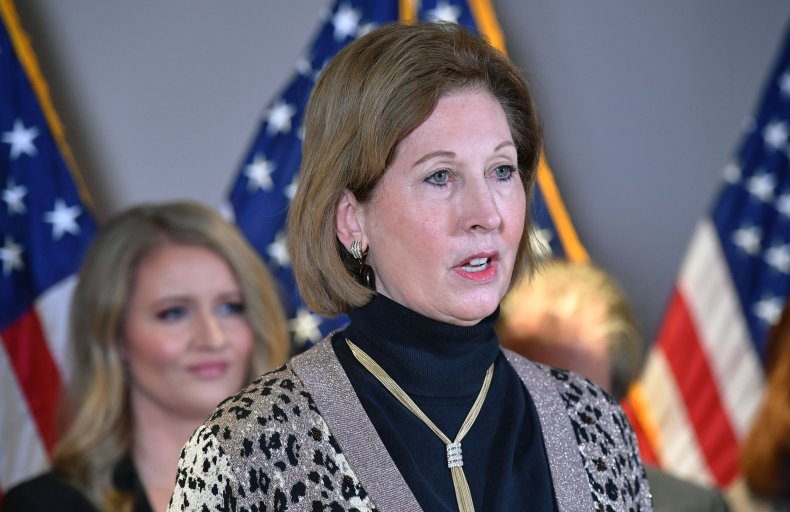 While the campaign has sought to distance itself and the president from her—as Donald Trump and his allies persist with their last-ditch legal bids to try to alter the election outcome—on November 15 the president listed Powell among people he branded a "truly great team," as he spoke of Giuliani spearheading his legal efforts.
"I look forward to Mayor Giuliani spearheading the legal effort to defend OUR RIGHT to FREE and FAIR ELECTIONS! Rudy Giuliani, Joseph diGenova, Victoria Toensing, Sidney Powell, and Jenna Ellis, a truly great team, added to our other wonderful lawyers and representatives," he tweeted.
Trump also shared quotes from Powell, a clip of which was posted by the GOP, with the message: "A Rigged Election!"
Giuliani then retweeted this post from Trump.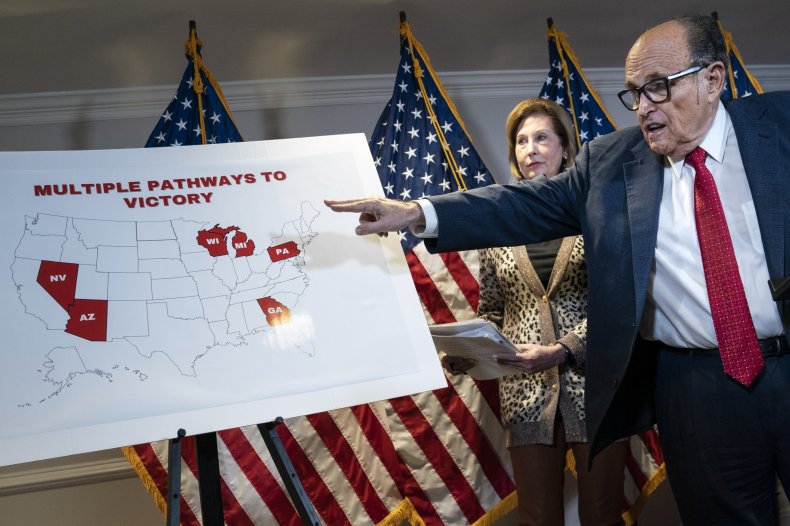 Prior to Sunday's statement, the Trump team had not made efforts to counter reporting, labeling Powell a member of its team while members also boosted her comments.
Ellis, for example, shared a tweet quoting Powell on November 19 and also shared her own post which said: "@RudyGiuliani and @SidneyPowell1 RELEASED THE KRAKEN!"
This came after Powell said she was "going to release the Kraken," in reference to the evidence she believed she could expose regarding fraud and irregularities from tech in the election.
Ellis also tweeted about "the president's national legal team" on November 16 listing Powell in this post.
Boris Epshteyn, a strategic adviser to the Trump campaign, wrote after the November 19 press conference that he had been proud to be a part of the "@realDonaldTrump legal team press conference today!"
He then listed Giuliani, Powell and Ellis, saying they all "knocked it out of the park."
Katrina Pierson, a senior adviser to the Trump 2020 campaign, tweeted #ImWithHer as she shared a video of a section of Powell's November 19 press conference comments.
Newsweek has contacted the Trump campaign and Powell for comment.