Trump Dumps Sidney Powell, Lawyer Who Promised to 'Blow Up' Georgia, as Legal Strategy Unravels
President Donald Trump's legal team distanced themselves from Sidney Powell, a lawyer who threatened to "blow up" Georgia, as the campaign's post-election lawsuits suffered further defeat over the weekend.
Powell told conservative media outlet Newsmax TV on Saturday night that an upcoming campaign lawsuit in Georgia "will be biblical" as a federal judge granted Pennsylvania's request to dismiss Trump's lawsuit alleging voter fraud in the state.
"Georgia's probably going to be the first state I'm gonna blow up," Powell said.
Following the media appearance, the campaign sought to sever her connection to their legal team.
"Sidney Powell is practicing law on her own. She is not a member of the Trump Legal Team. She is also not a lawyer for the President in his personal capacity," Rudy Giuliani, Trump's personal lawyer, and Jenna Ellis, a senior legal adviser to the Trump campaign, said in a joint Sunday statement.
Powell has appeared with Giuliani and members of the campaign's legal team at several press events over the past month, including one last Thursday. In a tweet on November 14, Trump also acknowledged Powell as a member of his team.
"I look forward to Mayor Giuliani spearheading the legal effort to defend OUR RIGHT to FREE and FAIR ELECTIONS! Rudy Giuliani, Joseph diGenova, Victoria Toensing, Sidney Powell, and Jenna Ellis, a truly great team, added to our other wonderful lawyers and representatives!" the president wrote at the time.
Newsweek reached out to the Trump campaign for comment.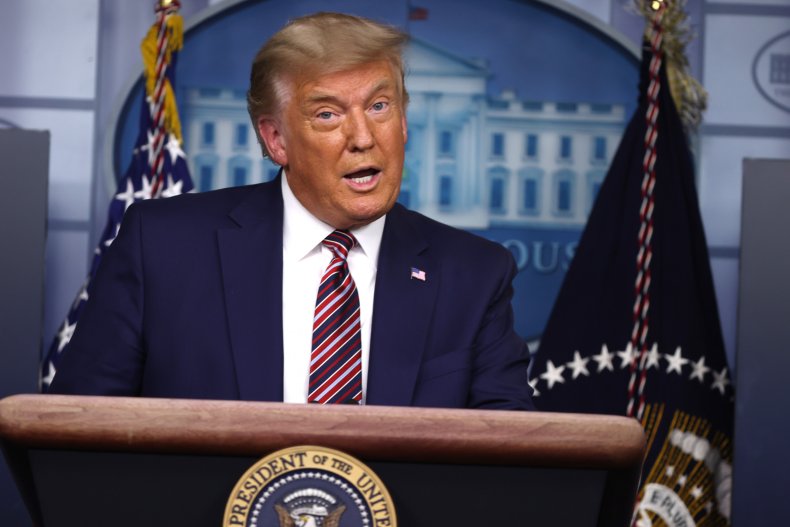 The Trump campaign's remarks came one day after District Judge Matthew W. Brann tossed out Trump's lawsuit alleging that GOP voters were illegally handicapped because counties in Pennsylvania allowed voters to change errors in mail-in ballots.
The decision marks one of the Trump campaign's highest profile defeats in court in the aftermath of Election Day. Other lawsuits filed in Michigan, Georgia, Arizona and Nevada aimed at discrediting election results in areas where Biden has secured a projected win have also been largely unsuccessful so far.
On Sunday, the campaign filed an appeal to Brann's ruling, with intent to delay the state's upcoming certification of election results. Giuliani has promised to carry the case as far as the U.S. Supreme Court.
During her appearance on Newsmax, Powell claimed that Republican Georgia Governor Brain Kemp and Secretary of State Brad Raffensperger were financially compensated to be part of an alleged conspiracy with Dominion Voting Systems.
"They're in on the Dominion scam with their last-minute purchase or reward of a contract to Dominion of $100 million," Powell said, as she called on Georgia law enforcement to probe the matter.
The theories involving Dominion Voting Systems spread after Trump claimed in a tweet that the company "deleted 2.7 million Trump votes nationwide," and that their system switched votes for the president to favor President-elect Joe Biden.
Michael Steel, a spokesperson for the company, dismissed the theories in a Sunday appearance on Fox News' America's News HQ. "This is a nonpartisan American company. It is not physically possible for our machines to switch votes from one candidate to the other," he said. "Let's be very clear, our election system is run by local elected officials and nonpartisan poll watchers."
"There is no way such a massive fraud could have taken place and there are no connections between our company and Venezuela, Germany, Barcelona, Kathmandu, whatever the latest conspiracy theory is," Steel added.