Trump Team Welcomes 'Alternative Facts' in Assault on Media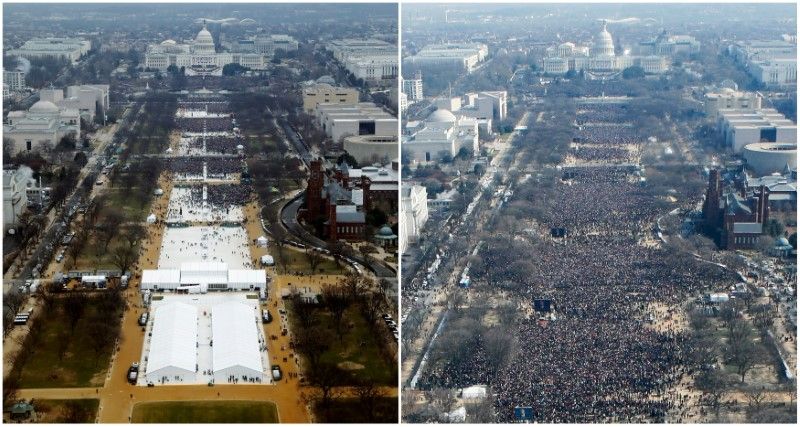 President Donald Trump's long policy agenda may include repealing Obamacare, building a border wall and sparking investment in U.S. jobs, but priority one appears to be denigrating and delegitimizing the media.
RELATED: White House accuses media of lying about crowd size
Trump adviser Kellyanne Conway ushered in the age of "alternative facts" in a highly contentious "Meet the Press" interview Sunday while Chief of Staff Reince Priebus declared virtual war on the press—one day after White House spokesman Sean Spicer upbraided reporters' coverage of the inauguration and Trump himself used a visit to the CIA to repeat his oft-repeated criticisms of the "unfair" media.
Conway repeatedly declined to answer host Chuck Todd's questions on why Spicer used his first briefing Saturday to "essentially litigate a provable falsehood" when he wrongly claimed Trump's inauguration enjoyed the "largest audience ever." In a heated exchange, she threatened to "rethink" her relationship to Todd and defended Spicer's display as an attempt to offer "alternative facts" about crowd size at the inauguration.
"Answer the question of why the president asked the White House press secretary to come out in front of the podium for the first time and utter a falsehood? Why did he do that? It undermines the credibility of the entire White House press office on day one," Todd said.
"Don't be so overly dramatic about it, Chuck," Conway replied. "You're saying it's a falsehood. Sean Spicer, our press secretary, gave alternative facts to that." A gobsmacked Todd was left to reply: "Look, alternative facts are not facts. They're falsehoods."
Crowd size experts, Washington D.C. Metro data and news photographs clearly show that Saturday's Women's March on Washington was much better attended than the Trump inaugural, with an estimated 500,000 in attendance. Photographs also show a much larger crowd assembled for President Obama's 2009 swearing-in compared to the one who listened to Trump's "American carnage" inaugural speech.
Conway also seems to think that unless every inauguration attendee was personally counted, the Trump team can assert whatever it wants—evidence be damned. "I don't think you can prove those numbers one way or the other," Conway said. "There's no way to really quantify crowds. We all know that."
Trump has long set up the media as an adversary and his favorite punching bag when speaking in front of supporters, and his rise coincided with a new spotlight on highly partisan, cheerleading alt-right news outlets. The president even elevated Steve Bannon, the former chairman of Breitbart, perhaps the most prominent example, to an official strategist role. He's called out news organizations and reporters by name and encouraged his supporters not to trust sources outside of outlets such as Breitbart, which a former employee called "Trump's personal Pravda."
Anyone alive within the past year also knows there is no slight so small that isn't deserving of a Trump response, perhaps explaining this weekend's assault on the media.
Repeating Spicer's contention that the media was incorrectly downplaying the response to Trump's inauguration, Priebus said on "Fox News Sunday" that "the point is not the crowd size. The point is the attacks and the attempt to delegitimize this president in one day. And we're not going to sit around and take it.
"We're going to fight back tooth and nail every day and twice on Sunday," Priebus said.
Trump took that fight to CIA headquarters Saturday, where he attempted to bury a long-running feud sparked by intelligence officials' assessment that Russia indeed interfered with the election to help elect Trump. But he also used the occasion to make the absurd charge that the "dishonest media" had engineered the appearance of a standoff, despite his many critical comments about the intelligence community in recent months. "I have a running war with the media. They are among the most dishonest people on earth," Trump said. "They made it sound like I had a feud with the intelligence people." He also took his own shots at the media for reporting on the inauguration crowd size.
Senator Chuck Schumer said on ABC's "This Week" that, "President Trump ought to realize he's not campaigning anymore. He's president." Thus far, there's little indication Trump sees a difference between the campaign trail and the White House.
"Instead of talking about how many people showed up at his inauguration, he ought to be talking about how many people are going to stay in the middle class and move into the middle class," Schumer said.
Former intelligence officials also were sharply critical of Trump's campaign-style performance at the CIA. Ex-agency director John Brennan was "deeply saddened and angered at Donald Trump's despicable display of self-aggrandizement in front of CIA's Memorial Wall of Agency heroes. Trump should be ashamed of himself," said former deputy chief of staff Nick Shapiro, in a statement provided to Newsweek.
Reuters contributed to this report.