Trump Terminating NAFTA Could Spell 'Chaos' for Congress, Former U.S. Ambassador to Canada Warns
After more than a year of tense negotiations, Canada has agreed to join in a trade deal with the U.S. and Mexico, one that is set to replace the 25-year-old North American Free Trade Agreement (NAFTA).
The deal was struck after President Donald Trump repeatedly threatened to exclude Canada, one of the U.S.'s biggest trading partners, if the country's government did not cooperate with negotiations.
However, former U.S. Ambassador to Canada Bruce Heyman has warned that the president's threat of "terminating" NAFTA could hang over Congress, not Canada.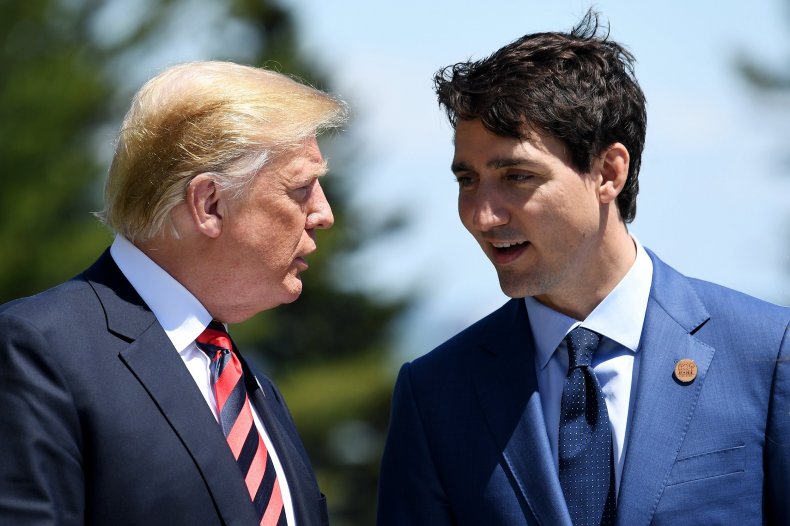 In a Rose Garden speech discussing the new U.S.-Mexico-Canada Agreement (USMCA), Trump suggested that he planned to terminate NAFTA in the near future.
"He used the words 'termination of NAFTA' in his first opening lines," Heyman, who served as U.S. ambassador to Canada from April 2014 to January 2017, told Newsweek.
"There is a question over whether he even has the authority to do that," Heyman said, "but that has never stopped him from taking on authority he thinks he has."
Heyman added, "If he exercises that provision and sends out notification of withdrawal, that will put Congress in a challenging spot."
Why? Because "there's a provision within NAFTA, called 2205, which states that anyone who wants to withdraw from the agreement needs to provide notification of six months in advance," Heyman explained.
It is unclear what Congress will look like six months from now, in 2019, with the November midterm elections just weeks away. But it will be that Congress that will have to approve the USCMA deal after it is signed.
While congressional members have vowed to look over the proposed USMCA deal in close detail, Heyman has warned that if Trump has the ability to terminate NAFTA, he could use the deal's termination as a threat to ensure that his proposed deal is swiftly approved.
"What I fear he will do is he'll give that six-month notification now and then he'll have that ability after that six months to terminate any day he chooses," Heyman said.
"So he'll have that threat to the new Congress when he walks in and can say, 'Look, I can terminate this, so you either approve the new one or I terminate NAFTA."
If the president did terminate NAFTA before USCMA was approved, Heyman said, the move could throw trade with Canada into "chaos."
"The whole point of this agreement and of NAFTA is to establish specific rules," Heyman said. "The concern is that the largest trading agreement that exists in the world with two of our three biggest trading partners, that the whole trading relationship would go into complete disarray and nobody would actually know what rules we're trading on."
He added, "If you blow up all the rules, then you create chaos. And I think that's his mode of operation."
Heyman continued, "He's giving you a choice. You'll either have chaos or you'll have my deal. Of course, this would be the chaos he would create."
While Heyman said he was concerned about the possibility of Trump using the threat of terminating NAFTA to get his way, the former ambassador said that, overall, he approves of the new USMCA deal.
"First of all, it's good news that we've now taken this uncertainty around the threat of blowing up the economic relationship away," Heyman said. "So that's good news."
He also said that the NAFTA deal needed to be updated to "modern times," which the USCMA deal appears to accomplish. The new agreement is expected to give U.S. farmers broader access to Canada's dairy market and will also address concerns about potential U.S. auto tariffs.
However, Heyman warned that the most negative impact the new deal will have is on the U.S.'s relationship with Canada. "The biggest place that we've lost with this deal, which will take time to repair, is in our relationship with Canada."
He said, "Updating the agreement was necessary, but it was something that could have been accomplished diplomatically without threatening the prime minister of Canada and the country. It was unnecessary for it to get to this point."
He added, "When you treat your best friend, your next-door neighbor in such a hostile way...the relationship is simply not a transaction. It's bigger and broader and deeper than that. You work hard for decades to build up a relationship, and actions you take in the very short term can hurt that relationship. I think it's going to take some time to heal."
Related: NAFTA replacement deal struck by U.S. and Canada: What you need to know
For other countries, Heyman warned that the Trump administration's treatment of Canada is a lesson.
"I think there's always been anxiety among countries around the world around what the U.S. can and will do to them. That has always been the case with Canada," he said.
"There's this famous quote about a mouse living next to an elephant," Heyman said, in an apparent reference to a quote from former Canadian Prime Minister Pierre Trudeau, Justin Trudeau's late father. "The elephant can turn over at any point and squish you. But just because it can, it doesn't mean it should."