Trump Thanksgiving Dinner: Mar-a-Lago Feast Featured More Than Turkey
The family of Donald Trump celebrated Thanksgiving at the president's resort at Mar-a-Lago with an opera singer and a menu of seafood.
The Hill reported how journalists were brought into the ballroom at the president's resort to see a singer perform a rendition of Music of the Night from Phantom of the Opera.
Details of the menu of the first family have also emerged and included a chilled seafood range of oysters, jumbo shrimp and clams. There was also a carving station featuring turkey, beef tenderloin, lamb and salmon.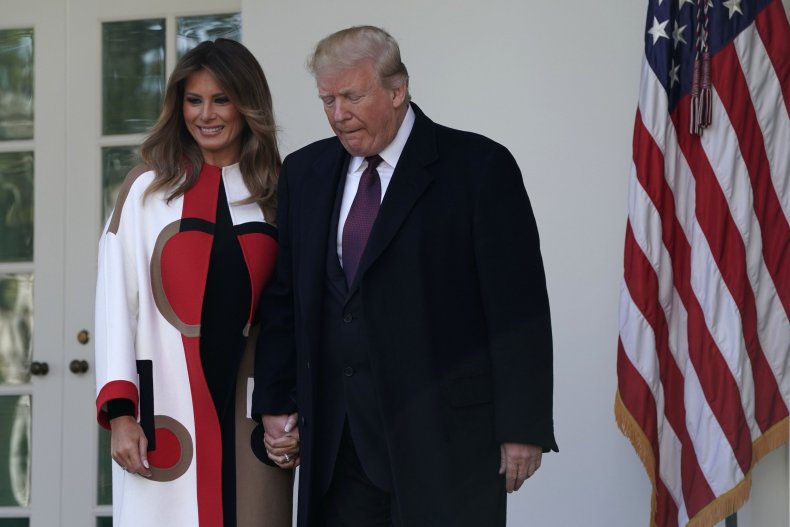 The entrees included Chilean Sea Bass, red snapper, ribs, and whipped potatoes, vegetables and stuffing were some of the sides, The Hill reported, without specifying exactly what the president himself ate.
Attending the meal with Trump was the first lady Melania Trump, their son Barron and Trump's daughters Ivanka and Tiffany.
Earlier in the day, Trump took part in a teleconference with leaders of the five branches of the military and he visited the Coast Guard at a station in Florida.
In a phone call with the media, when he was asked about what he was "most thankful" for, he paid tribute to his family and said that he himself had made a big contribution to the country.
"I made a tremendous difference in the country. This country is so much stronger now than it was when I took office that you won't believe it.
"And I mean, you see it, but so much stronger that people can't even believe it. When I see foreign leaders, they say we cannot believe the difference in strength between the United States now and the United States two years ago. Made a lot of progress," he said.
Trump also addressed the 6,000 American service members at the southern border awaiting the arrival of the migrant caravan.
In Trump's first tweet of the holiday, he said that the world was "mean and nasty."
"It's a mean and nasty world out there, the Middle East in particular. This is a long and historic commitment, & one that is absolutely vital to America's national security," he wrote.
The Associated Press reported that on Friday, Trump returned to his West Palm Beach golf course.
He also tweeted his appeal for government funding for his proposed wall, saying that Democrats and Republicans "MUST come together, finally, with a major Border Security package, which will include funding for the Wall.
"After 40 years of talk, it is finally time for action. Fix the Border, for once and for all, NOW!," he tweeted, although many Democrats who have taken control of the House after the midterm elections, oppose the move.
This story has been updated to include President Trump's tweet on Friday.