How Did Trump Spend Thanksgiving? Tweeting, Golfing—and Surprising U.S. Troops in Afghanistan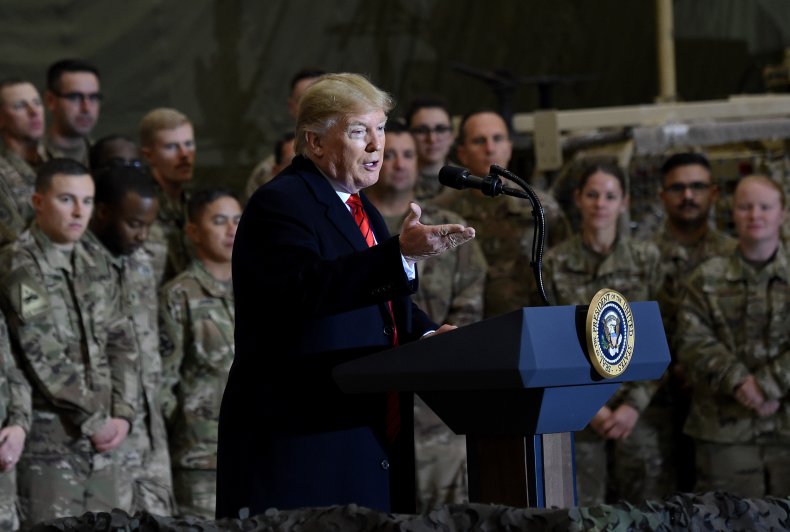 President Donald Trump made a surprise trip to visit U.S. troops in Afghanistan on Thanksgiving Day and said he had reopened negotiations with the Taliban.
"The Taliban wants to make a deal," the president said during his first-ever visit to Afghanistan, The New York Times reported. He arrived at the location shortly after 8.30 p.m. local time and spent roughly two-and-a-half hours greeting troops and the country's president.
In addition to serving traditional Thanksgiving food for the troops at the Bagram airbase, Trump also met with Afghanistan President Ashraf Ghani. Trump was joined by acting White House Chief of Staff Mick Mulvaney, National Security Adviser Robert O'Brien, and Wyoming Senator John Barrasso, according to The Hill.
In his speech, Trump said of the Taliban: "We'll see if they make a deal. If they do, they do, and if they don't, they don't. That's fine," he said.
"Now they do want to do a cease-fire," the president also stated. "I believe it'll probably work out that way."
Trump had ended negotiations with the Taliban over two months ago, after a Taliban bombing in Kabul that killed an American soldier and 11 others.
The president and his party left Afghanistan a little bit after midnight local time, The Associated Press reported.
Before the news of the Afghanistan visit broke, the president sent out a tweet wishing Americans a happy Thanksgiving holiday Thursday morning:
The president and first lady Melania Trump departed from Washington D.C. for the holiday weekend at Mar-a-Lago on Tuesday afternoon. Trump held a campaign rally that evening in Sunrise, Florida, which is about 50 miles southwest of his resort, in which he claimed that there are people who want to change the name of Thanksgiving. His claim caused #WaronThanksgiving to trend on Twitter.
Trump proclaimed November 28, 2019, "as a National Day of Thanksgiving" to "encourage all Americans to gather, in homes and places of worship, to offer a prayer of thanks to God for our many blessings."
He spent Thanksgiving Eve, from mid-morning to mid-afternoon, playing golf at his Trump International Golf Club. It was closed to the press, according to his public schedule.
Last Thanksgiving, after a call with armed service members from Mar-a-Lago, Trump met with the press and said he was thankful for a "great family and for having made a tremendous difference in this country," adding that the United States "is so much stronger now than it was when I took office that you wouldn't believe it."
Trump also spent Thanksgiving 2017, his first as president, at Mar-a-Lago. He began with a tweet touting what he considered his accomplishments: "HAPPY THANKSGIVING, your Country is starting to do really well. Jobs coming back, highest Stock Market EVER, Military getting really strong, we will build the WALL, V.A. taking care of our Vets, great Supreme Court Justice, RECORD CUT IN REGS, lowest unemployment in 17 years....!"
The president called military personnel and during the conversation, claimed credit for recent victories in fighting ISIS.
This story has been substantially updated and edited at 6:17 pm EST to reflect the president's surprise trip to Afghanistan. Additional reporting by James Crowley.