Trump Would Be Up to His Neck in Tiffanys Without Birth Control, Samantha Bee Jokes
Late-night comedian Samantha Bee on Wednesday attacked President Donald Trump's efforts to limit birth control by saying that without the pill, he would be up to his neck "in Tiffanys," in reference to the president's second daughter.
Related: Is Tiffany Trump Single? Instagram Posts Suggest First Daughter and Boyfriend Ross Mechanic Have Split
On her weekly show Full Frontal, Bee said birth control is a pretty good way of preventing abortion, which Republicans continue to try to make more difficult.
"You are ruining everyone's good time, Trump. Where would you be without birth control? Up to your neck in Tiffanys, that's where," Bee said, and projected an image of Trump with seven versions of Tiffany Trump behind him.
Bee's choice in selecting Tiffany Trump out of the president's five children may not have been random.
Trump's own children have acknowledged that his first daughter, Ivanka, is the president's "favorite child." In a recent appearance alongside both of his daughters, Trump repeatedly praised Ivanka while barely mentioning Tiffany. The president has three sons, Donald Trump Jr. and Eric Trump, who are running Trump Organization, and Barron Trump, who is enrolled in middle school in Maryland.
Bee took issue with the Trump administration's decision to roll back an Obama-era mandate that required employers to include birth control in their health insurance plans. The requirement placed a "substantial burden" on employers' free exercise of religion, the Trump administration said late last year.
The comedian said that Trump's "own administration estimates that 120,000 women will lose coverage, and it could be many more."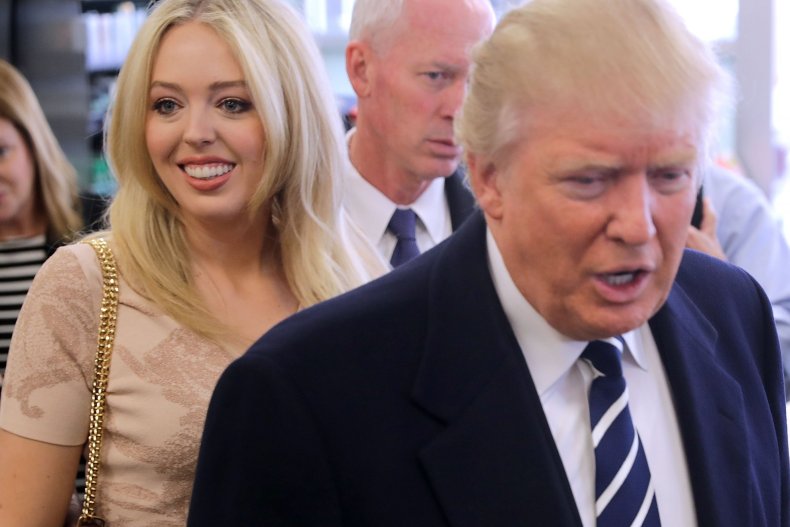 Bee suggested that "Trump has never been great at keeping track of women he's hurt," adding that the Pain-Capable Unborn Child Protection Act, which proposes to ban abortions nationwide after 20 weeks on the basis that the fetus is capable of feeling pain by then, "doesn't just grab women by the pussy, it also grabs men by the pussy."
The final comment was a reference to Trump's infamous line on a 2005 Access Hollywood recording that leaked just ahead of the 2016 election when he bragged about his ability to sexually assault women.