What the WikiLeaks Cables Tell Us About Trump's Secretary of State Pick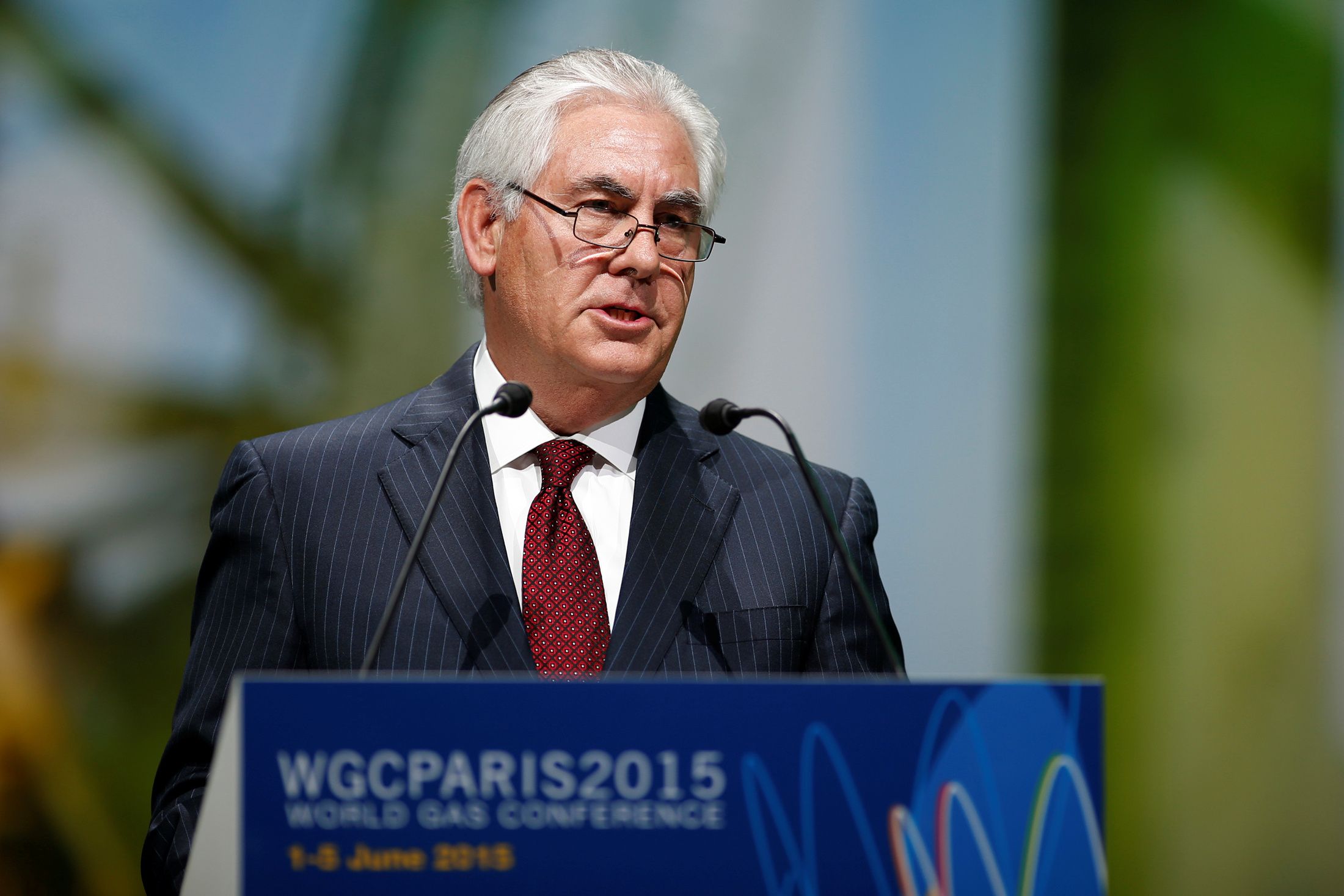 Donald Trump has called his pick for secretary of state, Exxon Mobil CEO Rex Tillerson, "a world-class player and deal-maker." There is actual evidence to back that up.
Most of Tillerson's deal-making as a private sector executive happened behind closed doors, an approach the press-shy Texan appears to prefer. But leaked State Department diplomatic cables, part of a document cache obtained by WikiLeaks in 2010, give us a glimpse into just how much the boss of the world's largest oil company was a key figure in global energy politics in recent years—and how much the pursuit of natural resources shapes geopolitics and American diplomacy, from the Middle East to Africa to South America.
Related: Rex Tillerson at State: Canny pick or catastrophe?
A search of the WikiLeaks cables turns up six references to Tillerson between 2005 and 2010, and there are a few takeaways we can draw from American diplomats' reports on his interactions with foreign leaders and fellow business executives:
Tillerson Is an Aggressive Negotiator
In a January 2008 cable, the U.S. ambassador to Kazakhstan, John Ordway, relayed to State Department colleagues the outcome of a "marathon negotiating session" between a group of oil companies and Kazakhstan's government to restructure a development deal for the Kashagan oil field in the Caspian Sea. Ordway wrote that "ExxonMobil was the last holdout in agreeing to an increased ownership share" for KazMunayGas, the state-owned oil company. Tillerson wanted a higher price for a portion of Exxon's ownership stake in the oil field that it was selling back to KMG and "had decided that Exxon was going to hold the line on this issue," Ordway wrote. Only after intense pressure from the other negotiators, and the threat of being frozen out of future business in the energy-rich Central Asian country, did Tillerson "reverse course and agree to a 'below market price' figure of $1.8 billion as the valuation of KMG's increased share."
Another example is Exxon Mobil's decision to sue the Venezuelan government for paying less than market value for oil development stakes that the Hugo Chávez-led government seized as part of its nationalization of the energy sector in 2007. According to state-funded news outlet TeleSur, Exxon was one of only two out of 22 oil companies that took legal action after its assets were nationalized. A May 2007 cable from America's ambassador to Venezuela, William Brownfield, recounts a meeting between Tillerson and Venezuela's U.S. ambassador dedicated to trying to resolve the issue. Based on conversations with Exxon executives, Brownfield recounted how Tillerson told the ambassador "book value was not an acceptable basis for compensation for lost value."
Using the stock market abbreviation for Exxon, Tillerson "said XM was looking for a win-win solution but warned that XM was willing to go to arbitration if it had to do so," according to Brownfield. Ultimately, a World Bank arbitration tribunal ruled in 2014 that the Venezuelan government owed the company $1.6 billion, far less than the $10 billion Exxon sought.
Tillerson Has No Qualms Cutting Deals With Dictators
Exxon's engagement with the Chávez government in Venezuela and negotiations with the government of Kazakhstan, a former Soviet republic that has had the same president since its independence in 1989, demonstrate that Russian President Vladimir Putin (whom, critics point out, honored Tillerson with the Russian Order of Friendship award in 2013) isn't the only autocrat Tillerson has built a relationship with. Brownfield's 2007 cable shows that even as Chávez was extending authoritarian control across Venezuela, Exxon Mobil executives were trying to hash out a business plan for joint control of its Cerro Negro project with the Venezuelan government and a state-controlled oil company. One stipulation: Exxon "would not enter into negotiations…without a confidentiality agreement."
Much of the world's natural resources are under the control of governments with autocratic and kleptocratic tendencies. And dealing with nondemocratic governments, like Saudi Arabia or Angola; governments with poor human rights records, like Russia and Turkey; or governments grappling with entrenched corruption, like Nigeria and Brazil, is all par for the course for global energy companies. While Exxon has a solid reputation for operating aboveboard with foreign governments, the bottom line takes priority over good-government concerns in the private sector. It's a very different equation, however, at the State Department.
Tillerson Has Made Exxon a Global Advocate for a Carbon Tax
As CEO of Exxon Mobil, Tillerson has been recognized as a moderately progressive voice on climate change. Unlike Trump, the lifelong Exxon employee acknowledges that climate change exists and is something energy companies need to address. However, Tillerson spoke out against the cap-and-trade legislation Congress was considering (and failed to pass) in 2009, arguing that a carbon tax would be "a more direct, a more transparent and a more effective approach."
The nonprofit environmental news outlet Inside Climate News pointed out in a 2015 article that Exxon "has never put its political muscle behind a carbon tax" and did not sign on to a 2015 letter penned by other global oil companies urging the Paris climate deal negotiators to set a global price for carbon. But an April 2009 cable from the U.S. ambassador to the United Arab Emirates, Richard Olson, details how Exxon executives traveled to the UAE and other Persian Gulf countries that month to argue for a global carbon tax policy.
"The purpose of [Exxon Mobil International Government Relations Manager James] Adams's visit to the region was to explain ExxonMobil's position to regional officials (including those of Kuwait and Saudi Arabia)," Olson wrote. Olson added that Exxon Mobil regional president Frank Kemnetz told him, "UAE Minister of Energy Mohammed bin Dhaen Al Hamli had initially balked at a carbon tax (seeing it as an attempt to penalize OPEC), but had eventually voiced his support for a free market solution."
Diplomatic cables released by WikiLeaks also document Tillerson's engagement with leaders in Brazil, Ghana and Canada between 2005 and 2010, illustrating the scope of Exxon's global reach and Tillerson's high-level contacts around the world. It's proof of Trump's claim, in his Tuesday morning statement making Tillerson's nomination official, that "his relationships with leaders all over the world are second to none." But it also raises questions about just how much Tillerson can separate himself from the business relationships and private sector energy interests he's championed his entire life to pursue his country's public interest.
Read more from Newsweek.com:
- How Donald Trump's business ties are already jeopardizing U.S. interests
- Five reasons Rex Tillerson is the right pick for secretary of state
- Vladimir Putin has good ties with Donald Trump pick Rex Tillerson: Kremlin