Trump Told Pence He 'Picked the Wrong Man' to Be His VP Over Failure to Overturn Election
Former Vice President Mike Pence was and remains a staunch ally of former President Donald Trump, but his failure to overturn the 2020 election results left the former president questioning his choice as running mate.
Trump voraciously pushed Pence to refuse to certify President Joe Biden's victory and send the results back to the states, giving the former president a chance at a second term. Pence held firm in the face of Trump's pressure, refusing to do anything but hear objections and oversee Congress' process, a decision he told Trump about on the morning of the Capitol riot.
Before Trump addressed his supporters at the National Mall on January 6, he phoned Pence, who was meeting with Marc Short, his chief of staff, and Greg Jacob, the vice president's counsel, according to an excerpt from "Peril," a new book by Bob Woodward and Robert Costa, reviewed by Newsweek. Pence told Trump of his plans not to interfere in the certification of the election results, something Trump said was "not right."
"Mike, you can do this. I'm counting on you to do it. If you don't do it, I picked the wrong man four years ago," Trump told Pence, according to the book.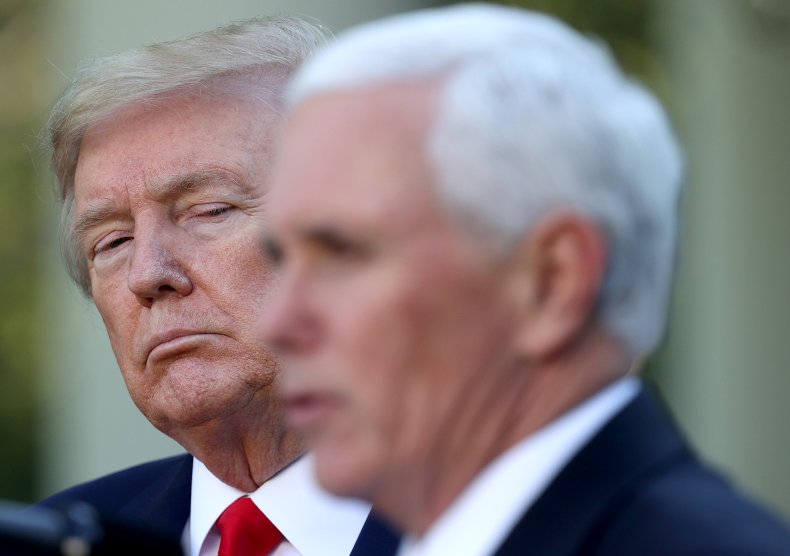 Despite knowing Pence had no plans to send the election results back to the states, Trump kept pressuring his vice president to take action. Addressing the crowd around noon on January 6, Trump said he was hoping Pence would "do the right thing" because if he does "we win the election."
"All Vice President Pence has to do is send it back to the states to recertify and we become president and you are the happiest people," Trump said. "He has the absolute right to do it."
While Trump believed Pence could stop Biden from becoming president, the former vice president's team disagreed. Ahead of January 6, Jacob reached out to John Yoo, an attorney who authored the memos that provided the legal basis for the Bush administration's torturing of detainees during the war on terror. Yoo, who also clerked for Supreme Court Justice Clarence Thomas, told Jacob that his legal opinion was that Pence has "no discretion anymore."
"I feel bad for your boss because he's going to have an angry employer," Yoo said, according to an excerpt from "Peril."
Richard Cullen, Pence's personal attorney, agreed with Yoo, as did J. Michael Luttig, a former federal judge.
The issue of January 6 has permeated the relationship between Trump and Pence, and the former president hasn't forgotten how his vice president let him down. The former president has attacked Pence for being partially to blame for why America is turning into a "socialist nightmare," and for why his progress on the southern border was being derailed.
On January 6, rioters chanted, "Hang Mike Pence," and he has continued to be the subject of Trump supporters' reprimands. He was booed and called a "traitor" at the Faith & Freedom Coalition Conference in Orlando, Florida, and he received virtually no support in a straw poll at a Conservative Political Action Conference (CPAC), where Trump received overwhelming backing.
Despite the public backlash, Pence has remained firm in his decision to stay out of Congress' process to certify the election result, calling it his "duty under the Constitution." While he and Trump have spoken "many times" since leaving office, Pence said in June he doesn't believe the two will "ever see eye to eye" on what happened on January 6.