Celebrating his recent acquittal by the Senate, President Donald Trump on Thursday flaunted his decision years ago to fire former FBI Director James Comey.
After briefly thanking those who've supported him, Trump transitioned focus to his perceived adversaries he deemed responsible for his impeachment by the House, including his former head of the nation's top law enforcement agency.
"Had I not fired James Comey—who was a disaster, by the way—it's possible I wouldn't even be standing here right now," Trump told members of his administration and Republican lawmakers gathered at the White House.
The president suggested that the choice in May 2017 to abruptly oust Comey, who refused to pledge his loyalty to Trump upon a request to do so amid former special counsel Robert Mueller's investigation of Russian election meddling, aided his impeachment survival. Trump was acquitted of two articles of impeachment—abuse of power and obstruction of Congress—by the Senate on Wednesday, a vote that once again highlighted the GOP's loyalty to him by having just one Republican defector—Sen. Mitt Romney of Utah.
Comey's interactions with Trump throughout his tenure were related to two of at least 10 instances of potential obstruction of justice narratives detailed in the Mueller report. Trump pressed Comey to exert leniency on former national security adviser Michael Flynn, who's awaiting sentencing for lying to the FBI about his contacts with a Russian official during then-President-Elect Trump's transition into office. Prosecutors last month urged a federal judge to sentence Flynn for up to six months in prison after he reneged on cooperating with the government.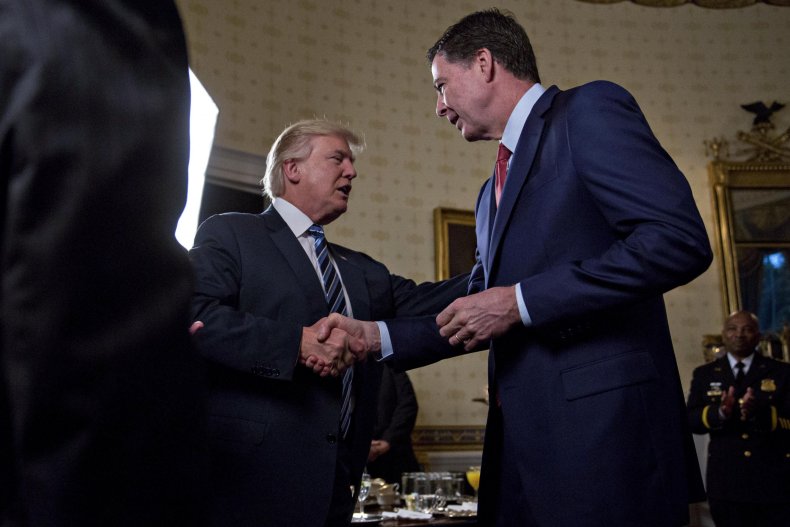 "You have to understand, we first went through Russia, Russia, Russia. Total Bulls--t. We then went through the Mueller report," Trump said. "They kept it going forever because they wanted to inflict political pain on somebody that had just won an election."
He railed against "top scum" at the FBI, including Comey and former FBI lawyer Lisa Page and former FBI agent Peter Strzok, who made disparaging remarks about him during his reelection and amid an affair the two were having. Trump believes those individuals were part of a broader effort by an unknown coalition of "dirty cops" and officials at the highest levels of the United States government to prevent him from being elected.
"When I fired that sleazebag," Trump said, referring to Comey, "all hell broke out. These are the crookedest, most dishonest, dirtiest people I've ever seen."
Trump directed some of his ire at top congressional Democrats, including Rep. Adam Schiff (D-Calif.), who was the lead impeachment manager and who he called a "corrupt politician," and House Speaker Nancy Pelosi (D-Calif.), who he branded a "horrible person."
Meant to be a "celebration" of Trump's acquittal on Wednesday, the president's hour-long speech fixated on retaliating against those who the president believes have wronged him and showing gratitude to those who defended him. During the address, the president brandished a Washington Post newspaper with his acquittal on the front page; an identical gesture Trump carried out just hours earlier at the annual National Prayer Breakfast.
The celebratory event came two days after his third State of the Union address, where he avoided the topic of impeachment at the public advisement from many in the GOP. Utilizing the impeachment trial procedures and threatening to prolong the process using time-consuming motions and amendments, Senate Democrats were able to deny Trump the victory of being acquitted before his speech to Congress.
"This was the speech POTUS wanted to give at SOTU but was denied by [Senate Minority Leader Chuck Schumer (D-N.Y.)] and Senate Dems," a Democratic aide told Newsweek.