President Donald Trump's trade wars are contributing to the turmoil faced by the rural sector of his heartland and are putting many landowners at risk of losing their farms, the CEO of the agricultural conglomerate Land O'Lakes has warned.
As CEO of one of the country's largest farmer and retail-member-owned cooperatives, Beth Ford represents thousands of landowners and agricultural producers whom she says have suffered due to a combination of Chinese tariffs and record-setting floods in spring.
Ford said the adverse weather and the tit-for-tat tariffs with China which have cut it off as a market for soybeans, means that corn is now selling more than 10 percent less than normal at $9 a bushel.
"That's a very low price. That means many farmers are losing money," Ford told CBS' 60 Minutes.
"More frustration is present because a number of people are going to lose their businesses. They're gonna lose farms that they've had in their families for generations."
In an impassioned editorial in the publication Dairybusiness.com in June, headlined "Farmers are in crisis and America isn't paying attention," Ford outlined how sustained low commodity prices now meant that the average farm income in 2017 was $43,000, and that the median farm income for 2018 was minus $1,500. This had pushed bankruptcies in the farm states across the Midwest, which sell half of U.S farm products, to the highest level in a decade.
"I think there used to be 92,000 dairy producers in the country and now the last—the number I saw was in the 50,000 level, so 40% reduction," Ford told 60 Minutes.
The graphic below, provided by Statista, illustrates the size of the market in China for U.S. agriculture products in 2018.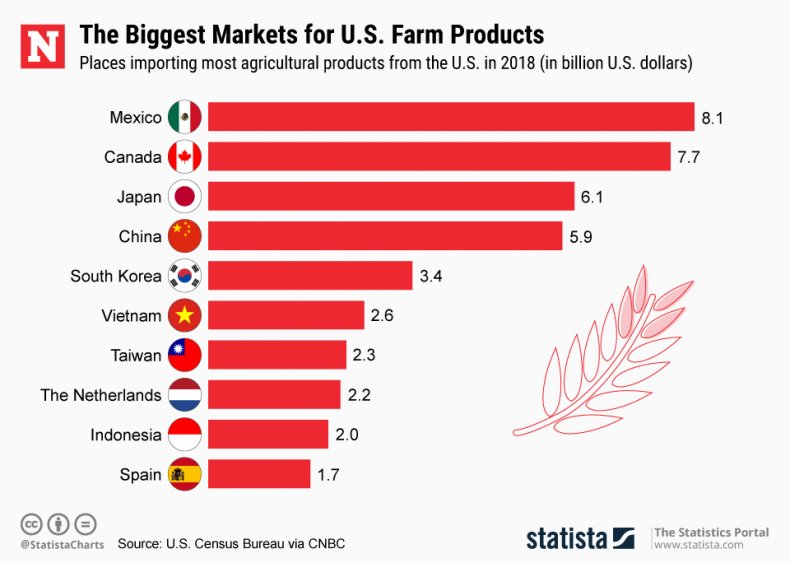 Trump himself reacted to the CBS report by insisting that farmers were getting subsidized to make up for the trade shortfalls, and also levelled the blame at Beijing.
He tweeted: "60Minutes 'forgot' to report that we are helping the great farmers of the USA to the tune of 28 Billion Dollars, for the last two years, paid for out of Tariffs paid to the United States by China for targeting the farmer. They devalued their currency, therefore paying the cost!"
However, groups such as the Minnesota Farmers Union have maintained that the subsidies do not cover the losses. Iowa Soybean Association president, Lindsay Greiner said in May that subventions "are a poor remedy for trade."
On Friday, the Trump administration said there would be a boost to soybean producers with the announcement that there would be an as yet undecided increase in the amount of ethanol that oil refiners must add to their fuel next year, Reuters reported.
The powerful corn lobby had been unhappy at ethanol exemptions the Trump administration had given to oil refineries which they said undercut demand for their product.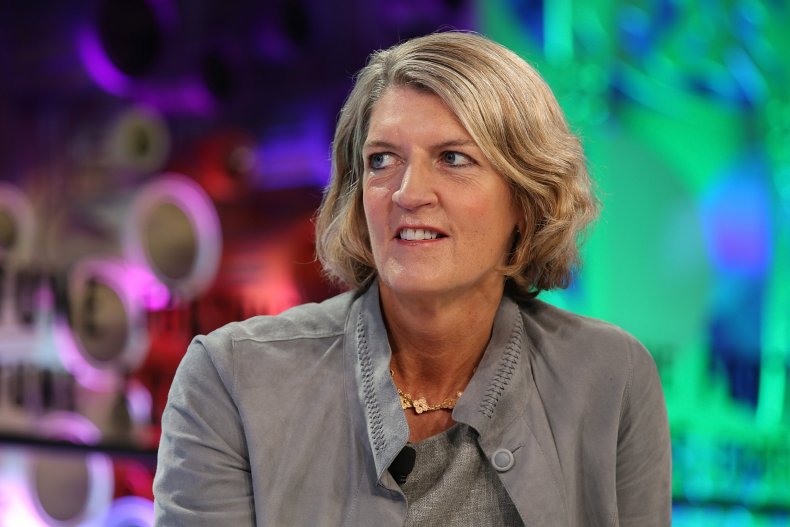 This article was updated to include an infographic.