Donald Trump Called Transgender Surgery 'Getting Clipped' to Steve Bannon, According to Woodward Book
President Donald Trump crassly referred to transgender reassignment surgery as "getting clipped" and failed to loop in top government officials before issuing a ban on transgender troops last year, according to reporter Bob Woodward's book Fear: Trump In The White House.
In one section of Woodward's latest tome, which the president called "fiction," Woodward detailed the machinations behind Trump's transgender ban and how he had originally agreed with former White House Chief of Staff Reince Priebus to discuss options for transgender troops.
"What the f***? They're coming in here, they're getting clipped," Trump is quoted by Woodward as saying to former chief political strategist Steve Bannon about reassignment surgery.
Trump was praised for being the first Republican candidate to acknowledge the LGBT community at the GOP's convention in 2016, but his ban on transgender troops was more about passing a defense bill and obtaining funding for his southern-border wall.
The White House did not immediately respond to Newsweek's request for comment.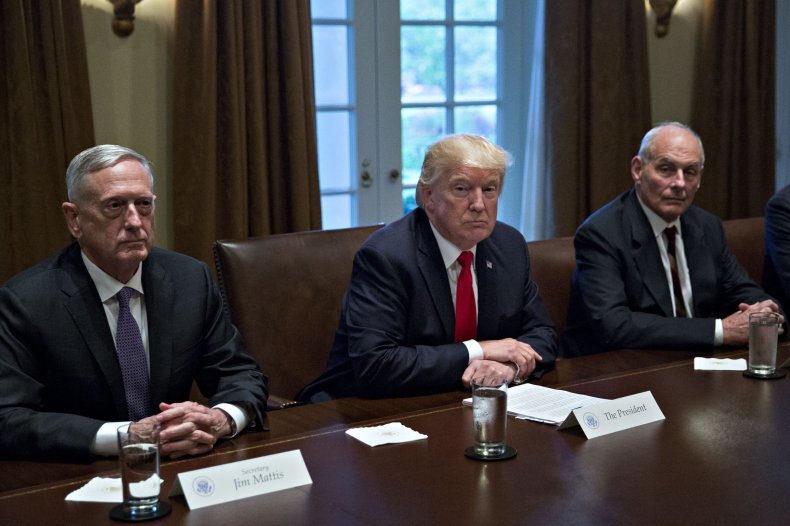 In July 2017, there were four options on the table, according to the book. The first was to continue to allow transgender troops to serve openly but not allow additional troops until July 1, 2017, and a second was to give Secretary of Defense Jim Mattis a directive with some "leeway." A third was Trump issuing a presidential order that would ban future transgender troops but but to create a plan for those transgender people already serving in the military.
The fourth was an outright ban, and Trump had told Priebus before a meeting on the subject: "We'll figure it out."
But just before the meeting,Trump began to tweet and said:
"After consultation with my Generals and military experts, please be advised that the United States Government will not accept or allow…transgender individuals to serve in any capacity in the U.S. Military. Our military must be focused on decisive and overwhelming....victory and cannot be burdened with the tremendous medical costs and disruption that transgender in the military would entail. Thank you."
Afterward, Woodward quoted Trump as asking Priebus: "What did you think of my tweet?
Priebus responded: "I think it would've been better if we had a decision memo, looped in Mattis."
The defense secretary was reportedly caught off guard by the president's tweet announcing his policy.
Trump had been told that reassignment surgery cost $250,000, and Woodward said the president had responded: "Not going to happen."
A 2016 study by the Rand Corporation, as commissioned by the Pentagon, found that only roughly 6,600 transgender troops served in the military, and that the cost was $8 million annually.
At the time Trump issued the ban, he was hoping to pass a defense spending bill and was told by conservative Republicans that it would not get through unless funding for transgender surgeries was removed. The bill also included funding for an additional 74 total miles of border wall in Texas and California.
According to Woodward, Mattis pushed back against the ban and called for a study after he had received orders from Trump.
Following court battles and opposition within the Defense Department, Trump issued a revamped ban in March following recommendations from Mattis that stated "transgender persons who require or have undergone gender transition" could not serve. It furthermore barred anyone with gender dysphoria from serving.
Last month, a federal judge shot down the updated ban and the government appealed to the Ninth Circuit Court in San Francisco, according to Reuters.