Trump Transition: Taiwan Call Fallout, Sarah Palin Blasts 'Crony Capitalism'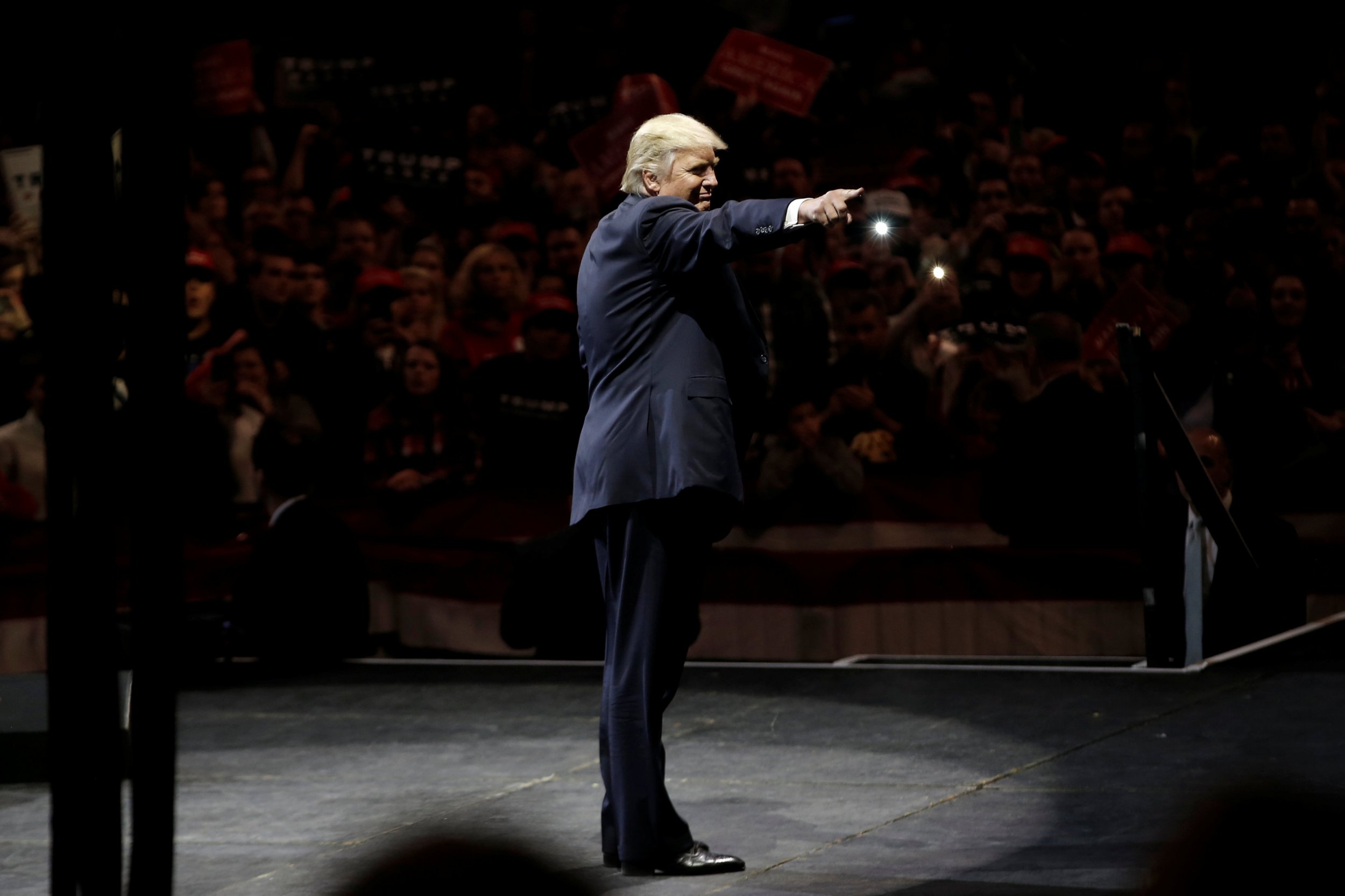 Welcome to Newsweek's daily rundown of President-elect Donald Trump's transition process. There are about 4,000 positions to fill, and we'll be keeping track of appointees through the January 20 inauguration.
The diplomatic brouhaha over Donald Trump's conversation with Taiwan's president has devolved into an actual game of telephone of sorts, with mixed messages on which side initiated the call that has roiled the political and diplomatic worlds.
The president-elect insists that President Tsai Ing-wen called him, but a Taiwanese official appears to contradict Trump, telling NBC News that the 10-minute conversation was prearranged and not a surprise to him. Meanwhile, the Taipei Times reports that Trump agreed to take the call, "which was arranged by Taiwan-friendly members of his campaign staff after his aides briefed him on issues regarding Taiwan."
Regardless of who actually punched the digits, Trump's decision to cast doubt on decades of U.S. support of the "one China" policy has prompted intense criticism and worry, albeit with some Republican praise.
RELATED: China protests Taiwan president's 'petty' call
Connecticut Senator Chris Murphy tweeted that Trump's actions are "major pivots in foreign policy w/out any plan. That's how wars start. And if they aren't pivots—just radical temporary deviations—allies will walk if they have no clue what we stand for. Just as bad." Former Hillary Clinton spokesman Brian Fallon was sarcastic, tweeting "if only someone had warned us Trump was not up to the task of international diplomacy," while linking to a video of Clinton warning that, "rather than solving global crises, he would create new ones."
Aaron Friedberg, an Asia expert who worked in the George W. Bush White House, told Politico that China is "much more likely to read this as a deliberate provocation/test than a blunder...Strategy involves thinking more than one move ahead. No evidence of that here."
However, some Republicans praised the conversation as an example of Trump's bold leadership. "Taiwan is a great friend of America and I see nothing wrong with the president-elect letting the world see that," Indiana Congressman Luke Messer told The Hill. "To me, it's ironic that some who call Obama enlightened for his outreach to murderous communist thugs in Cuba would now criticize Trump for acknowledging Taiwan."
North Carolina Congressman Mark Meadows downplayed the conversation, saying, 'It's not policy, it's a phone call." Trump adviser Kellyanne Conway said he was "well aware" of U.S. policy toward China and Taiwan and remains "fully briefed and fully knowledgeable about these issues on an ongoing basis, regardless on who is on the other end of the phone."
Still, Trump's conversation forced the National Security Council to reiterate U.S. policy. "There is no change to our longstanding policy on cross-Strait issues," spokesman Ned Price said in a statement. "We remain firmly committed to our 'one China' policy based on the three Joint Communiques and the Taiwan Relations Act."
Trump's conversation, as well as his invitation to hardline Philippines leader Rodrigo Duterte to visit the White House next year, threaten to overshadow news of his ongoing effort to fill White House appointments and nominate Cabinet officials. Speculation continues on Trump's likely choice for secretary of state, two days after he indicated that he will nominate General James Mattis to serve as defense secretary. And it may fall to Iowa Governor Terry Branstad to contain the fallout from Trump's call, as Bloomberg reports he is being eyed as ambassador to China.
Cabinet nominee tally: 9
Attorney General: Jeff Sessions
CIA Director: Mike Pompeo
U.N. Ambassador: Nikki Haley
Education Secretary: Betsy DeVos
Secretary of the Department of Health and Human Services: Tom Price
Transportation Secretary: Elaine Chao
Treasury Secretary: Steve Mnuchin
Commerce Secretary: Wilbur Ross
Defense Secretary: Retired General James Mattis
White House staff tally: 5
Chief of Staff: Reince Priebus
National Security Advisor: Lt. General Michael Flynn
Deputy National Security Advisor: Kathleen Troia "KT" McFarland
Senior Counselor: Stephen Bannon
Assistant to the President and White House Counsel: Donald F. McGahn
Palin Denounces 'Crony Capitalism'
Trump supporter Sarah Palin, the former Alaska governor, was critical of the president-elect's involvement in the deal that will keep 1,000 Carrier Corp. jobs in Indiana in exchange for millions in tax incentives. Writing in Young Conservatives, Palin likened the arrangement to "crony capitalism.
"When government steps in arbitrarily with individual subsidies, favoring one business over others, it sets inconsistent, unfair, illogical precedent. Meanwhile, the invisible hand that best orchestrates a free people's free enterprise system gets amputated. Then, special interests creep in and manipulate markets. Republicans oppose this, remember? Instead, we support competition on a level playing field, remember? Because we know special interest crony capitalism is one big fail," Palin wrote.
Trump focused similar attention Friday on another Indiana firm that is planning to move jobs to Mexico. "Rexnord of Indiana is moving to Mexico and rather viciously firing all of its 300 workers. This is happening all over our country. No more!," Trump tweeted. Rexnord Bearings reportedly plans to move 300 union jobs and up to 80 supervisory jobs abroad, according to Fox 59.
Louisiana Visit
Vice President-elect Mike Pence is in Louisiana Saturday to support Republican John Kennedy in his runoff election for Senate against Democrat Foster Campbell. Pence tweeted that Kennedy "will help us #MAGA," using the Twitter acronym for "make America great again." Trump tweeted Kennedy "will be a tremendous help to us in Washington."
Read more at Newsweek.com: