Trump, Trudeau and Pena Nieto Cannot Let NAFTA Fail | Opinion
America urgently needs an immediate breakthrough in the negotiations to modernize the North American Free Trade Agreement (NAFTA) before elections in Mexico and the United States close the window for progress until next year. Letting this moment pass could seriously harm U.S. farmers, businesses and workers and add uncertainty to relations with America's two largest export markets, Canada and Mexico.
Public criticism of Mexico over migrants could be very costly to our security and bilateral cooperation in this context. Mexico currently works more closely than ever before with the U.S., sharing information to identify and intercept potentially dangerours actors, including via biometrics that Mexico provides. Mexican authorities have apprehended over 500,000 Central Americans trying to head north in the last four years, greatly easing the burden at the U.S. southern border.
In 2017, Mexico and the U.S. forged a joint strategy for fighting drug trafficking. Mexico is cooperating to help alleviate the root causes driving migrants north from Central America: criminal violence and poverty.
President Trump's critical tweets and remarks about Mexico and migration and his decision to deploy troops to the border, coming during Mexico's Presidential Campaign, united all Mexico's presidential candidates in criticizing the U.S.
Mexico's Senate called for ending cooperation with the U.S. on homeland security issues.
Mexican president Peña Nieto made a major speech calling for a respectful relationship where the two countries work together on the challenges and opportunities without threats or public criticism.
Between 56 to 65% of Mexicans already hold unfavorable views of the U.S. The danger is that Mexico's July 1 elections will produce a president and congress that embody this negative view and relations will regress to being "distant neighbors" as they were before NAFTA.
What is at stake?
$1.24 trillion in annual trade with Canada and Mexico; ending NAFTA could reduce U.S. GDP by up to $120 billion.
Nearly 14 million U.S. jobs are supported by NAFTA; ending NAFTA could mean 250,000-1.2 million U.S. jobs lost.
Continental production networks lower consumer costs and allow U.S. companies to compete more effectively with China; without NAFTA U.S. consumers would pay more for goods.
Close cooperation on intercepting terrorists and bad actors before they reach the U.S.
The U.S. and Mexico's work on fighting drug trafficking.
U.S.-Mexican cooperation on Central American and other migration.
North American energy cooperation that puts energy security within our grasp.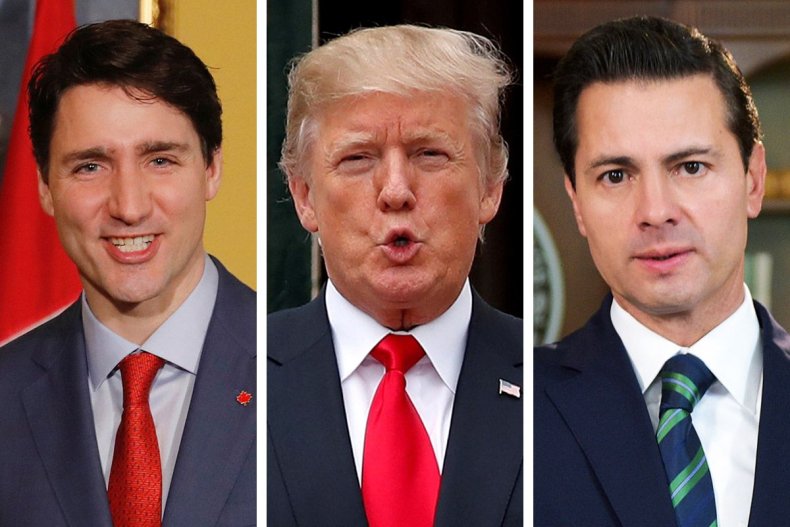 America's big economic challenge is outcompeting a rising China. Our two neighbors provide the skills, investment, and market specialization to do that more effectively. It will be much harder to compete against China and other global commercial powers without a revitalized NAFTA. According to a recent study, enhancing economic integration across the U.S.-Mexico border can add 700,000 to 1.4 million new U.S. jobs and $69-$140 billion just in southern border state economies.
Ending NAFTA would shake stock markets. It would particularly harm the U.S. auto industry and farmers, who sell to Mexico and Canada over $40 billion annually. Our competitors, including China, would benefit.
Mexico and Canada are watching our backs. Since 9/11, the U.S. significantly deepened homeland security cooperation with both neighbors. The three governments share, develop and act on intelligence about threats to the U.S. much more than in the past. Canada invested heavily in homeland security after 9/11, building capacity, programs and willingness to cooperate with the U.S. well beyond the border against potential threats.
With Mexico, before the recent tweets and comments, significant new security cooperation had been in the works. This is why ten former top U.S. military commanders wrote to President Trump to express their support NAFTA. Cooperation can deepen around a modern NAFTA or wither among bitter attitudes and criticisms.
Breakthroughs Needed
Trade officials are working intensely, with hope of breakthroughs by the time President Trump, President Pena Nieto and Canadian Prime Minister Trudeau attend the Summit of the America's in Peru this week. That is a big task. All three parties must show flexibility and creativity after months of slow progress. The United States has to be willing to work much more constructively around the positions it has taken on rules of origin for autos, a sunset clause for the agreement, dispute settlement mechanisms and government procurement.
Canada and Mexico need to be creative in addressing underlying U.S. concerns. Mexico should accept strong treaty provisions on labor rights. Canada needs to compromise, including on support for its dairy industry. All must grapple with threatened U.S. steel and aluminum tariffs, and now public anger in Mexico.
Much work remains on less controversial issues, so some predict a long negotiation. The key is to make as much progress as possible this spring. Agreement on major items will add momentum, allow technical work to continue through the U.S. and Mexican political seasons, and promote economic growth, even if final agreement needs to await a new Mexican President, who takes office in December.
Progress requires putting aside a zero-sum calculus and avoiding unneeded public spats. The goal is a productive long-term relationship with neighbors who help assure U.S. security and prosperity.
Earl Anthony Wayne is a Public Policy Fellow at the Wilson Center. He was a U.S. diplomat for forty years, including as Ambassador to Mexico and Assistant Secretary of State for Economic and Business Affairs.