Trump Posts on Truth Social 50 Times in One Day as Details of Raid Emerge
Donald Trump has been frequently posting on his Truth Social app, sharing more than 51 updates in the last 24 hours.
The former president has written a total of 51 "truths" on the social media platform he set up after getting permanently banned from Twitter, while also sharing dozens more posts from other accounts since early Tuesday morning.
Among Trump's Truth Social posts were attacks on the FBI, including one alleging the agency told Facebook the Hunter Biden "laptop from Hell" story was Russian disinformation "when they knew very well that it was not."
Trump added in the Tuesday night post that the "fake statement" from the FBI changed the outcome of the 2020 election by "millions of votes, and it was by no means the only corruption which took place."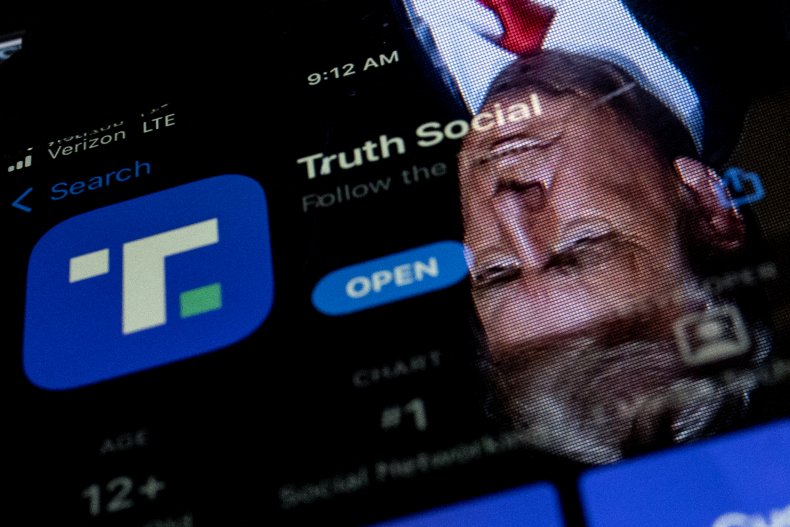 The former president also shared a debunked claim stating the wife of Ray Epps—a man at the center of a right-wing conspiracy theory that he worked with the FBI to encourage Trump supporters to storm the Capitol on January 6—worked for electronic voting machines company Dominion Voting.
A Reuters fact-check in July listed the claim as false, noting that Robyn Epps previously worked for Dominion Enterprises, which is not connected to the company which conspiracy theorists falsely claimed rigged the last election in favor of Joe Biden.
The barrage of posts arrived as the Department of Justice was due to release court filings revealing further details of the FBI search of Trump's Mar-a-Lago resort for classified documents.
In court filings released on Tuesday, the Department of Justice said the former president's lawyers "explicitly prohibited" FBI agents from looking inside a storage room at Mar-a-Lago resort in June, and that classified documents were "likely concealed and removed" from his Florida home in order to "obstruct" the federal investigation into the former president's mishandling of sensitive material.
The FBI later recovered more classified documents following August's search of Mar-a-Lago, including some from inside Trump's desk in his office, despite the former president's team claiming they had all been handed over in June nearly 18 months after he left the White House.
Elsewhere, Trump continued to falsely claiming the 2020 election was rigged in his Truth Social posts. He also shared a number of links from conservative media sites criticizing the FBI search at his Mar-a-Lago resort for classified documents, as well as sharing a number of images and memes attacking both Democrats and "RINO [Republican in name only] members of the GOP.
During the 24-hour period of frequent posting, Trump also reshared—or "retruthed"—a number of accounts which promote the QAnon conspiracy theory, a radical movement whose supporters believed Trump would arrest and execute a cabal of satanic pedophiles, including leading Democrat figures, while in the White House.
In another post, Trump shared a picture of Biden, Vice President Kamala Harris and House Speaker Nancy Pelosi with the words "Your enemy is not in Russia" written in black over their eyes.
Trump has been contacted for comment.