Sarah Huckabee Sanders Says Trump 'Obviously' Doesn't Mean Every Word in His Tweets
President Donald Trump does not believe that the "entire" Department of Justice is part of the "deep state," White House press secretary Sarah Huckabee Sanders told reporters Tuesday, hours after the president suggested he did.
Earlier on Tuesday, Trump had tweeted, "Crooked Hillary Clinton's top aid, Huma Abedin, has been accused of disregarding basic security protocols. She put Classified Passwords into the hands of foreign agents. Remember sailors pictures on submarine? Jail! Deep State Justice Dept must finally act? Also on Comey & others."
The president was referring to the December 29 release by the Department of State of emails that were stored on Abedin's computer.
Related: Attacks on FBI Make Job Harder: Agents Rep
The "deep state" is part of a theory claiming that a shadow government is trying to control the United States from within. The tweet was criticized by public figures including former Acting Attorney General Sally Yates, who tweeted that such claims are "beyond abnormal; dangerous."
But speaking about the tweet during the White House daily press briefing on Tuesday, Sanders said, "The president finds some of those actions very disturbing, and he thinks that we need to make sure if there is an issue that it's looked at. But if there was anything beyond that, I would refer you to the Department of Justice that would look into it."
When a reporter then asked whether Trump believes all Justice Department employees are part of the "deep state," Sanders responded, "Obviously, he doesn't believe the entire Justice Department is part of that." She then cited Trump's decision to appoint Christopher Wray as FBI director "because he wants to change the culture of that agency and he thinks he's the right person to do that." The Justice Department has around 118,000 employees. The FBI is part of the department.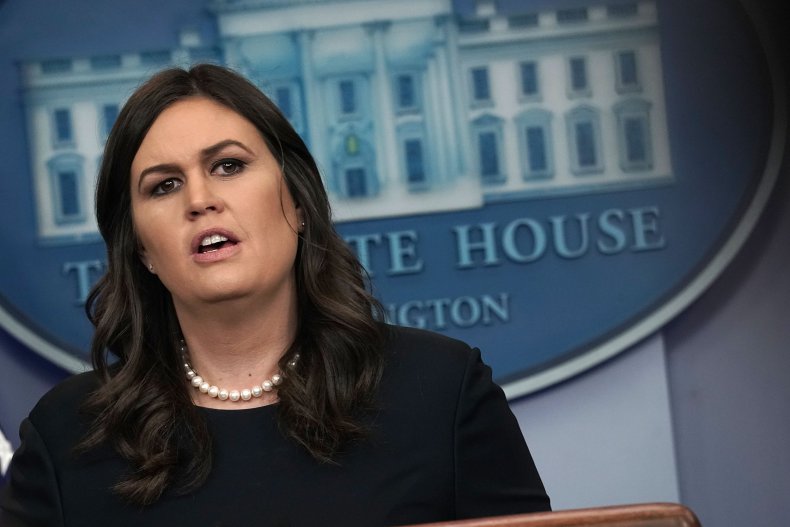 It's not the first time Sanders has been forced to defend one of Trump's controversial social media posts.
In November, Sanders told reporters that Trump was making an important point when he retweeted several questionable videos from an anti-Muslim British politician. Twitter later removed the politician from its platform.
"I think you're focusing on the wrong thing," Sanders said. "The threat is real, and that's what the president is talking about."
And last month, after the president tweeted that a "begging" Senator Kirsten Gillibrand of New York would "do anything" for campaign donations, Sanders dismissed claims that the president was using sexual innuendo.
"I think only if your mind is in the gutter would you have read it that way," Sanders said at the time.
Justice Department lawyers have argued that Trump's tweets are "official statements."