President Donald Trump has told people searching Google to ask if they can change their vote to "go do it," claiming they want to switch their support to him.
Trump commented after an apparent uptick in the search following the second debate between him and Democratic presidential candidate Joe Biden.
The incumbent Republican, lagging in the polls, suggested these searches refer to people who have already voted wanting to change it to him.
Record-setting numbers of early votes have been cast in this election, with more than 58 million people already said to have cast their ballots ahead of Election Day on November 3.
"Strongly Trending (Google) since immediately after the second debate is CAN I CHANGE MY VOTE? This refers changing it to me," Trump tweeted Tuesday morning.
"The answer in most states is YES. Go do it. Most important Election of your life!"
Trump made similar comments in 2016 when he encouraged people to "change your vote to MAKE AMERICA GREAT AGAIN!" if they felt that voting for then-Democratic presidential candidate Hillary Clinton was a "big mistake."
Newsweek has contacted the White House and the Trump campaign for comment.
According to Google Trends, searches for "can I change my vote after voting" have gone up by 500 percent over the last day in the United States, while searches for "can I change my vote after mail in" have increased 140 percent in that period.
The search "how can I change my vote" was up 80 percent in the last day. Searches for "can I change my vote" spiked sharply after the president's tweet.
Searches for "can I change my vote in Texas" and "can I change my vote in Florida" were up 250 percent and 200 percent respectively in the last hour at the time of writing.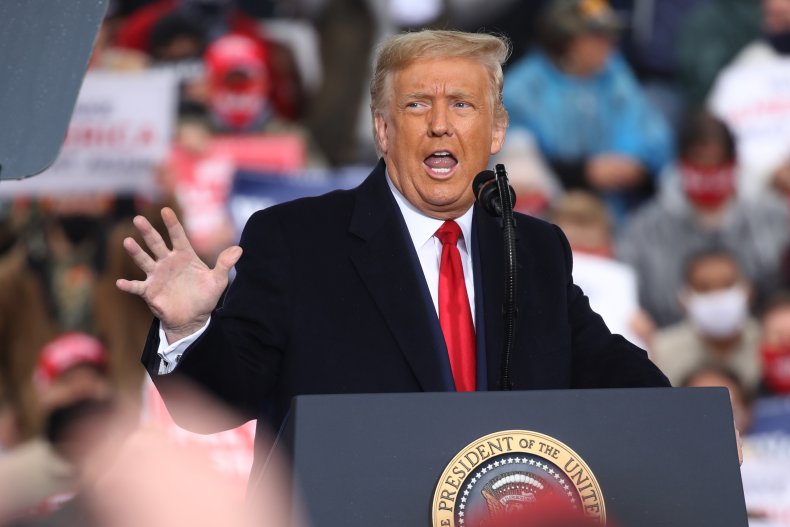 In certain states, once an early vote is cast it is fixed, though some will allow people to change who they choose to support.
"In some states, you can submit your ballot, have a change of heart and, and submit a new ballot," Matthew Weil, director of the Election Project at the Bipartisan Policy Center, told Newsy.
According to CNN, New York, Michigan, Minnesota, Wisconsin, Pennsylvania, Connecticut and Mississippi are among states which will allow voters to change early votes.
However, the parameters for how each state allows this and the extent to which they do varies, according to The New York Post, which previously reported on people searching Google to ask if they could change their vote.
CNN also reports there are states including Florida, North Carolina, Ohio, and Arizona which do not allow people to alter their vote.
Trump's suggestions that people want to switch their vote after the debate comes despite snap polls having shown viewers felt he was outperformed by Democratic presidential candidate Joe Biden.
Polling has previously shown Trump is likely to have more in-person support on Election Day than Biden, but that those planning to cast their ballot early have been leaning to the Democrat.