Trump Tweets Economy 'Coming Back Fast' As California, Engine of U.S. GDP, Shuts Down Again
President Donald Trump tweeted that the economy was "coming back fast" on Monday night, despite California looking to reimpose lockdown measures on several sectors.
Sharing a video of himself boasting about the U.S.'s economic recovery following nationwide coronavirus pandemic shutdowns, Trump said: "The Economy is coming back fast!"
There have been signs of the economy enjoying a bounce-back since states began easing pandemic shutdown measures in May, with the Bureau of Labor Statistics showing unemployment fell from its pandemic peak of 14.7 percent in April to 11.1 percent in June.
Major stock market indices have also largely recovered from their sharp declines at the outbreak of the pandemic. The Dow closed at a little more than 26,000 on Monday after hitting a low of 18,591 in late March.
But there have also been signs that the U.S. economy's recovery is slowing down—a situation that is unlikely to improve in the face of California's move to reimpose some lockdown measures in an effort to curb a renewed spread of COVID-19.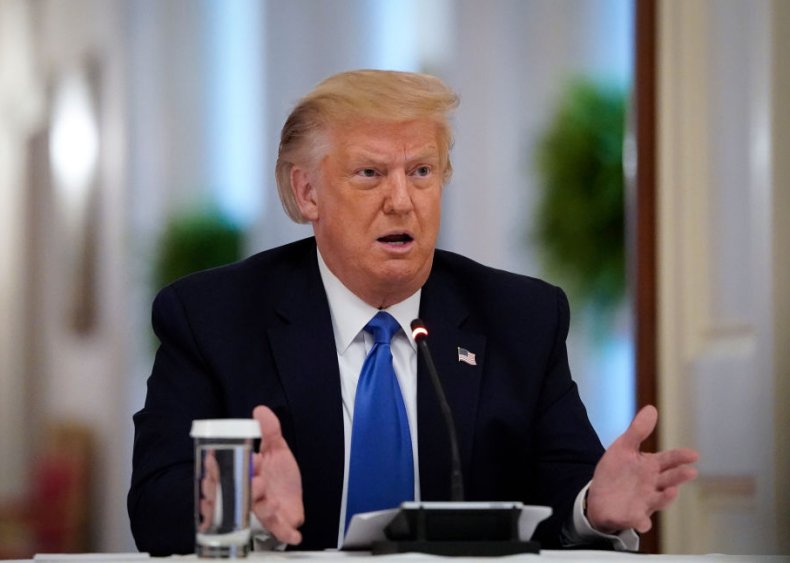 California Gov. Gavin Newsom ordered a raft of sectors to shut down their indoor operations across the state, including restaurants, wineries, movie theaters and bars. He also ordered 30 select counties to close further indoor businesses, such as gyms, malls and barbershops.
Speaking at a press conference broadcast by ABC7 Eyewitness News, Newsom said: "As a consequence of increased positivity rate, increases in hospitalizations and ICUs... today we are announcing additional statewide actions as it relates to our stay-at-home order here in California.
"We are, effective today, asking all counties to close their indoor activities, their indoor operations in the following sectors: restaurants, wineries, tasting rooms, movie theaters, family entertainment centers, zoos and museums, cardrooms, and the shuttering of all bars."
Among the 30 counties told to close further indoor operations are Los Angeles County, Fresno and San Diego County.
California's economy is crucial to nationwide growth, housing more than 39 million people and accounting for roughly 14.7 percent of all U.S. GDP in the first quarter of this year, according to the Bureau of Economic Analysis.
Bureau of Labor Statistics data also shows that more than 18.4 million workers were employed in the home of Hollywood and Silicon Valley as of May this year, down from 19.5 million before the pandemic hit.
Gov. Newsom's order to shutter indoor businesses across the state will likely come as worrying news to economists who have already warned of a slowing economic recovery and the possible risk of a double-dip recession.
Speaking to Newsweek on Monday, Capital Economics' Senior U.S. Economist Andrew Hunter said: "I think the key risk over the next few months is the renewed spread of the virus, which has already prompted 8 states to start reimposing some restrictions on activity and will probably convince more to follow suit over the coming weeks."
He later added that there was a "clear risk of a second contraction" hitting the economy if state reimposed harsher lockdown measures amid a spike in COVID-19 infections.
Newsweek has contacted the White House for comment and will update this article with any response.
The graphic below, provided by Statista, shows the reopening status of states as of Monday.