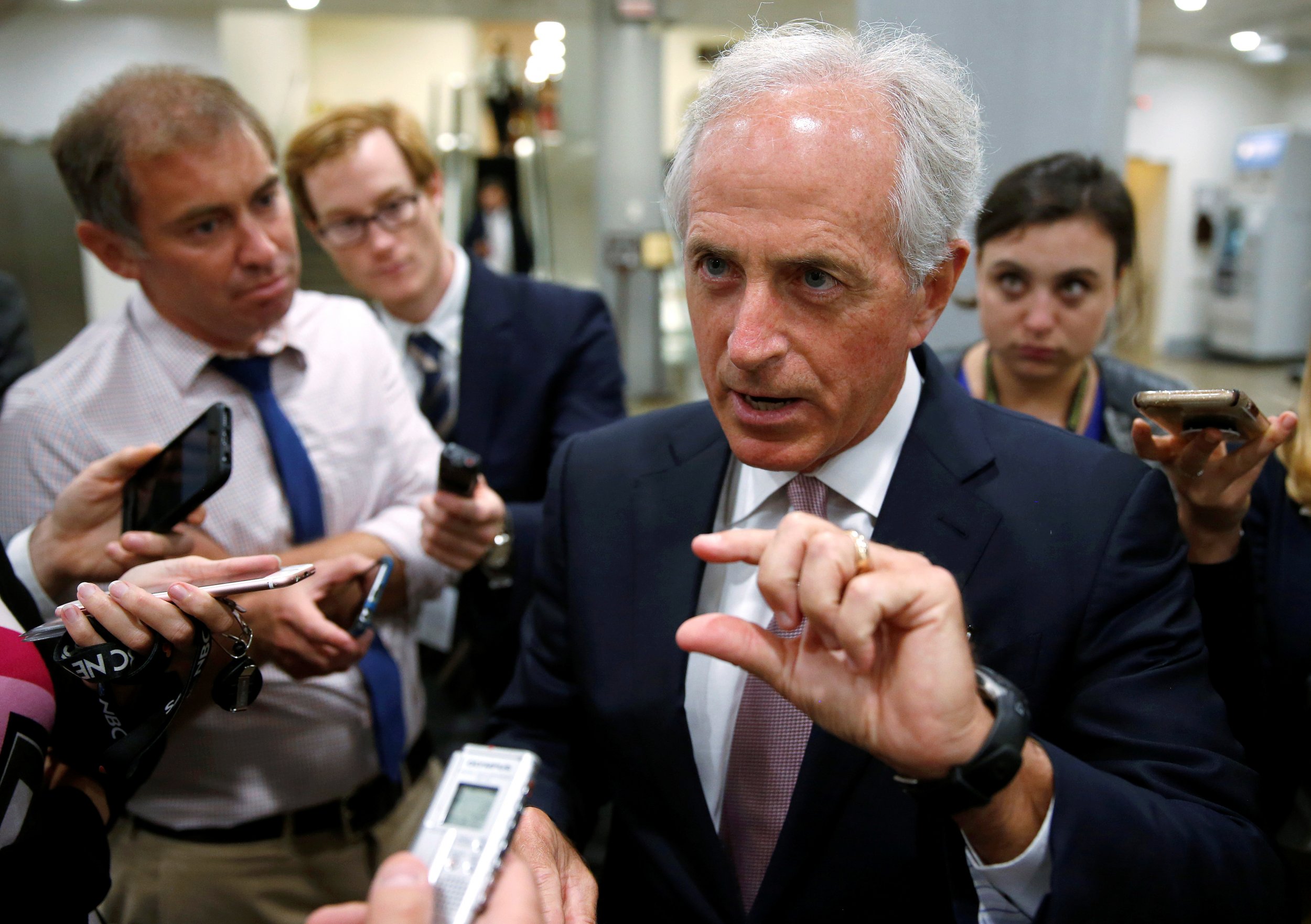 President Donald Trump opened another Twitter war with another GOP lawmaker on Sunday — but this time, the target of Trump's venom fired back.
Retiring Senator Bob Corker was on the receiving end of a Trump tirade early Sunday, but then blasted, "It's a shame the White House has become an adult day care center. Someone obviously missed their shift this morning."
It was a rare counterpunch against the president, who has attacked many GOP leaders, including Sen. Mitch "What Is He Thinking" McConnell and House Speaker Paul "A Man Who Doesn't Know How To Win" Ryan — but both Republicans have let the president have the last word.
But Corker persisted after Trump started his Sunday with a series of tweets attacking the Tennessee Senator, who, Trump claimed, asked for an endorsement before he decided not to run for reelection again in 2018.
"Senator Bob Corker 'begged' me to endorse him for re-election in Tennessee. I said 'NO' and he dropped out (said he could not win without my endorsement). He also wanted to be Secretary of State, I said 'NO THANKS.' He is also largely responsible for the horrendous Iran Deal!" Trump said in two connected tweets.
"Hence, I would fully expect Corker to be a negative voice and stand in the way of our great agenda. Didn't have the guts to run!" Trump followed up a few minutes later.
That's when Corker tweeted his suggestion that White House physicians needed to sedate the president.
In any event, it's unclear what sparked the dispute. Corker's chief of staff, Todd Womack, told The Hill on Sunday that Trump had actually pushed Corker to run again, and offered his endorsement if the Senator decided threw his hat into the ring.
"The president called Senator Corker on Monday afternoon and asked him to reconsider his decision not to seek reelection and reaffirmed that he would have endorsed him, as he has said many times," Womack said to The Hill.
Corker, who currently chairs the Senate Foreign Relations Committee, announced last month that he will not be seeking re-election once his term ends in 2018.
In the late afternoon on Sunday, Trump said the only thing Corker can take credit for was the Iran Deal, an agreement between the United States, Iran, and other international powers that provided Tehran with relief in exchange for restraints on its nuclear program. The tweet followed with American needed things like Healthcare and "people that can get the job done."
But many on Twitter defended Corker.
"Corker should primary Trump. He's retiring from the Senate in 2018, so why not? He'll have time on his hands," tweeted Mark R. Yzaguirre, a Houston lawyer who describes himself as a former Republican.
"Will Bob Corker become the leader of Republican opposition to Trump? History awaits his decision," added MSNBC host Lawrence O'Donnell.
Trump's anger towards Corker may have been triggered on Wednesday, when the Senator said identified a few key members of the Trump administration who prevented complete "chaos" in the United States.
It's not the first time the two have exchanged snarky remarks to each other through social media. In August, Corker criticized the president on his response to the violent white supremacy rally in Charlottesville, Virginia, so Trump retorted that Tennessee voters were "not happy" with their Senator.
But the bad blood is mostly recent. At one point, Corker was being considered as Trump's running mate, no thanks to his comment that Trump was "challenging the foreign policy establishment."