Trump 'Explicitly Tying His Personal Business Interests' to U.S. Diplomacy, Experts Warn After Golf Course Tweet
Experts have warned that President Donald Trump's recent tweet about his Scotland golf course clearly indicates that he links his personal business interests with foreign diplomacy.
In a Saturday post, Trump shared a post from The Trump Organization official account that heaped praise on the Trump International Golf Club Scotland in Aberdeenshire. With the retweet, the president wrote : "Very proud of perhaps the greatest golf course anywhere in the world," adding, "Also, furthers U.K. relationship!"
Commenting on Trump's post, Brian Klaas, a political scientist at University College London, told British news outlet The Independent that the president seemed to be "explicitly tying his personal business interests to American diplomacy." He pointed out that the tweet came just days after "an unfavorable ruling about his golf course, making the timing even more suspect."
At the end of last month, the Trump golf course was ordered by a U.K. court to pay the Scottish government's legal fees regarding a court battle over a North Sea wind power development, the BBC reported. The case dates back to before Trump's tenure as president, when his organization battled unsuccessfully in court to stop the development, arguing it would harm the view from the resort.
"I think that it's hard to explain why he would tweet about that specific golf club on that specific day otherwise," Klass said, linking the president's comment to the court's ruling.
Susan Simpson, a lawyer at Volkov Law Group who specializes in corruption, told The Independent that Trump's message was "barely implicit." She said he was essentially suggesting: "If the U.K. takes a position that is adverse to my golf course, U.S. foreign policy will take a position that is adverse to the U.K."
Trump's tweet and insinuation was also condemned by former director of the U.S. Office of Government Ethics Walter Shaub.
"This is Trump's most explicit commingling of personal interests and public office to date," Shaub contended. "This is the tone from the top that leads his appointees to violate ethics rules. This is shameless, corrupt and repugnant presidential profiteering. This is an invitation to graft."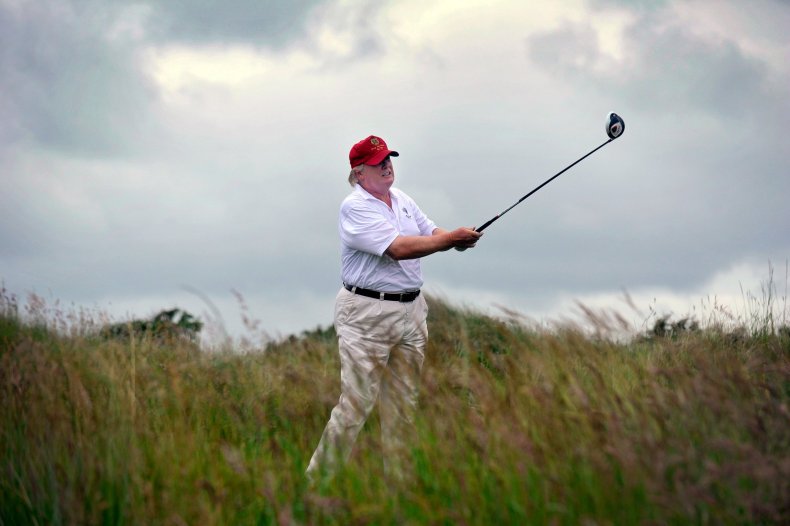 Citizens for Responsibility and Ethics in Washington (CREW), an ethics watchdog, released a statement slamming Trump's comment as well. The group said the president was "using an official statement as an ad for his business and making sure everyone knows he ties his business to U.S. relationships with foreign countries," and that "we have to ask if the president views any difference between his presidency and his business empire."
In the past, Trump said he had not been involved in the operations of his multinational business empire since taking office. But allegations have swirled that he and his family members have used their position on the global stage to benefit their personal business ventures.
Following Trump's election, several nations—including Saudi Arabia, Kuwait, the Philippines and Turkey—booked rooms and events at the president's hotels. Analysts interpreted such moves as bids to curry favor with the businessman president.
Correction: This article originally inaccurately stated that the experts cited were British, rather than based in the U.K.