When Will the $400 Unemployment Start? Trump's Executive Action Explained
President Donald Trump signed a memorandum on Saturday to continue federal contribution to unemployment assistance during the coronavirus pandemic. But what does this executive action mean for Americans?
What does the memorandum say?
This lost wages assistance program will provide $400 per week to eligible claimants from the week of unemployment ending August 1, 2020.
To be an eligible claimant you need to, for the week lost wages assistance is sought, receive at least $100 per week of any of the following benefits:
Unemployment compensation, including Unemployment Compensation for Federal Employees (UCFE) and Unemployment Compensation for Ex‑Service members (UCX);
Pandemic Emergency Unemployment Compensation (PEUC);
Pandemic Unemployment Assistance (PUA);
Extended Benefits (EB);
Short-Time Compensation (STC);
Trade Readjustment Allowance (TRA); or
Payments under the Self-Employment Assistant (SEA) program.
Claimants must also provide self-certification that they are unemployed or partially unemployed due to disruptions caused by COVID-19.
According to the memorandum, the President has directed the Federal Emergency Management Agency (FEMA) to assist in providing benefits from the Department of Homeland Security's Disaster Relief Fund (DRF), which has over $70 billion available.
The order also directs state governments to use their Coronavirus Relief Fund (CRF) allocation, to bring continued financial relief to Americans who are suffering from unemployment due to the COVID-19 outbreak.
Back in March 2020, the Trump administration brought in the Coronavirus Aid, Relief, and Economic Security (CARES) Act, which provided $150 billion in funding directly to state, territorial, tribal and some local governments through the CRF to cover costs incurred due to the pandemic.
The executive order states that a report from the Treasury Inspector General that relates to state expenditures showed that over $80 billion of these funds remained available. The order also says that $8.8 billion of emergency assistance, provided under the Stafford Act, has been provided by Federal departments and that more than $70 billion in emergency funding is available from the DRF.
"To provide financial assistance for the needs of those who have lost employment as a result of the pandemic, I am directing up to $44 billion from the DRF at the statutorily mandated 75 percent Federal cost share be made available for lost wages assistance to eligible claimants, to supplement State expenditures in providing these payments," Trump states in the memorendum.
"At least $25 billion of total DRF balances will be set aside to support ongoing disaster response and recovery efforts and potential 2020 major disaster costs."
As part of this effort by the administration, the memo directs that each state governor, which includes territories such as District of Columbia, requests a grant for lost wages from the FEMA Administrator and administers the delivery of the funds through the state's unemployment insurance system.
The lost wages assistance program will be available until the balance of the DRF reaches $25 billion or for weeks of unemployment ending not later than December 6, 2020—whichever occurs first.
When will I get my $400 unemployment benefits?
The memorandum says that unemployment benefits will be made available "to eligible claimants from the week of unemployment ending August 1, 2020." However, there can be hurdles that might stop the actions from being carried out.
Congress can raise a bill, which is eventually made into law, to try to block the orders by the President, according to the USA.gov website. However, the President can also veto the bill, which would mean Congress would have to vote to overturn it. This means that there could be a potential delay in benefits being paid.
According to the Committee for Responsible Federal Budgeting, as of June 30, 2020, around 25 percent of State CRF funds had been spent.
"We estimate that the program would have sufficient funding for five weeks of benefits (through August 29)," says the organization in a blog post. "Because the money was already appropriated to the DRF, some by the CARES Act and some by previous legislation, this money could have been spent already so choosing it to spend on unemployment will have no additional deficit impact."
Economist and senior fellow at the Brookings Institution, Gary Burtless, believes that recipients of unemployment insurance will have to rely on the standard amount for a while.
"President Trump's plan for unemployment insurance is a very complicated and possibly unconstitutional program of federal assistance that will take a while to implement," Burtless told Newsweek.
"Under the President's new plan, the extra $300 per week would only be available in states that supplemented the federal payment by another $100 per week, supposedly giving workers $400 more per week than the standard weekly unemployment insurance check or PUA payment."
Burtless goes onto to explain that states will have to reprogram their benefit computation program so that unemployment insurance and PUA beneficiaries receive a check that is $400-per-week higher than the standard amount.
"Under one interpretation of the plan, the reprogramming will also require states to withhold the $400-per-week increase from workers whose unemployment insurance or PUA weekly benefits are less than $100.
"As experience from mid-March through early June showed, it will take some state unemployment insurance systems a long time to re-program their benefit payment systems to accommodate this change."
The additional challenge for state governments is that they will have to find the funds to pay for one-quarter of the cost of the federal top-up, and according to Burtless the fiscal position of nearly all state governments are already imperiled as a result of the COVID-19 pandemic.
"Their revenues have been hurt and public spending for relief and medical assistance are higher. Finding the funds to pay for a $100-per-week benefit hike may be hard and could be very time-consuming," Burtless said.
"Some state governments are also under the quaint impression that the approval of the state legislature is needed to reprogram state spending to pay for higher unemployment benefits."
According to the economist, the U.S. Department of Labor published statistics on state-level performance showing that four of the 50 states did not even accept applications for their PUA program until the week ending June 20 or later—the 100 percent federally-funded program that was authorized in late March.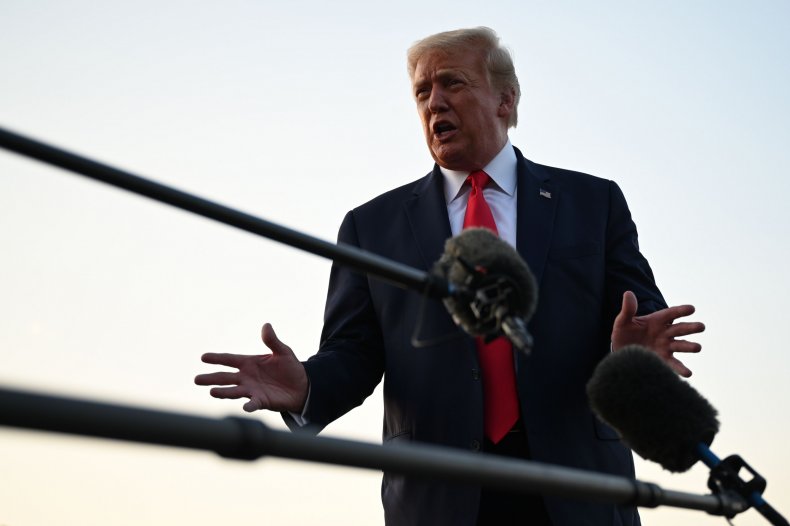 What are Executive Orders?
An executive order has the power of federal law. Presidents can use executive orders to create committees and organizations. For example, President John F. Kennedy used one to create the Peace Corps. More often, presidents use executive orders to manage federal operations.
Congress may try to overturn an executive order by passing a bill that blocks it. But the president can veto that bill. Congress would then need to override that veto to pass the bill. Also, the Supreme Court can declare an executive order unconstitutional.
What are Presidential Memoranda?
Presidential memoranda are like executive orders. The president can use memos to direct government operations. But executive orders are numbered and published in the Federal Register. Presidential memos are not.
What are Presidential Proclamations?
Presidential proclamations are statements that address the public on policy matters. They are mainly symbolic and are usually not enforced as laws.
Source: USA.gov