Donald Trump Is the Most Unlikely Anti-Abortion President Ever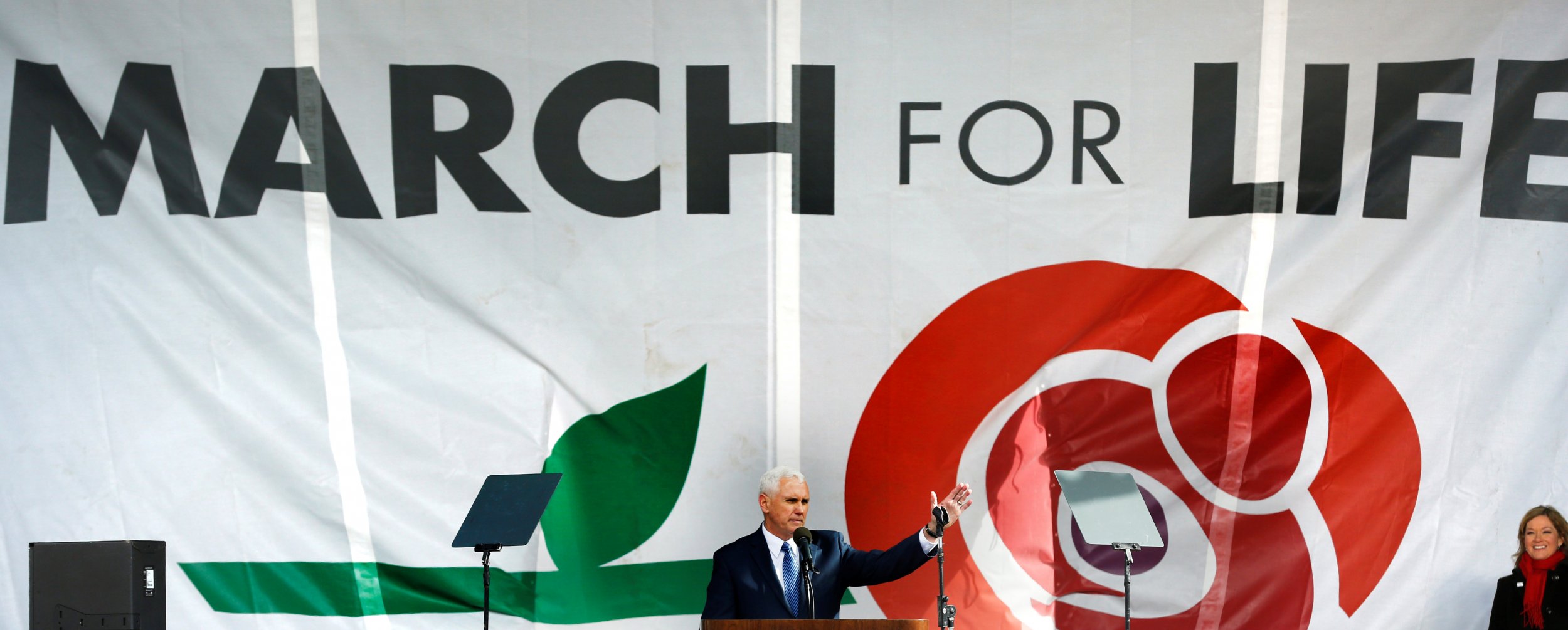 Donald Trump was once an adamant believer in legal abortion. He may even have been involved in one, or more. Maureen Dowd, the New York Times columnist, asked Trump last year if when "he was a swinging bachelor in Manhattan, was he ever involved with anyone who had an abortion?"
Trump's offered an evasive reply. "Such an interesting question," he said. "So what's your next question?"
The new president's evolution to a pro-life position isn't unusual. Any number of politicians have migrated in that direction, including former presidents George H.W. Bush and Ronald Reagan; the latter signed a liberal abortion law as governor of California before becoming a pro-life president. (Elected officials have also moved in the other direction as well, such as former House Majority Richard Gephardt, a Democrat.) But Trump's reversal has been more dramatic than any politician in modern memory, and it carries more consequences not only because he's president but because the Supreme Court, which could move to overturn Roe v. Wade, may face several vacancies during the next four years. He's poised to nominate a jurist to replace the late Antonin Scalia as soon as next week.
Trump's switch has also had a more interesting tone than most. While some have been influenced by their love for a child with a disability, for example, Trump had a different take. During the first debate presidential debate, he explained his epiphany: What "happened is friends of mine years ago were going to have a child, and it was going to be aborted. And it wasn't aborted. And that child today is a total superstar, a great, great child. And I saw that. And I saw other instances."
On Friday, Mike Pence, an adamant opponent of legal abortion, became the first sitting vice president to address the annual March for Life that protests legal abortion and Roe v. Wade, the 1973 Supreme Court ruling that made abortion a constitutional right. Before that 7-2 ruling, authored by the late Justice Harry Blackmun, abortion was legal in some states and not others and was progressing in a direction that favored those who opposed criminalizing the procedure. The decision galvanized opponents of legal abortion, who, perhaps, are more optimistic about overturning the landmark ruling than at any time during the last 44 years.
"It's a good day for life," said Pence as he addressed the crowd gathered on the National Mall in Washington, D.C. The marchers loudly cheered when Pence heaped praise on "the election of a president who proudly stand for the right to life." He captured the jubilant mood of the crowd when he declared "life is winning in America."
Pence's appearance left right-to-life forces elated. "Having a vice president speak to the March for Life for the first time this morning was a significant political and cultural moment," said Charmaine Yoest, senior fellow at American Values, a conservative nonprofit. "His speech capped a week of dramatic policy progress for the pro-life movement. His decision to attend energizes the pro-life majority and signals a profound change in the political landscape."
Carol Sanger, a Professor at Columbia Law School and the author of the forthcoming, About Abortion: Terminating Pregnancy in the 21st Century, notes Pence's importance, saying his "participation in the March for Life signaled not only symbolic support for the pro-life movement, but actual support as well. He endorsed the revival of the 'Culture of Life,' a hallmark of [last seen in] the George W. Bush White House."
While pro-life forces have racked up victories in the states as well as in Washington, they face mixed public opinion and a pro-choice opposition that has been scared into action by the Trump election. Last week's anti-Trump protests around the country, sponsored in part by Planned Parenthood, drew millions and have been called the largest in American history. With activists emboldened on both sides of the divide, the confrontations will only grow larger.
Meanwhile, Trump continues to be the most surprising ally of the movement, given his past positions. During his first week in office, he reinstated and expanded a ban on federal funding to international groups that provide abortions or even provide counseling about them. His signature on this executive order reinstated the so-called Mexico City Policy that President Barack Obama had rescinded.