Trump Urges 'Old Crow' McConnell to Attend Biden Signing Ceremony: 'Put Up With the Scorn'
Former President Donald Trump on Saturday criticized Senate Minority Leader Mitch McConnell over his plan to skip the White House signing ceremony for President Joe Biden's bipartisan infrastructure bill, as congressional Republicans who helped pass the package remain split over whether to show up to the Monday event.
"Mitch McConnell has stated that he will not go to the signing of the 'Non-Infrastructure' Bill (only 11% for real Infrastructure) or, as it is sometimes called, the Elect Democrats in 2022/24 Act," Trump said in a statement. "It gives Biden and the Democrats a victory just as they were falling off the cliff."
"Based on the fact that the Old Crow convinced many Republican Senators to vote for the Bill, greatly jeopardizing their chance of winning re-election, and that he led the way, he should go to the signing and put up with the scorn from Great Republican Patriots that are already lambasting him," the former president added.
McConnell, who voted for the bill and drew Trump's ire, has touted the sweeping plan as "good for the country" and tried to give the Senate credit for its passage in his home state. But as tensions rose among Republicans over whether to support Biden's agenda, McConnell said Thursday that he won't attend the bill's signing ceremony.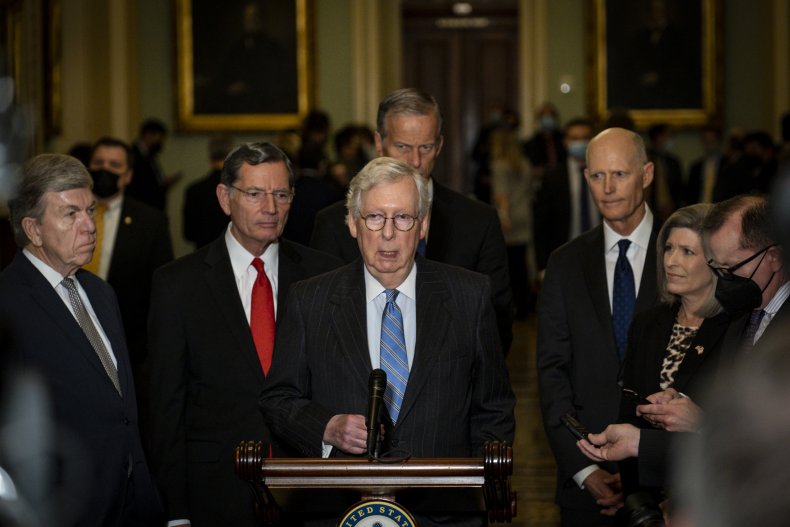 "No, I've got other things I've got to do other than go to the signing ceremony," he said in an interview with WHAS, a Kentucky radio station owned by iHeartMedia.
McConnell joined 18 other Senate Republicans in voting with Democrats for the infrastructure bill in August. Then after months of tense negotiations and delay, the House passed the package largely along party lines last Friday, with 13 House Republicans breaking with their party to vote in favor of the plan. With six progressive lawmakers in revolt, the legislation would not have succeeded if it were not for the Republican defectors.
The group of House Republicans who supported the bill on November 5 came under fire from hard right members of their own caucus, including Madison Cawthron of North Carolina and Marjorie Taylor Greene of Georgia, who called them "traitors."
White House Press Secretary Jen Psaki said Friday that the Biden administration has invited a number of Republicans who helped "move the infrastructure bill forward" to Monday's signing ceremony.
So far, only one House Republican—Rep. Tom Reed of New York—and two Senate Republicans—Sens. Susan Collins of Maine and Lisa Murkowski of Alaska—have confirmed that they will be attending the signing ceremony.
Newsweek reached out to McConnell's office for comment.