Donald Trump has used terms like "invasion," "alien," "killer" and "criminal" more than 500 time in discussing immigrants during campaign rallies since 2017, according to a USA Today analysis.
During the roughly 64 rallies that Trump has held across America since 2017, the president has used the word "invasion" in reference to immigrants at least 19 times, the newspaper reported. In addition, Trump has also used the word "animals" 34 times and "killer" more than 30 times.
USA Today's analysis found that Trump had used the words "predator," "invasion," "alien," "killer," "criminal" and "animal" more than 500 times in total to describe immigrants at his rallies. The president has also used the phrase "hell out of our country" at least 43 times, almost always in reference to undocumented migrants. The below graph from Statista shows the president's vocabulary during immigration speeches:
"This is an invasion," Trump said at a rally in Panama City Beach, Florida earlier this year. "I was badly criticized for using the word 'invasion.' It's an invasion."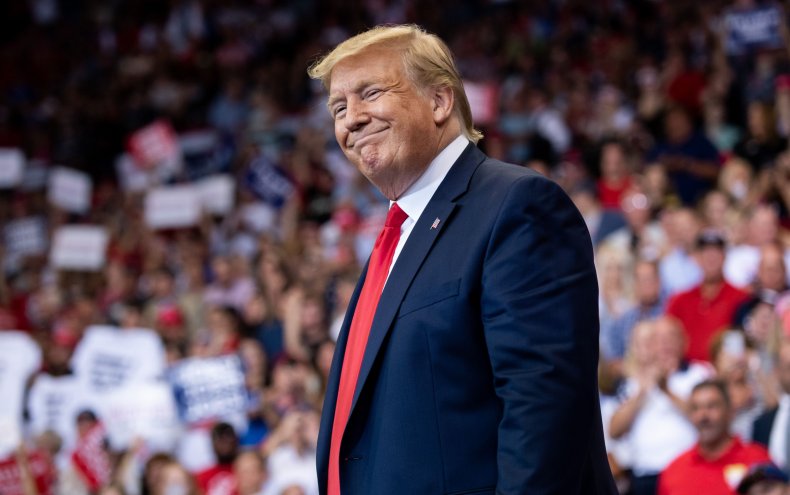 The president's inflammatory racial rhetoric has come under increased scrutiny this week after two mass shootings in America over the weekend left 31 dead and dozens more injured. Although the Dayton, Ohio shooting had no direct link to white supremacy, the suspected El Paso shooter appeared to have been motivated by anti-immigration rhetoric.
Authorities told Washington Post in the aftermath of the incident that they were investigating a manifesto, allegedly penned by the shooter, that contained strong anti-immigration sentiments and sympathy for the Christchurch shooter, a gunman involved in attacks on New Zealand mosques that resulted in 49 deaths in March. A Twitter account suspected to belong to the shooter liked an image of guns arranged to spell "Trump." The account was suspended by the social media platform on Saturday, hours after the shooting.
Democrats have accused Trump of encouraging the hate and violence in the El Paso shooting with his harsh immigration rhetoric. Trump "is a racist and he stokes racism in this country," former Texas congressman Beto O'Rourke said. "And it does not just offend our sensibilities, it fundamentally changes the character of this country and it leads to violence."
The president "doesn't just tolerate, he encourages the kind of open racism," the Democratic presidential candidate added.
The hashtag #TrumpsTerrorists also trended on Twitter Sunday afternoon, with tens of thousands of Americans weighing in on whether the president should be partly to blame for the shooting.
Media Matters, a progressive media watchdog, on Sunday found that Trump has run roughly 2,200 Facebook advertisements using the word "invasion" since May 2018. Most of the posts appeared to be about immigration.
"We have an INVASION! So we are BUILDING THE WALL to STOP IT! Dems will sue us. But we want a SAFE COUNTRY!," one of the president's advertised posts read. "It's CRITICAL that we STOP THE INVASION. Nancy Pelosi and Democrats have not negotiated in good faith to fund a wall at our Southern Border, proving that OBSTRUCTION is far more important to them than YOUR SAFETY..."
Trump's 2020 reelection campaign team declined calls for the president to stop using the word to describe Central American migrants coming to the U.S., despite the word being used in the alleged El Paso shooter's manifesto.
"At any given moment, there are 100,000 migrants making their way through Mexico to attempt to break our immigration laws," Tim Murtaugh, the president's campaign communications director, said. "By objecting to an accurate description of the situation, Democrats and the media are trying to make it impossible to oppose illegal immigration without being called racist."