Trump Campaign Refuses to Stop Using 'Invasion' to Describe Migrants, Claims it's 'Accurate'
President Donald Trump's 2020 reelection campaign team has refused to stop using the word "invasion" to describe the influx of Central American migrants coming to the U.S., despite the word being used in a manifesto connected to Patrick Crusius, the alleged mass shooter in El Paso, to refer to Latin American immigrants.
Over the past few months, Facebook advertisements for Trump's 2020 campaign have feature the word "invasion" to describe the arrival of migrant families and children at the southern border of the U.S. with Mexico.
But a campaign official told The New York Times on Tuesday that the reelection team has no plans to stop using the term, arguing that it was "accurate."
"At any given moment, there are 100,000 migrants making their way through Mexico to attempt to break our immigration laws," said the president's campaign communications director, Tim Murtaugh. "By objecting to an accurate description of the situation, Democrats and the media are trying to make it impossible to oppose illegal immigration without being called racist."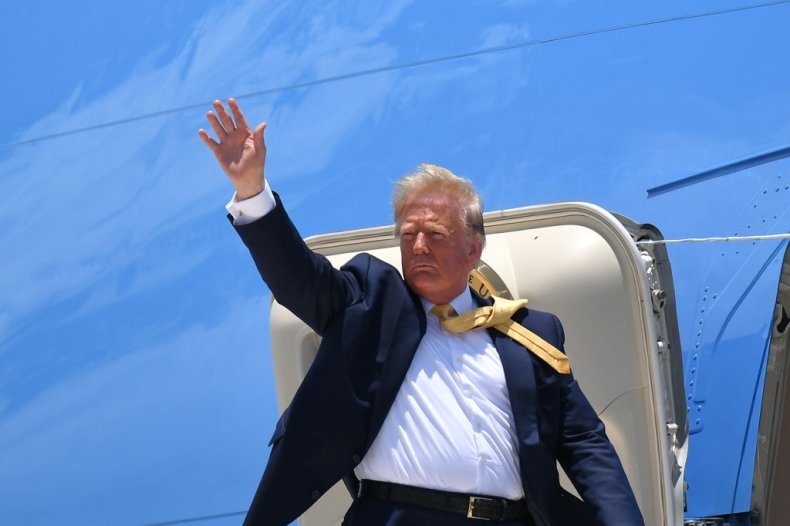 Since January 2019, Trump's team has posted more than 2,000 ads using the word "invasion" to describe migrants and asylum seekers arriving at the border, according to The Times. "We have an INVASION!" many ads read. They continue, stating, "It's CRITICAL that we STOP THE INVASION."
On Saturday, a shooter opened fire at a Walmart in the Texas border city of El Paso, leaving 22 dead and more than two dozen wounded. The alleged shooter, 21-year-old Patrick Crusius, has been linked to an anti-immigrant manifesto published online just minutes before the attack. The document describes a "Hispanic invasion of Texas" and argues that Latin Americans should be killed.
Prosecutors indicate that, in addition to other offenses, they are considering federal hate crime charges, as the attack appeared to be racially motivated.
Analysts and Trump critics were quick to note the president has routinely described the flow of Central American migrants coming to the U.S. in similar terms, frequently using the term "invasion" during speeches and on Twitter. He's also broadly dubbed immigrants as "criminals," despite aide workers pointing out that the majority of migrants coming to the country are families, often with young children, seeking asylum to escape rampant violence and economic insecurity in their home countries.
Trump also previously referred to Mexicans coming to the U.S. as "rapists."
Although Trump condemned white supremacy and hate motivated crimes in a Monday address, critics have argued that the president's words did not go far enough. The president's rhetoric has fostered hatred nationwide, they argue, while giving cover for white nationalists to promote racist ideology.
"Using the words 'invasion,' 'infestation,' [with] respect to a specific, targeted group of people, implying they are vermin: this is the language of white supremacy & it goes all the way to the top," Democratic Representative Alexandria Ocasio-Cortez of New York tweeted this week, sharing a post that highlighted the Trump campaign's use of the word "invasion" in ads.
"It's not a matter of political stances. This is stoking hatred+endangering the country," she added.
Trump Campaign Refuses to Stop Using 'Invasion' to Describe Migrants, Claims it's 'Accurate' | U.S.