Republican Strategist Says Trump's 'Hateful Speech' 'Connected' to White Terrorism
Republican strategist Susan Del Percio called out President Donald Trump on Tuesday morning, condemning his "hateful speech" for being "connected" to white supremacy and criticizing his address regarding weekend mass shootings in Dayton and El Paso as showing "absolutely no heart whatsoever."
Del Percio's comments came during a segment of MSNBC's Morning Joe, with the GOP strategist pointing out that Trump has done little to address concerns about Russia interfering in U.S. elections. "You think he's going to start recognizing the fact that white supremacist terrorism exists?" she asked. "Especially when it's connected to his hateful speech, it won't happen."
"He [Trump] can give a statement like he did, which showed absolutely no heart whatsoever, and then go out there at his next rally and rally everybody up, where he does show emotion," she continued. "But he's not going to do anything [about white supremacy], so it falls to a state by state– and elected officials being held accountable."
On Saturday, a gunman opened fire on a Walmart in the Texas border town of El Paso, killing at least 22 people and wounding more than two dozen others. Authorities detained 21-year-old Patrick Crusius as the prime suspect and prosecutors said on Sunday they were considering charging him with federal hate crimes charges. A manifesto that has been linked to Crusius was published minutes before the attack took place, ranting against a "Hispanic invasion of Texas." The document argued that Latino immigrants should be killed.
An unrelated shooting in Ohio, which police have said was carried out by 24-year-old Connor Betts, left nine dead and dozens wounded in the early hours of Sunday morning, less than 24 hours after the first shooting. The motivation for that mass shooting remains unclear, but Betts' sister was among the victims and his social media accounts show that he appeared to have some far-left political leanings. However, Betts was also part of a "pornogrind" band, which featured lyrics describing extreme violence against women and rape.
Trump critics have pointed to the El Paso shooting as an example of Trump's anti-immigrant and racist rhetoric leading to real world violence. Many analysts noted that the president has repeatedly called the flow of Latino migrants to the U.S. "an invasion" of "criminals." He also called Mexicans "rapists" in the past.
Although Trump, in a Monday speech about the mass shootings, condemned white supremacy, many leading politicians and critics believe that does not go far enough. They see the president as emboldening white nationalists and encouraging violence against minorities. Earlier this year, the FBI identified followers of the pro-Trump QAnon conspiracy theory as a domestic terrorism threat. Additionally, ardent Trump supporter Cesar Sayoc, who has been dubbed the "MAGA Bomber," was sentenced this week to 20 years in prison for mailing bombs to several leading Democratic politicians and critics of the president.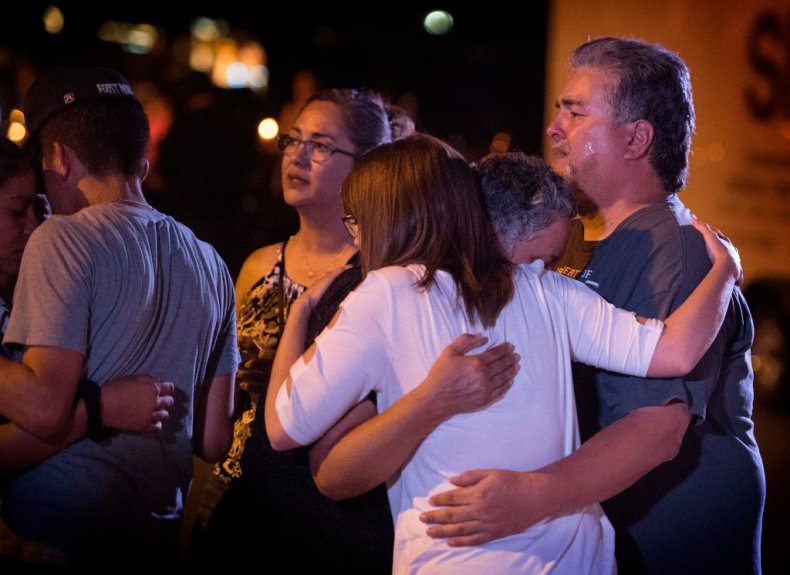 2020 presidential hopeful Bernie Sanders, a senator from Vermont, criticized Trump following his Monday speech addressing the mass shootings and white supremacist violence.
"I say to President Trump: Talk is cheap. We need action. Stop the racism. Stop the anti-immigrant bigotry coming out of your mouth. Tell McConnell to pass gun safety legislation the American people want," he wrote on Twitter. In a follow-up tweet, Sanders, who is Jewish American, suggested the president's rhetoric was similar to that used by Adolf Hitler in Nazi Germany in the lead up to World War II and the Holocaust.
"Most of my father's family was brutally murdered at the hands of Hitler's white supremacist regime—a regime which came to power on a wave of violence and hatred against racial and religious minorities," the Senator wrote. "We cannot allow that cancer to grow here."