Pete Buttigieg Calls On Trump to Leave His Golf Resort and 'Condemn' White Nationalism After El Paso Shooting
Democratic presidential hopeful Pete Buttigieg slammed what he called President Donald Trump's "bully" rhetoric following the El Paso shooting on Saturday, calling on the president to "leave his golf resort" and return to Washington to "condemn" white nationalism.
"The ultimate amplifier on this kind of hate is the bully pulpit of the White House," Buttigieg, who is the mayor of South Bend, Indiana, said on MSNBC news on Sunday. "This is a question of leadership," he continued. "Will the president of the United States leave his golf resort, go back to Washington, address the nation, condemn—in no uncertain terms—white nationalism as an evil ideology that is inspiring some people to commit murder?"
Buttigieg also argued that Trump should "call for the Senate to convene tomorrow to enact at least the most basic gun safety reforms that most Americans want." However, he also suggested there would be "a mix of silence today and more hate tomorrow coming from the highest office in the land." The Indiana mayor accused the president of "stoking" racial tensions.
At least 20 people were killed and 26 others were wounded after a mass shooter attacked a Walmart in the Texas border city of El Paso on Saturday. Patrick Crusius, 21, has been arrested and identified by authorities as the suspected shooter. A manifesto believed to be connected to Crusius was published online about 19 minutes before the shooting was carried out. Expressing intensely anti-immigrant sentiments, particularly against Hispanics, the document argued that the community should be targeted and killed.
Authorities announced on Sunday that they were investigating the incident as domestic terrorism. Prosecutors said they were considering charging Crusius with federal hate crime charges and federal gun charges, which could carry the death penalty.
Although Trump condemned the mass shooting via Twitter, many called out the president for his often racist rhetoric disparaging Mexicans and Central American immigrants. In the past, the president has called Mexican immigrants "rapists," and referred to Latin American migrants broadly as "criminals."
"He [Trump] is a racist and he stokes racism in this country," Buttigieg's fellow 2020 Democratic presidential hopeful Beto O'Rourke, who previously served as a representative for Texas, said on Saturday. "And it does not just offend our sensibilities, it fundamentally changes the character of this country and it leads to violence."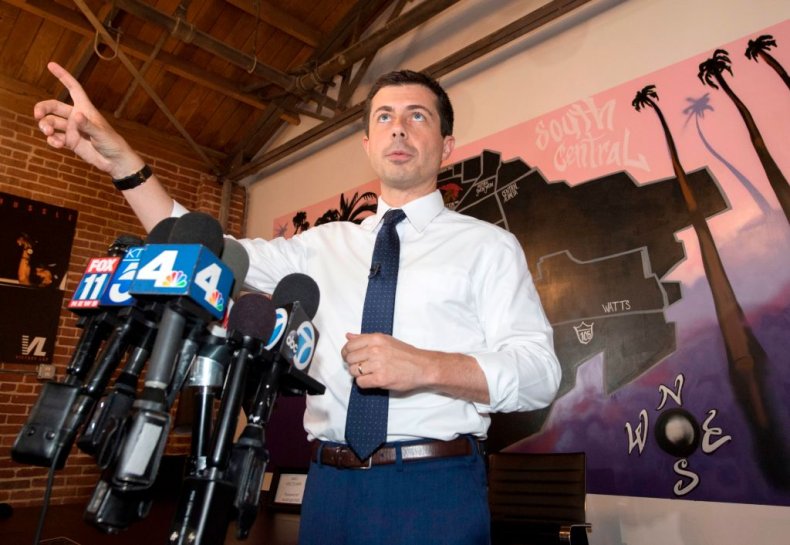 Many have also called on the government and Americans to take white nationalist terrorism more seriously in the wake of the mass shooting. Republican Texas Land Commissioner George P. Bush, the grandson of George H.W. Bush, referred to "white terrorism" as a "real and present threat" to the U.S.
"There have been multiple attacks from self-declared white terrorists here in the U.S. in the last several months," Bush said in a statement posted to Twitter. "All terrorism must be stopped."
For his part, Trump tweeted on Saturday: "Today's shooting in El Paso, Texas, was not only tragic, it was an act of cowardice. I know that I stand with everyone in this Country to condemn today's hateful act. There are no reasons or excuses that will ever justify killing innocent people."