Trump Is an 'Utter Failure' at Bringing Manufacturing Jobs Back to Swing States, Nobel Prize-Winning Economist Says
Nobel Prize-winning economist Paul Krugman took issue with President Donald Trump's repeated claims that the economy is doing better than ever under his administration.
The economic expert wrote on Twitter Wednesday that the president's promises regarding manufacturing jobs and GDP growth have failed to materialize.
"The meh GDP numbers won't help Trump next year. But what should really scare him is his utter failure to boost manufacturing in swing states," Krugman, who is a columnist for The New York Times and won the Nobel prize in economics in 2008, wrote on Twitter. He shared a graph of manufacturing job levels over time in Wisconsin to emphasize his point.
As the chart reveals, the swing-state, which voted for former President Barack Obama twice and then was narrowly won by Trump in 2016, has significantly fewer manufacturing jobs now than it did in 2015 or 2016. The president has repeatedly promised to bring back well-paying manufacturing jobs to the U.S., which has been seen as one of the reasons the president's campaign resonated with voters in swing states like Wisconsin.
Krugman also explained that Trump has fallen fall short of his promises regarding GDP growth. The economist tweeted an article by The Hill from last year, which highlighted how Trump was promising that GDP growth "could be in the fives," referring to 5 percent growth or higher.
Captioning the first tweet "Promises," Krugman than shared a follow-up tweet with a chart that shows GDP has never reached 4 percent since Trump's election to office. He captioned the second post: "Reality."
"And business investment, which was the principal target of the Trump tax cut, is actually falling," he added in a third tweet.
Manufacturing job growth has slowed across the country. Midwestern states Ohio and Michigan, which also voted for Obama twice before turning to support Trump, are over six months into a steady manufacturing job decline. Indiana also has fewer factory jobs than it did in the same period of 2018.
While many in these key states continue to support Trump and his policies, many have also argued that he can not be trusted.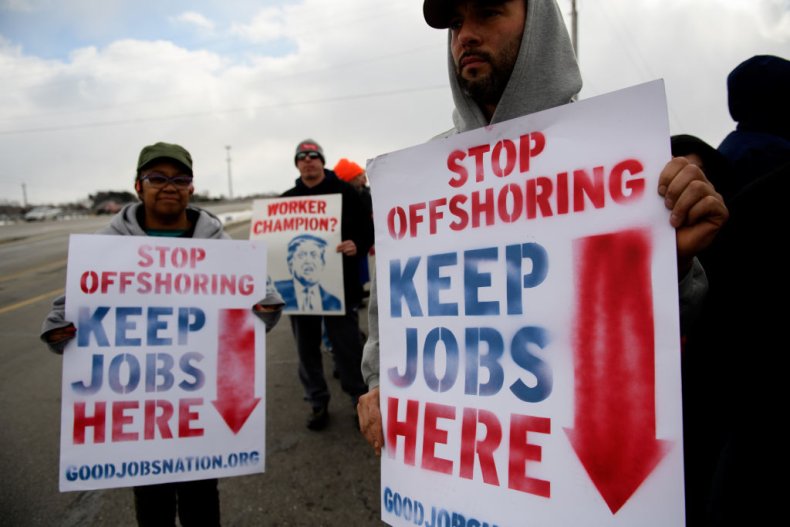 "Pretty much anything that man says is unrealistic to me," Bill Adams, vice president of the United Auto Workers Local 1112, told CNN this week. Adams was voicing his frustration over the fact that a Lordstown, Ohio General Motors (GM) plant would remain closed despite a promise from the president that factory jobs would return to the area.
"How'd that work out? It didn't," the union leader said. "He lied."