Trump Voters, Republicans Overall Actually Don't Care If the President Shoots Someone on Fifth Avenue: Poll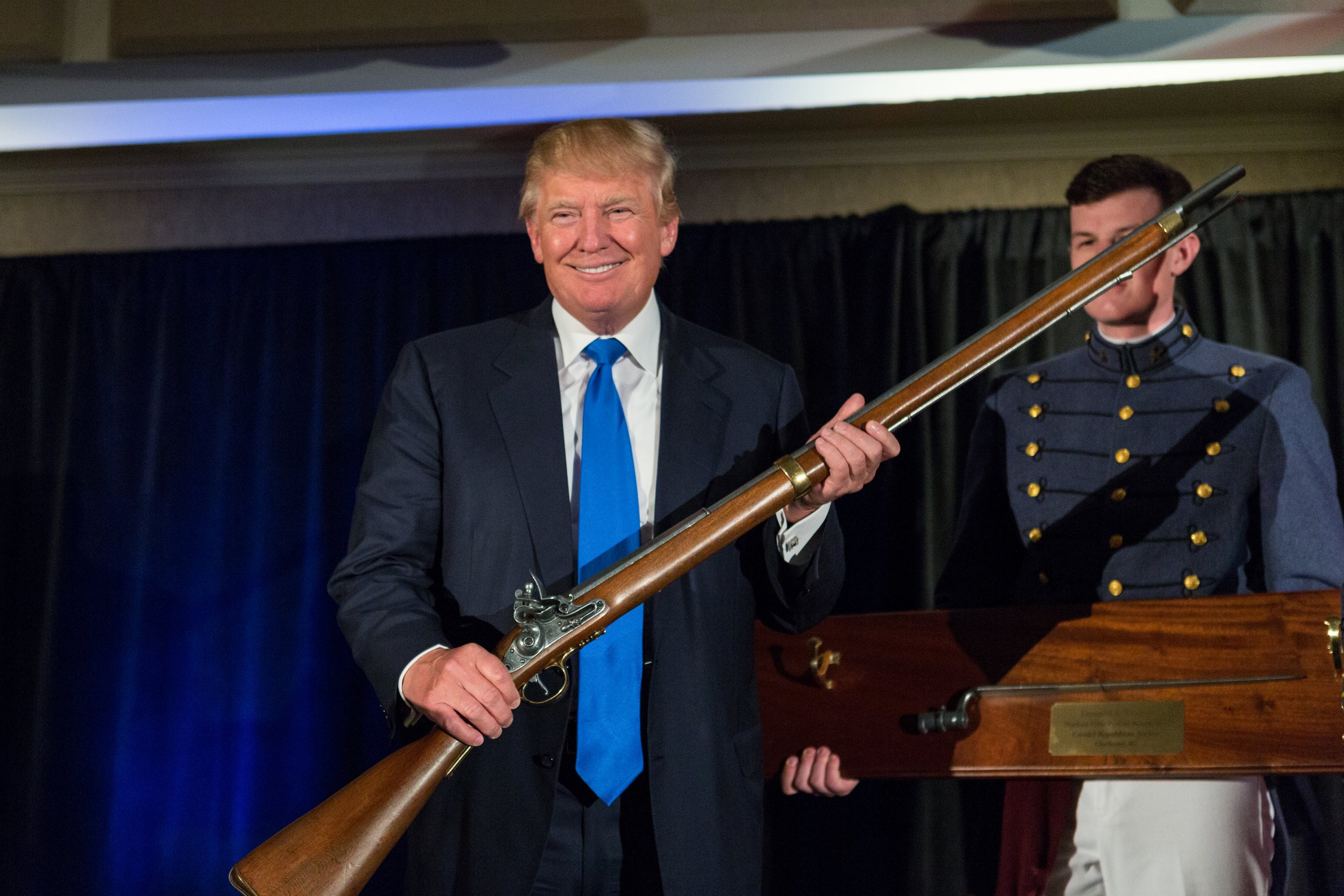 It's a horrifying thought: A man walks down to Fifth Avenue in Manhattan—a bustling street full of New Yorkers and tourists alike—and fires a round at a passer-by.
But in the eyes of many American voters, as long as the shooter was President Donald Trump, that act would be just fine. At least that's what the findings indicate in a new poll released Tuesday by Public Policy Polling, a company that does polling for public surveys as well as for Democratic candidates.
The survey results hark back to a now-infamous claim Trump made on the campaign trail last January, when he raised his hand like a gun and said he could shoot someone on Fifth Avenue and his supporters would still love him.
He made the boast during an Iowa rally: "My people are so smart. And you know what else they say about my people, the polls? They say I have the most loyal people. Did you ever see that? Where I could stand in the middle of Fifth Avenue and shoot somebody and I wouldn't lose any voters, OK? It's like incredible."
Public Policy Polling put that claim to the test, and it mostly held up. Forty-five percent of Trump voters said they would approve of the president shooting someone on Fifth Avenue, while just 29 percent disapproved. Twenty-six percent, somehow, were unsure about their thoughts about whether it would be OK for Trump to shoot a random person on the street.
Pretty predictably, 90 percent of Hillary Clinton voters said they disapproved of the president shooting someone. But, perhaps surprisingly, 17 percent of those who voted for Independent candidate Gary Johnson approved of Trump shooting someone, according to Public Policy Polling.
More Republicans (which presumably includes some #NeverTrumpers) approved of Trump shooting someone than disapproved. Forty-two percent approved, 34 percent disapproved, and 25 percent weren't sure.
Overall, when asked the question "If Donald Trump shot someone on Fifth Avenue, would you approve or disapprove of the job he's doing as president?," 22 percent of voters approved and 62 percent disapproved.
Public Policy Polling summed up the results: "Trump's right about one thing, though—he could shoot someone in the middle of Fifth Avenue and not lose most of his support."
The poll surveyed 836 registered voters from July 14 through July 17. It had a margin of error of plus or minus 3.4 percentage points.
It's worth noting, however, that while a portion of Trump voters might be fanatical in their devotion to the president, his overall support across the country is extremely low. The weighted average from data-focused website FiveThirtyEight pegged his approval rating at just 38.7 percent Tuesday. As Trump approaches the six-month mark, that's the lowest-ever approval figure for a president at this point in his tenure.