Trump Vows to Prevent World War III, Says He's the Only One Who Can
Former President Donald Trump has touted his abilities as the "only" 2024 presidential candidate who can "prevent World War III."
Trump said during a campaign event in Davenport, Iowa, on Monday that there had never been "a more dangerous time" for the world, after arguing that President Joe Biden had "driven Russia right into the arms of China." He promised to prevent a new global war, drawing cheers from his enthusiastic followers.
"Standing before you today, I am the only candidate who can make this promise: I will prevent World War III," Trump said, sparking extended applause from the crowd. "Because I really believe you're going to have World War III."
The former president then said that he had spotted a person outside the event wearing a hat that said, "Trump was right about everything." He said that the message on the hat was "true," claiming that his previous comments on the Nord Stream 2 pipeline proved his prophetic abilities.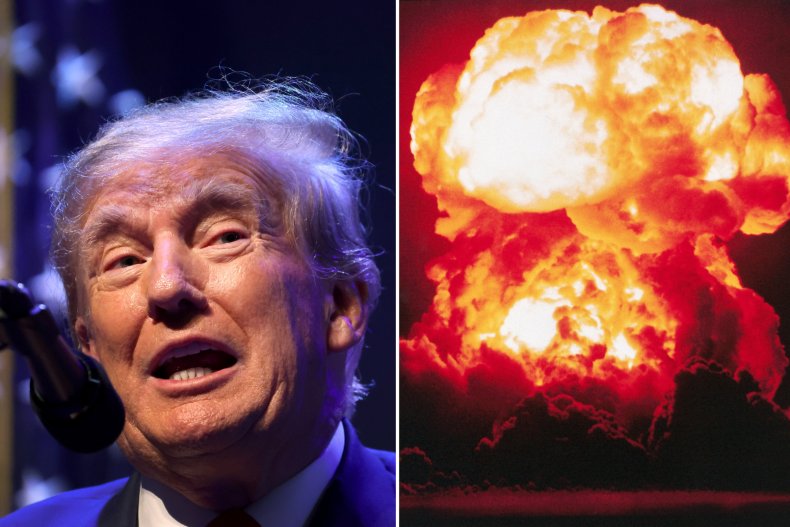 Earlier in the speech, Trump said that the Biden administration was unable to "speak right" and would lead the country into a nuclear war that could "possibly end the world."
"With this administration, we could end up in World War III, because they don't speak right," said Trump. "They act tough when they should act nice, they act nice when they should act tough. Honestly, they don't know what the hell they're doing. We're going to end up in a world war over this stuff."
"It will be a nuclear war," he continued. "So, this is not like a second world war, where we have army tanks and rifles and we go after each other. This is a level that will possibly end the world. And we have people that don't know what they're doing."
Trump also told the crowd that his victory in 2024 would lead to an abrupt ending of the Russia-Ukraine war, which has stretched on for more than a year with no signs that a peace deal is likely to be negotiated.
The former president has previously boasted that a talk with Russian President Vladimir Putin is all it would take for him to quickly end the war.
"Shortly after I win the presidency, I will have the disastrous war between Russia and Ukraine settled," he said on Monday. "It will take 24 hours, if it's not done before then."
Trump and his campaign have recently been ramping up apocalyptic rhetoric, repeatedly telling supporters that he is leading a "final battle" to "save our country."
A Trump campaign email last week urged supporters to donate to a "final battle fund," warning that the country was under attack by "the deep state" and would be irreparably "lost" if the election was won by "the Left" instead.
Newsweek has reached out via email to Trump's office and the White House for comment.