Trump Wants to Box Biden, Says President Would 'Go Down Within the First Few Seconds'
Former President Donald Trump said that he would like meet President Joe Biden in the boxing ring, suggesting it would be an easy fight.
Trump, 75, lost the 2020 presidential election to Biden, 78, in November 2020, but has continued to falsely claim that the election results were fraudulent. The former Republican president—and potential 2024 GOP contender—was asked who he'd like to go head-to-head with in the ring during a Thursday press event for 58-year-old Evander Holyfield's boxing match against 44-year-old Vitor Belfort.
"Well, if I had to pick somebody in the world—not only a professional boxer, because I'll take a pass on professional boxers. That would be a very dangerous subject. But if I had to box somebody? I think probably my easiest fight would be Joe Biden," Trump responded when asked who he'd choose to face in the ring.
"Because I think he would go down very, very quickly," the former president continued, as the crowd at the promotional event laughed and clapped. "Very, very quickly."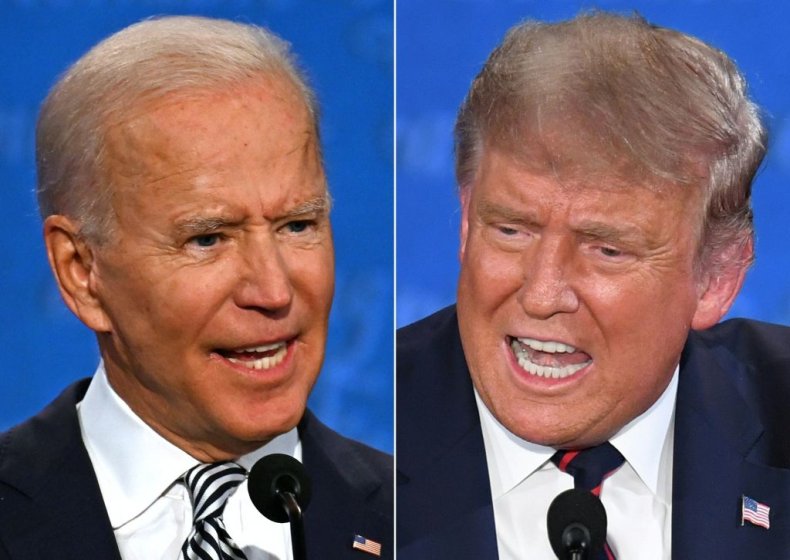 Trump insisted Biden would be "in big trouble," predicting that the president would "go down within the first few seconds."
Newsweek reached out to the White House for comment but did not immediately receive a response.
Trump and his son Donald Trump Jr. will provide commentary for the Holyfield vs. Belfort fight on Saturday, ESPN reported this week. The event will take place at the Hard Rock Hotel & Casino in Hollywood, Florida.
Trump and his son have been contracted to call the four-fight telecast. The event will also include fights between Anderson Silva and Tito Ortiz, as well as between David Haye and Joe Fournier, according to Deadline.
"I love great fighters and great fights," the former president said in a statement. "I look forward to seeing both this Saturday night and sharing my thoughts ringside. You won't want to miss this special event."
The former president has long been involved with the world of combat sports. In the late 1980s and early 1990s he was seen as a major player in boxing events. As a businessman and real-estate developer, Trump staged a number of high-profile fights at his properties in Atlantic City.
Trump is no stranger to the world of entertainment either. The former president has drawn headlines for decades due to his lavish lifestyle and business deals. He was also the host of the widely popular reality television series The Apprentice for 14 seasons before he entered the White House.
On Thursday, MyBookie released speculative betting odds ahead of Trump's remarks. The betting site gave Trump -5000 while Biden was given +1200. The odds show that bookies see Trump as substantially more likely to win in a head-to-head fight than the current president.