Trump Wants 'Ultimate Form of Local Control' in His Plan for Schools
Former President Donald Trump revealed his plan to "Save American Education" on Thursday, helping to further paint a picture of what a second Trump presidency could look like ahead of the 2024 election.
In the video posted by Trump's campaign, Trump War Room, the former president listed several steps that mimic policies pushed by other GOP politicians in recent months, such as condemning any school that teaches "critical race theory, gender ideology or other inappropriate racial, sexual or political content onto our children."
Other policies include opening civil rights investigations into schools that have "engaged in race-based discrimination," gutting "radical zealots and Marxists who have infiltrated the Federal Department of Education" and giving preferential funding to districts adhering to some of Trump's "historic reforms."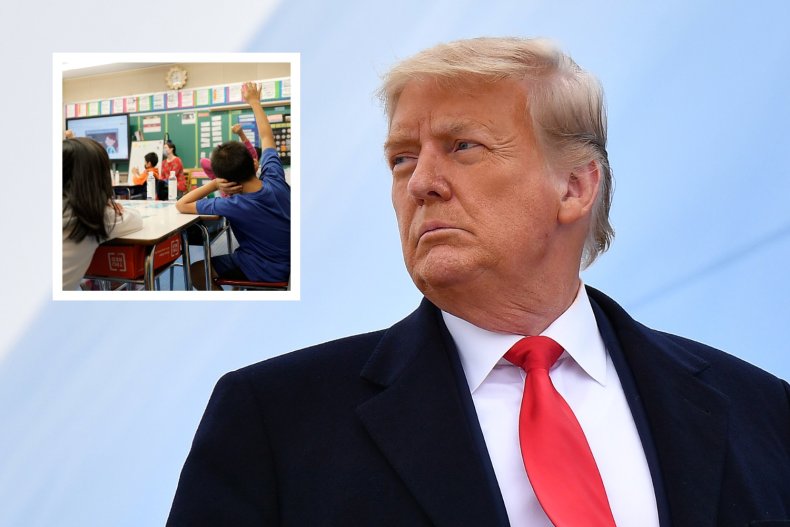 "This will be the ultimate form of local control," the former president stated. "Our country has frankly never had anything like it or let's say for at least the last 50 years.
"At the end of the day, if we have pink-haired communists teaching our kids, we have a major problem."
Public education reform has been a growing priority for GOP politicians, and was one of the top policies pushed by midterm candidates in the fall. At the local level, conservative organizations like Moms for Liberty endorsed hundreds of candidates nationwide who stood for their messaging against culture wars in schools, and saw major wins for their endorsees in states like Florida.
Republican-led states have also drawn a line in the sand when it comes to teaching about gender ideology in public school districts, such as Florida Governor Ron DeSantis' controversial "Don't Say Gay" bill passed in March. DeSantis has also received criticism this month after blocking a new Advanced Placement (A.P.) course for high school students on Black studies, which, his administration said, lacked "historical accuracy" and "educational value."
Other states such as Indiana have introduced bills that would prohibit schools from "encouraging the use of" a pronoun or name inconsistent with the biological sex of students and employees. And in Virginia, a bill is currently advancing in the state House that would ban transgender students from participating in sports, from elementary school all the way up to public higher education.
Under Trump's plans, parents would also be given "the final say" on their child's education, such as allowing them to vote out a principal who "is not getting the job done" for their students. The former president also proposed abolishing tenure positions for teachers in K-12 schools, "so we can remove bad teachers and adopt merit pay to reward good teachers."
The National Education Association (NEA), however, has said that parents and educators largely reject "right-wing culture war attacks," according to a release from December. In the release, the NEA stated that "pro-public education candidates won in nearly every competitive gubernatorial race," as well as 71 percent of the school board races tracked by the organization in the fall.
On Friday, NEA President Becky Pringle told Newsweek in a statement, "Politicians like Ron DeSantis seek to divide parents and educators in order to deny our students their right to resources and their ability to be reflected and respected at school."
"He seeks to distract communities from his real agenda, which is to first whitewash and then dumb down public education as an excuse to privatize it," Pringle said when speaking of DeSantis' recent call to block the A.P. Black studies course.
"It won't work. Parents, students, educators, and yes, voters, will continue to reject these efforts to distract us from their failures to provide students with what they need to thrive."
Update 1/27/23, 6:40 p.m. ET: This story has been updated with comment from the National Education Association.