Donald Trump Is 'Least War-mongering of Anyone' in Situations Like Current Iran Tensions, Anthony Scaramucci Says
Amid reports that U.S. President Donald Trump authorized a strike on military targets in Iran before changing his mind, Anthony Scaramucci described him as "the least war-mongering of anybody in a situation like that."
Tensions are rising between the U.S. and Iran after a spate of attacks on oil tankers around the Strait of Hormuz, which American intelligence has accused Tehran of plotting. On Thursday an American surveillance drone was downed by the Iranian Revolutionary Guard.
The New York Times and Newsweek reported that Trump green-lighted an attack on Iranian military sites to take place in the early hours of Friday morning local time, before suddenly reversing the decision and instructing American officials carrying out the orders to stand down.
In an interview with Sky News, Trump's former communications director Scaramucci was asked about the president's temperament and if he is approachable.
"I think this is one of the misnomers about him because of his public rallies and his use of Twitter. People are disconnected from the reality of who he really is. He's way more temperate, way more moderate," Scaramucci said.
"I can only go by the news reports on the Iranian situation, but knowing the president as well as I know him, he would be the least war-mongering of anybody in a situation like that. He hates these wars in the Middle East. He campaigned against them."
Sky News host Adam Boulton then asked Scaramucci about the reports that Trump had ordered strikes on Iran before changing his mind.
"Not that I would tend to dismiss it, but I would think if there were five or six people in the room and they were discussing military options, in my experience with the president he would be the least war in his orientation. I think he would want to do the most limited thing," Scaramucci said.
The fund manager known as "The Mooch," who lasted just 10 days in the Trump administration before he was fired over attacks in the media on colleagues, cited the U.S. missile strike on Syria following a chemical attack on civilians by the Assad regime as an example.
"It was very, very limited to a certain airport and a certain airfield. [Trump] wasn't looking to create a greater conflict there," Scaramucci said.
Though Iran denies responsibility for the oil tanker mine attacks, it admitted shooting down the surveillance drone, accusing America of allowing it to enter Iranian air space. The Pentagon denies Iran's claim and both sides have released what they said is evidence proving the other wrong.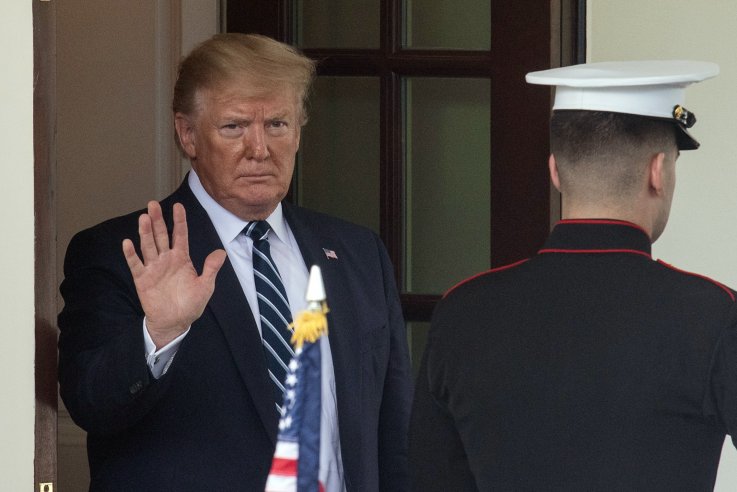 Donald Trump Is 'Least War-mongering of Anyone' in Situations Like Current Iran Tensions, Anthony Scaramucci Says | Politics