Iran Tries to Counter U.S. Military Claims by Releasing Drawing of What It Says Happened to Drone
Iran's top diplomat released a drawing Thursday afternoon of what he claimed actually happened to a U.S. drone downed somewhere in the Persian Gulf region.
Iranian Foreign Minister Mohammad Javad Zarif argued Thursday that the U.S. was "lying" in claiming that its drone — a RQ-4A Global Hawk unmanned aerial vehicle — was downed by the Revolutionary Guards over international airspace over the Gulf of Oman and Strait of Hormuz. To back his assertion that the drone was actually in Iranian airspace, Zarif released to social media a hand-drawn rendition of the Islamic Republic's account of what occurred, alongside a Google Maps screenshot of the region.
"At 00:14 US drone took off from UAE in stealth mode & violated Iranian airspace. It was targeted at 04:05 at the coordinates (25°59'43"N 57°02'25"E) near Kouh-e Mobarak," Zarif tweeted. "We've retrieved sections of the US military drone in OUR territorial waters where it was shot down."
The Pentagon had earlier released its own map purporting to show that the drone was shot down some 21 miles away from the coast, over international waters. Air Force Lieutenant General Joseph Guastella called the incident "an unprovoked attack on a U.S. surveillance asset that had not violated Iranian airspace at any time during its mission" and argued that "Iranian reports that this aircraft was shot down over Iran are categorically false."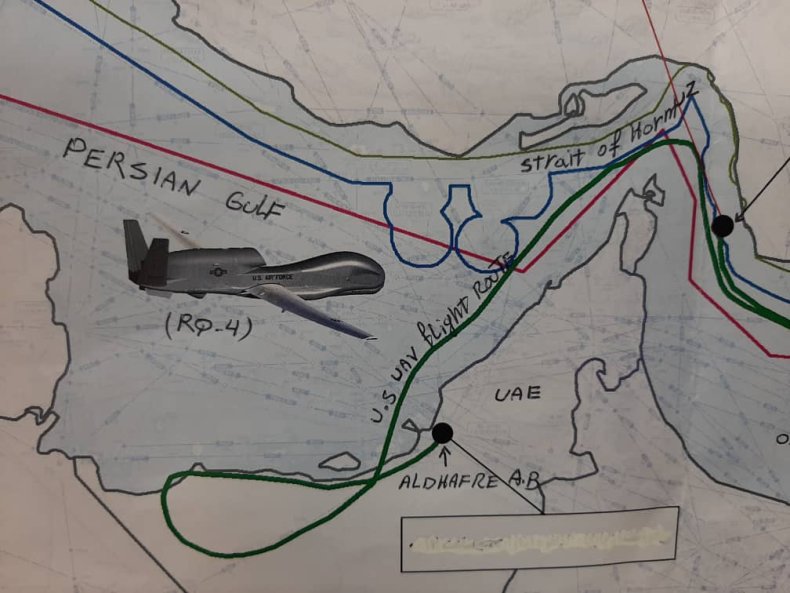 Both countries have also released footage of what appeared to be the RQ-4A falling in flames moments after the latest incident to raise tensions between the U.S. and Iran. The two international rivals have long shared a hostile relationship and frictions have only worsened since President Donald Trump withdrew from a 2015 nuclear deal and imposed strict sanctions designed to cut Tehran's foreign trade.
The 2015 agreement involved a number of world powers easing sanctions against Iran in exchange for the country pledging to drastically scale back its nuclear program. The deal's other signatories—China, France, Germany, Russia and the United Kingdom—have continued to support it, but with European powers failing to uphold their commitments under U.S. economic pressure, Iran has announced it would once again start enriching uranium at higher levels. Tehran has always maintained its nuclear program was solely for peaceful purposes.
The U.S., backed by Israel and Saudi Arabia, have disputed this, however, and have continually sounded the alarm on what they view to be Iran's support for militant groups and its ballistic missile development. Iran claimed to have shot down the high-flying RQ-4A using its domestically developed 3rd Khordad transporter erector launcher and radar, a variant of its own Raad surface-to-air missile.
One Iranian media outlet shared footage of what appeared to be the natively-manufactured system firing, following by an animated map that backed up Zarif's account.
Zarif vowed Thursday to bring his case to the United Nations, which has already called for an international investigation regarding a previous incident in the Gulf of Oman. Last week, two oil tankers—one Japanese and one Norwegian-owned—were damaged in explosions that the U.S. quickly blamed on Iran.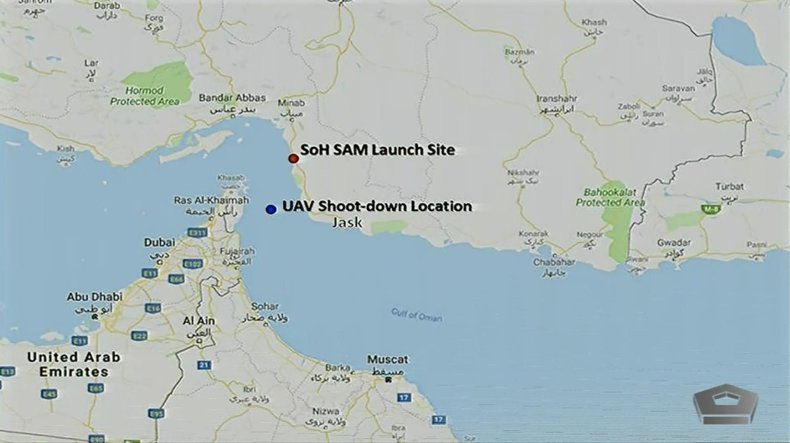 U.S. Central Command provided footage purporting to show the Revolutionary Guards removing an unexploded limpet mine from the scene of the incident, but Tehran has dismissed this. A number of experts and international powers have also expressed skepticism toward this evidence.
China, Russia and the EU have called for an immediate de-escalation in the region near the Strait of Hormuz, through which more than a third of the world's maritime oil traffic passes.
Trump has explicitly blamed Iran for the Gulf of Oman attacks, but has suggested that Iran "probably made a mistake" in downing the drone Thursday. The president said it was "was hard to believe it was intentional" and not instead "a mistake made by someone doing what they shouldn't have been doing"—suggesting it was a general "who was loose and stupid."
Still, he simply told reporters "you'll soon find out" when asked if he was considering military action against Iran.