Trump Warns of Nuclear War Over West Sending Tanks to Ukraine
Former President Donald Trump warned Thursday that "nukes" could come in the wake of decisions from Western countries to send long-sought tanks to Ukraine amid its ongoing war against Russia.
President Joe Biden announced Wednesday that the U.S. would send 31 M1A1 Abrams tanks to Ukraine, the equivalent of one Ukrainian battalion. Biden described the Abrams as the "most capable tanks in the world," and said that U.S. Defense Lloyd J. Austin III had recommended providing them in order to "enhance the Ukraine's capacity to defend its territory and achieve its strategic objectives."
Biden's announcement came shortly after German Chancellor Olaf Scholz announced Wednesday that Germany would provide 14 Leopard 2 A6 tanks to Ukraine, and other countries also in possession of the German-made tanks would be permitted to send them to Ukraine as well. Poland, which had been seeking to provide Leopard 2 tanks to Ukraine, officially requested Germany's consent on Tuesday.
A Truth Social post from Trump on Thursday appeared to react to the recent wave of announcements on Western tank deliveries.
"FIRST COME THE TANKS, THEN COME THE NUKES. Get this crazy war ended, NOW. So easy to do!" Trump wrote.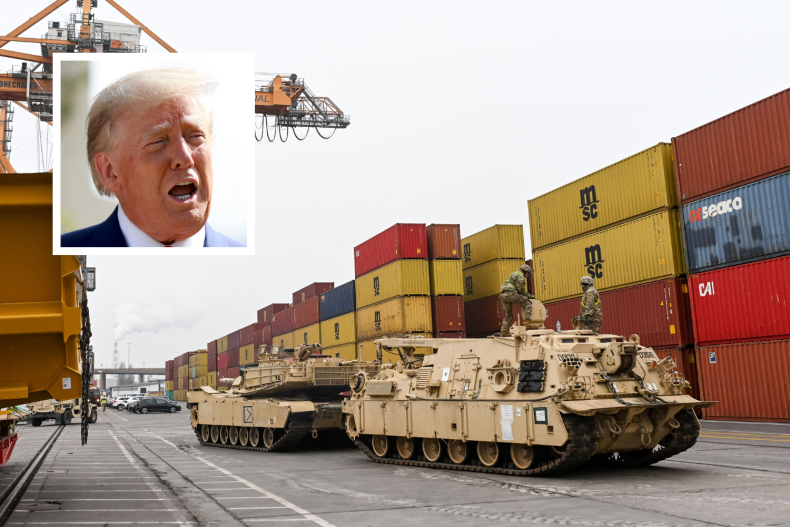 Some experts and officials are not convinced that Russian President Vladimir Putin's regime would resort to deploying nuclear weapons as the war in Ukraine reaches 11 months. Others believe that a nuclear attack from Russia could be a possibility in some circumstances, such as if Putin faces defeat in the war.
Regardless, Russian officials and media have heavily criticized the West's tank decisions.
Russian Ambassador to Germany Sergey Nechaev, for example, said in a statement on Wednesday that Germany sending Leopard 2 tanks to Ukraine is "extremely dangerous" and brings the war to a "new level of confrontation."
"Once again, we are convinced that Germany, like its closest allies, is not interested in a diplomatic solution to the Ukrainian crisis, it is set up for its permanent escalation and unlimited pumping of the Kyiv regime with more and more deadly weapons," Nechaev said. "'Red lines' are a thing of the past."
National Security Council spokesperson John Kirby addressed the U.S. decision on sending Abrams tanks on Wednesday. During a press briefing with White House Press Secretary Karine Jean-Pierre, Kirby noted that "a lot that goes into operating these tanks on the field," such as training and maintenance requirements.
But he stressed that the decision to provide the tanks is in line with discussions the U.S. has been having with Ukrainians for months "about making sure that they can fight on the terrain that they're in and that they can prepare for operations going forward this year."
Newsweek reached out to a Trump spokesperson for comment.