Trump Weighs in On Biden's 'Out of Control' Border Situation, Urges Completion of Border Wall
Former President Donald Trump has weighed in on President Joe Biden's immigration policies, calling the border situation "out of control" now that Biden has taken office.
"Our border is now totally out of control thanks to the disastrous leadership of Joe Biden," Trump said in a Friday statement.
"The spiraling tsunami at the border is overwhelming local communities, depleting budgets, crowding hospitals, and taking jobs from legal American workers," he added. "When I left office, we had achieved the most secure border in our country's history. Under Biden, it will soon be worse, more dangerous, and more out of control than ever before. He has violated his oath of office to uphold our Constitution and enforce our laws."
"Now that Biden has implemented nationwide Catch-and-Release, illegal immigrants from every corner of the Earth will descend upon our border and never be returned," Trump said. "You can never have a secure border unless people who cross illegally are promptly removed."
Trump also called for the border wall between the U.S. and Mexico, which began construction under his presidency, to be completed.
"Despite being delayed by years of litigation and politics by the Democrats, the wall is almost finished and can be quickly completed. Doing so will save thousands of lives," the former president said. "The Biden Administration must act immediately to end the border nightmare that they have unleashed onto our Nation."
When asked about the statement, White House Press Secretary Jen Psaki told reporters on Friday, "We don't take our advice or counsel from former President Trump on immigration policy, which was not only inhumane but ineffective."
On his first day in office, Biden rescinded Trump's emergency order used to justify the construction of the border wall.
"I have determined that the declaration of a national emergency at our southern border was unwarranted," Biden wrote to House Speaker Nancy Pelosi.
"I have also announced that it shall be the policy of my administration that no more American taxpayer dollars be diverted to construct a border wall, and that I am directing a careful review of all resources appropriated or redirected to that end," he added.
At the time that Biden paused construction of the wall, U.S. Customs and Border Protections (CBP) contractors had completed 452 miles of the border wall. But the Department of Homeland Security (DHS) said in late October that 738 miles of the wall had already funded, meaning as much as 286 miles remain incomplete or in the pre-construction phase.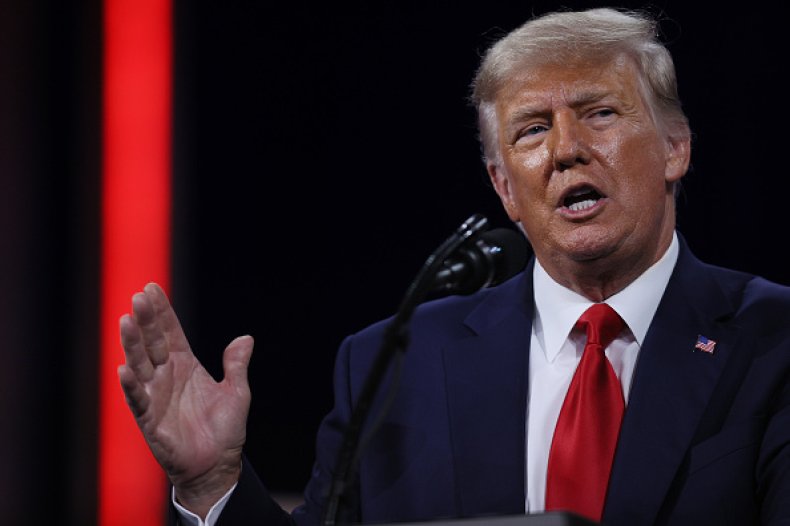 Trump issued the national emergency in early 2019 after butting heads with lawmakers over funding for the project.
He first floated the idea of a border wall while on the campaign trail in 2016, repeatedly insisting that Mexico would pay for its construction. But CBP reported last year it located found $11 billion in funding for the wall.
Biden's open-handed immigration approach has been increasingly faced with new challenges as an influx of migrants have tried to cross the borders in hopes that the new administration will be more welcoming than Trump was.
On Monday, DHS Secretary Alejandro Mayorkas defended the president's policies, saying there's no "crisis," and blamed the former administration for the growing number of migrants.
The White House recently announced that a number of officials would travel to the border to assess the ongoing situation.
"President Biden has asked senior members of his team to travel to the border region in order to provide a full briefing to him on the government response to the influx of unaccompanied minors and an assessment of additional steps that can be taken to ensure the safety and care of these children," White House spokesperson Vedant Patel said in a Thursday statement.
Biden also reversed Trump's COVID-era policy of turning away unaccompanied children. With shelters overflowing and Border Patrol facilities are overwhelmed, both progressives and conservatives have criticized the president for either failing to reverse Trump's immigration policies or ending too many.