Joe Biden's First Week in Office: What He's Done Vs. What He Promised
President Joe Biden has been in office for one full week, and he has already signed a wave of new executive orders meant to reverse the actions of Donald Trump and reshape the nation's most pressing policies.
Before taking office, Biden promised to introduce new measures to combat the coronavirus crisis, reform immigration and climate policies, and push for economic relief.
Here's how Biden's first week in office compares with what he promised to get done in the early days of his administration.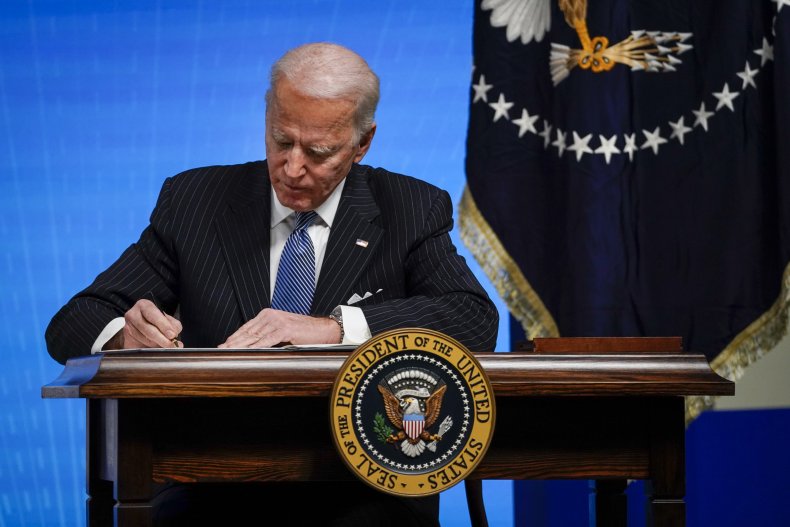 Combating COVID-19
Biden promised to introduce new measures to respond to the coronavirus pandemic and boost the nation's vaccination effort. In his first week, Biden followed through on that plan by detailing the "National Strategy for the COVID-19 Response and Pandemic Preparedness."
The plan includes Biden's promise to encourage Americans to "mask up" during the first 100 days of his administration. It also promises to increase vaccine access by creating new community centers and ramping up distribution to achieve the goal of vaccinating 100 million Americans in the first 100 days of his administration.
Biden's plan also established a coronavirus response team, which includes such positions as a coordinator, counselor and deputy coordinator.
Economic Relief
Biden unveiled a $1.9 trillion coronavirus relief package in the days leading up to his inauguration. He made good on his promise to support the legislation's measures once he entered office.
The bill includes adding a new round of $1,400 stimulus payments for qualifying Americans, extending unemployment benefits to those who cannot work because of COVID-19 and extending nationwide restrictions on home evictions and foreclosures. The bill now needs to gain enough support from Republicans and Democrats in the House and Senate to pass.
Immigration
Biden kept his promise to introduce sweeping new immigration policies during his first few days in office.
In the first 48 hours of his presidency, Biden signed executive orders to strengthen the Obama-era Deferred Action for Childhood Arrivals program, end the so-called Muslim travel ban and institute a 100-day moratorium on deportations of immigrants at risk of removal who arrived after November.
Biden's orders also ended Trump's border wall construction and will ultimately provide a pathway to citizenship for 11 million undocumented immigrants.
Climate Change
One of Biden's signature promises on climate change included rejoining the Paris climate agreement on his first day in office, which was done.
Biden also ended the U.S. permit to build the Keystone XL pipeline and has moved to discard more than 100 "harmful" environmental proclamations, memoranda or permits signed by the Trump administration.
However, Biden did not sign an executive order to formulate a plan to achieve a 100 percent clean energy economy and net zero emissions by 2050, as was promised during his campaign. The president has also not yet fulfilled a promise "to conserve 30% of America's lands and waters by 2030" but is expected to do so this week.
Student Debt Relief
Biden kept his promise to pause federal student loan payments amid the health crisis. The executive order will allow students to forgo their payments, with 0 percent interest accrual, until September 31.
However, Biden's pledge to forgive $10,000 of a borrower's federal student loans has yet to be detailed.
Tax Reform
Biden fell short on his promise to "eliminate the Trump tax cut for the super-wealthy, cut the unjustified loopholes in our tax code and use that money to invest in America's future" during his first week in office.
In his $1.9 trillion relief plan, Biden did not include any tax increases for the ultra-rich. His treasury secretary, Janet Yellen, said that the president would likely hold off on reversing any parts of the tax law until later in the coronavirus recovery, The New York Times reported.
Gun Violence Reform
Biden did not yet deliver on a promise he made to address gun violence immediately.
"On my first day of office, I'm going to send a bill to the Congress repealing the liability protection for gun manufacturers, closing the background check loopholes and waiting period," he said on February 20, 2020.
The president has yet to introduce measures to address gun violence but is expected to do so in his first 100 days in office, CBS News reported.
Human Rights Advancement
Biden signed a wave of executive orders during his first few days in office to fulfill his promises to "prevent and combat discrimination on the basis of gender identity or sexual orientation."
Among those reforms are a repeal of the Trump administration's transgender military ban and ordering every federal agency to review racial and gender equality in their programs.
On Tuesday, Biden signed four executive orders regarding racial inequality. They will advance fair housing, reform the incarceration system and reduce private prisons, reaffirm the U.S. government's commitment to engage in consultation with tribal governments, and fight xenophobia against Asian Americans and Pacific Islanders.
Newsweek reached out to the White House for additional comment but did not hear back in time for publication.