Trump White House Can't Agree on Whether to Strike North Korean Facility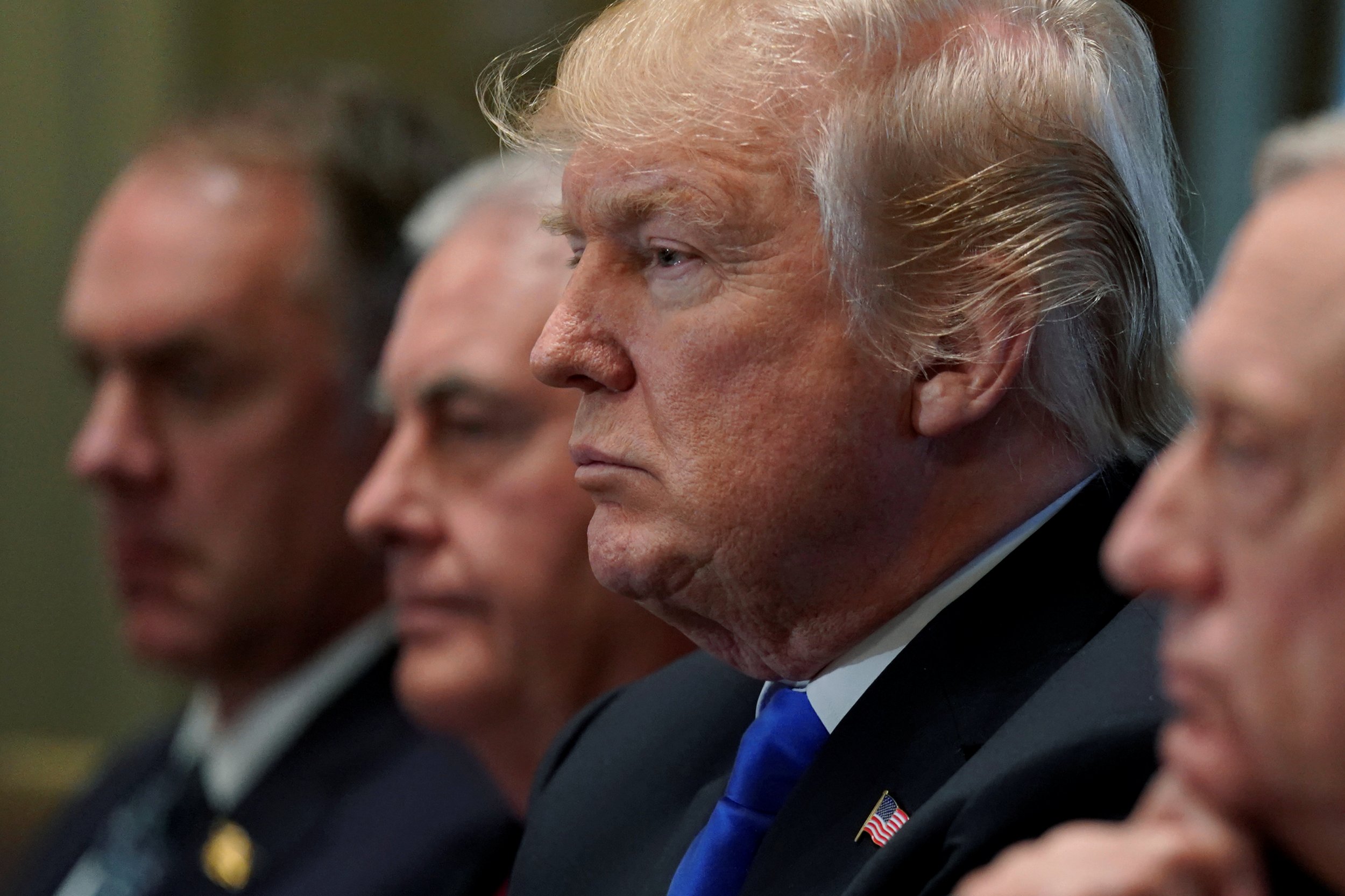 Members of President Donald Trump's cabinet are weighing whether the U.S. should respond to future North Korean missile and nuclear tests with a targeted first strike on one of the regime's facilities.
Inside the White House, Secretary of State Rex Tillerson and Defense Secretary James Mattis are advocating a diplomatic solution, but national security adviser H.R. McMaster is pushing for military options that would show the regime the consequences of its actions, according to officials that spoke with The Wall Street Journal on Monday.
This "bloody nose" strategy would amount to a limited military strike. The debate in the White House is whether that would risk a military reaction from North Korean leader Kim Jong Un, who has conventional weapons pointed at South Korea, which could spark a war where tens of thousands would die.
Trump's comments on Twitter last week that he has "a much bigger & more powerful" nuclear button than Kim prompted a North Korean state-run newspaper on Monday to call him a "premium war dealer."
In a New Year's Day address, Kim said he has a nuclear button on his desk, but that he would only use it if the U.S. hit North Korea first. Kim said he was open to talks and "peaceful resolution with our southern border."
Trump's tweet, an experienced diplomat told The Wall Street Journal, was like "waving a red flag before a bull."
The president has repeatedly dismissed diplomacy as an instrument to deal with the rising tensions with North Korea following the regime's ballistic missile and nuclear tests throughout last year.
Read more: North Korea says Trump is a "premium war dealer" who destroys world peace
In early October, Trump tweeted that Tillerson was "wasting his time" by suggesting the U.S. is open to negotiations with the authoritarian regime.
Last week, Trump said his own tough rhetoric was behind the fact that talks took place between North and South Korea on Tuesday over the upcoming Winter Olympics in Seoul.
"With all of the failed 'experts' weighing in, does anybody really believe that talks and dialogue would be going on between North and South Korea right now if I wasn't firm, strong and willing to commit our total 'might' against the North," Trump wrote. "Fools, but talks are a good thing!"
The talks, which took place in the demilitarized zone between the two nations, represent the first significant dialogue between their officials in two years. South Korean officials told their counterparts that North Korean athletes are welcome at the games and proposed further negotiations about military issues and Pyongyang's nuclear program.
Last week, America's ambassador to the United Nations, Nikki Haley, said the U.S. would only "take any of the talks seriously" if North Korea stops its nuclear weapon production. Kim has said doing away with his country's weapons program is unacceptable.
Some military experts also see no option other than force. On New Year's Eve, retired U.S. Navy admiral and former chairman of the Joint Chiefs of Staff Mike Mullen said he doesn't "see the opportunities to solve this diplomatically at this particular point" during an appearance on ABC News' This Week.
Mullen said the solution to rising tensions rests on whether China puts more pressure on North Korea.