Women Stage Nationwide Blockades Against Donald Trump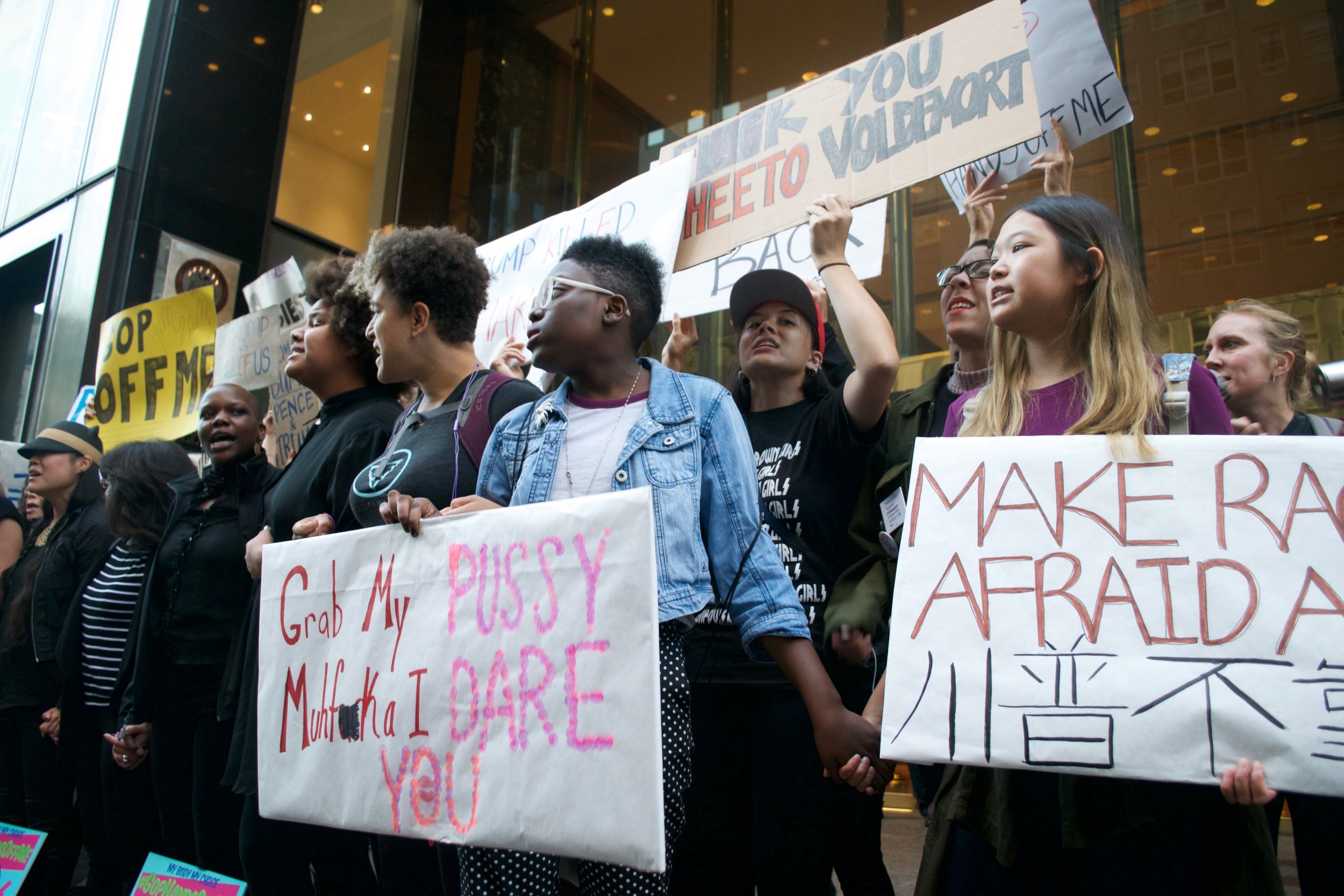 Dozens of black-clad women staged a sit-in outside of Trump Tower in midtown Manhattan on Tuesday as part of a nationwide blockade against the Republican presidential nominee.
Marching down Fifth Avenue toward Trump Tower and numerous TV cameras at 7:30 a.m., protesters held signs that read "GOP Hands Off Me" and "Pussy Fights Back," in reference to comments made by Donald Trump on a 2005 audio tape, including saying he grabs women "by the pussy." The women protesters also banged on pots and pans, tooted kazoos and, in one case, played the saxophone.
As they shouted chants including, "Back up, back up, we want freedom, freedom, tell the sexist GOP that we don't need 'em, need 'em," a handful of police officers kept watch outside Trump Tower. Several passersby by stopped and stared, while others walked by with bemused looks on their faces.
Tuesday's demonstration was led by women who say they are survivors of sexual assault. Protesters in New York urged women to avoid voting for Trump and the Republican Party. They also called on GOP members to withdraw their endorsements of Trump. Protests were also being held in other locations, including outside Trump properties in Miami and Washington, D.C.
"I worked in the service industry and in restaurants all through high school and college. Sexual assault and harassment is nothing to be joked about, from personal experience," protester Lila Carpenter tells Newsweek. "The thought of the GOP endorsing that action is terrifying because they're one of the largest and most powerful institutions in our country."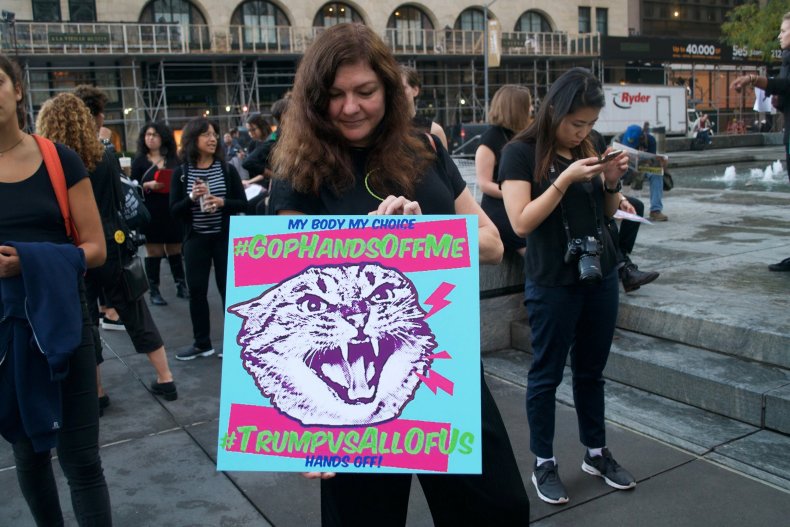 Viviana Bernal, who does advocacy work for a nonprofit in New York City, says Trump is making the U.S. a dangerous country. "People are feeling emboldened by him, the hateful rhetoric against women, against immigrants. It's all being heightened by him," she says.
"The remarks that he made represent the rape culture that exists in our society right now. He admitted to basically sexually assaulting women on the tape," adds Bernal. "We're here because we can't have a president who actually does that, who endorses sexual assault of women. It's a combination of the rape culture that he represents, but also the anti-immigrant sentiments that he expressed and the straight up xenophobia and racism that he also represents."
Since the release of the audio tape earlier this month, nine women have come forward with allegations that Trump engaged in sexually predatory behavior. Trump's wife, Melania, said on Monday her husband's comments were just "boy talk."
Jodeen Olguín-Tayler, a sexual assault and rape survivor who helped organize the New York protest, said: "For me, coming out is part of the work of getting over the shame—and what would make me a horrible liar would be to stay silent in this moment when the Republican Party has decided to put forward a sexual predator as their candidate for president."
One of the few men at the protest, Christian Jimenez, of Flushing, Queens, says he speaks with male and female friends about Trump's comments.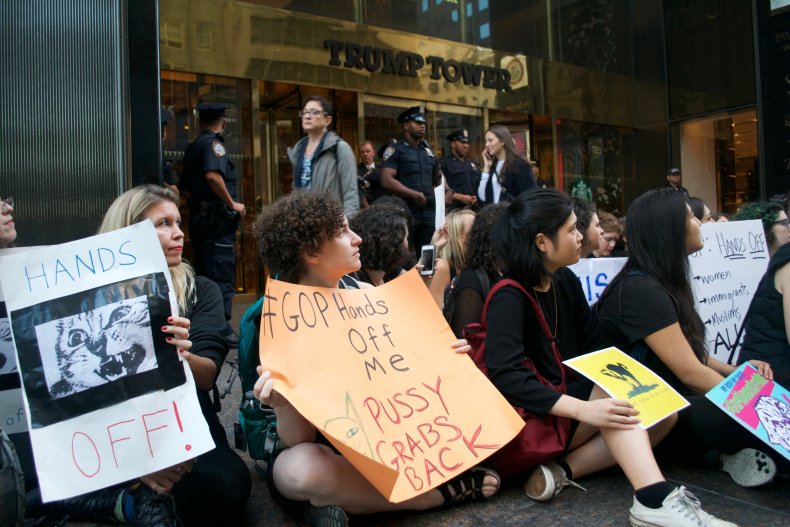 "Donald Trump hasn't been the best candidate for me. Someone was actually raped by my house just yesterday. Everything he says appeals to rape culture," says Jimenez. "We should be striving away from that, [but instead] if he says 'grab them by the pussy,' people are like, 'Yeah, you know what? He seems like a good president.'"
The Trump campaign didn't immediately respond to request for comment.