Trump Won't Consider Palestinian 'Right of Return' in Peace Deal: Haley
U.S. Ambassador to the United Nations Nikki Haley suggested the White House would not consider a key Palestinian demand in any forthcoming peace deal with Israel.
At an appearance for the Foundation for the Defense of Democracies foreign policy think tank on Tuesday, Haley said the White House wanted any discussion of Palestinian refugees' "right to return" to their ancestral lands in Israel "taken off the table," The Times of Israel reported.
The issue is one of the most intractable in Palestinian-Israeli relations. Upon the creation of Israel in 1948, as many as 750,000 Palestinians either fled or were forced from their homes, becoming refugees in neighboring countries or in the Gaza Strip and West Bank.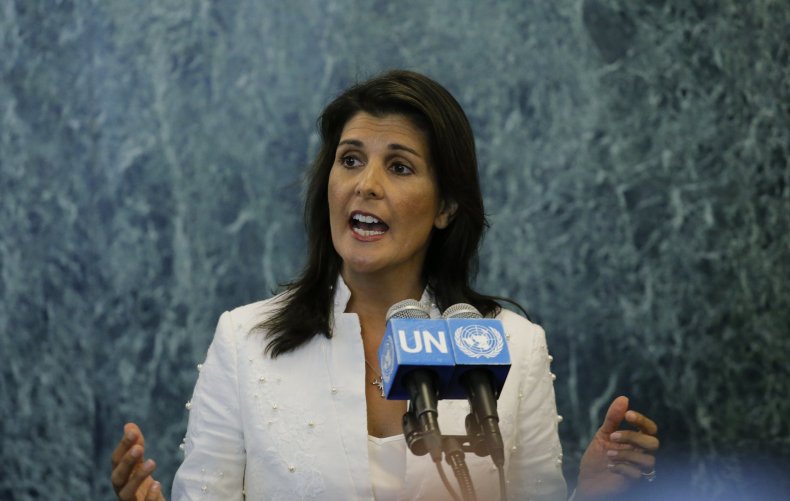 Palestinians still demand recognition of their right to return to these lands, claiming there are now 5 million people the right would apply to spread across the globe. If this were allowed, the demographic shift in Israel would threaten the country's Jewish majority. Thus, it is considered an unacceptable existential challenge by Israel's leaders.
"I absolutely think we have to look at right of return," Haley said. When asked if such a right should be "off the table," the ambassador replied, "I do agree with that, and I think we have to look at this in terms of what's happening [with refugees] in Syria, what's happening in Venezuela."
Haley is working on Trump's long-awaited peace deal alongside David Friedman, ambassador to Israel; Jared Kushner, White House senior adviser and Trump's son-in-law; and Jason Greenblatt, the White House's special representative for international negotiations.
The team is preparing to unveil the proposal but has not yet given a timetable for its release. Earlier this month, Greenblatt warned that neither the Israelis nor the Palestinians would be entirely happy with the blueprint, suggesting that compromise from both sides was the only way to achieve lasting peace.
So far, however, the White House has been unconditional in its support of the Israeli government while relations with the Palestinian Authority deteriorate. Indeed, Palestinian Authority President Mahmoud Abbas is boycotting talks with the U.S. because of what he saw as Trump's apparent bias toward Israel.
Trump's decision to relocate the U.S. Embassy from Tel Aviv to Jerusalem drew fierce opposition across the Muslim world. When the embassy opened in May, 168 Palestinians were shot dead by Israeli soldiers along the Gaza border fence amid mass protests. Even then, senior U.S. officials—including Haley, Greenblatt, Kushner and Friedman—blamed the Palestinians for the bloodshed and refused to condemn Israel's actions.
In this climate, few expect a peace proposition to be completely balanced. Anonymous sources have indicated that Kushner—the deal's primary driver—would lean heavily on financial incentives to win the Palestinians over, offering much-needed investment for Gaza and the West Bank, reported Israeli newspaper Haaretz.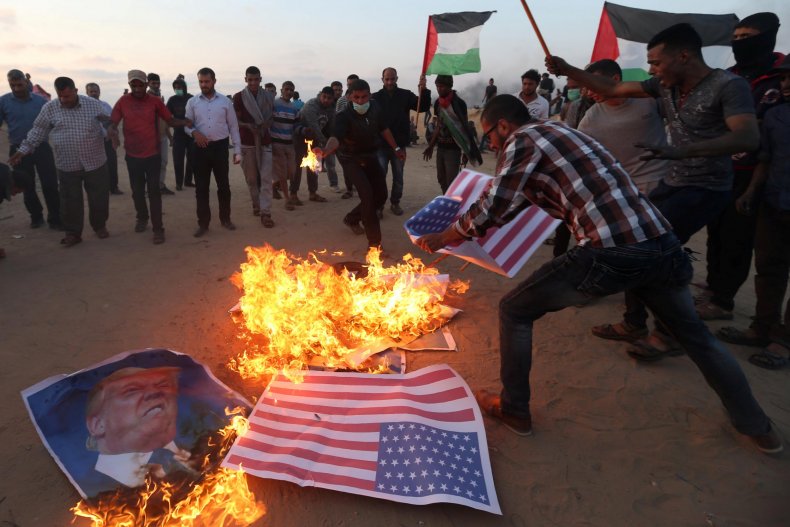 There is speculation that Kushner would offer a "take it or leave it" deal. With the emergence of a new U.S.-Saudi-Emirati-Egyptian alliance to face down growing Iranian influence, the White House is thought to believe the Palestinian Authority no longer has the international or domestic support to demand significant concessions.
Washington has been uncompromising in its approach to the Palestinians, even cutting aid contributions to the United Nations Relief and Works Agency (UNRWA) responsible for humanitarian assistance to the Palestinians. Haley argued there is "an endless number of refugees that continue to get assistance," and said the U.S. would not restore funding unless significant changes were made to the UNRWA operation.
As U.S.-Palestinian relations collapsed upon Trump's embassy announcement in January, the administration said it would withhold $65 million worth of UNRWA contributions for 2018. Last week, the White House said it would freeze another $200 million in contributions.
Foreign Policy reported Tuesday that Trump has now decided to retract agency funding entirely. As the U.S. previously contributed one quarter of the agency's budget, the move could spark a collapse of humanitarian services in the already-impoverished refugee communities.
"We will be a donor if [UNRWA] reforms what it does," Haley said, "if they actually change the number of refugees to an accurate account, we will look back at partnering them."
It is believed the administration wants to hold back funding until the agency reduces the number of Palestinians it designates as refugees. Haley also complained that "the Palestinians continue to bash America" while "they have their hand out wanting UNRWA money."