Trump Wrote 'No Collusion' With Black Marker in Prepared Remarks on Putin—and Misspelled It
President Donald Trump took a bold black marker and wrote "There was no collusion" across his prepared remarks addressing his previous day's comments about Russian President Vladimir Putin—and misspelled the key word.
Related: Russian Bots Targeted Clinton And Mueller Leading Up To Collusion Indictments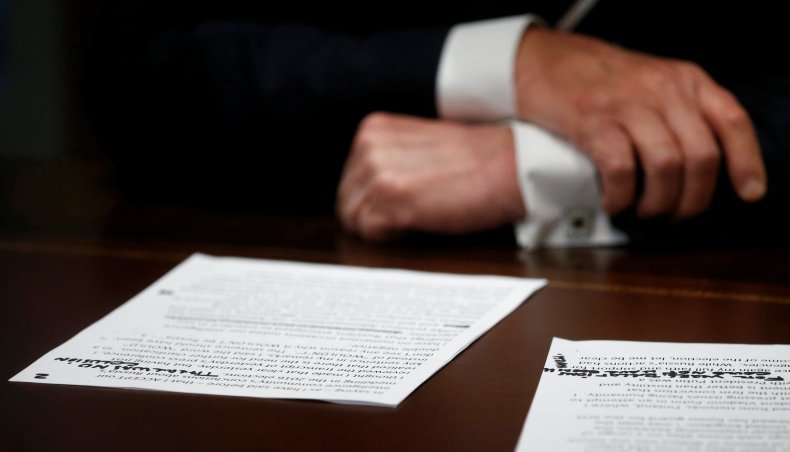 A closer look at photos of Trump's speech on Tuesday, taken by Reuters, show that he wrote "colusion."
Trump delivered the prepared remarks to "clarify" comments he made at a press conference alongside Putin Monday when he said he saw no reason to believe Russian election interference. Democrats and many Republicans criticized Trump for seeming to undermine conclusions by U.S. intelligence agencies and side with Putin's denial of meddling in the 2016 election.
"The sentence should have been, 'I don't see any reason why I wouldn't, or why it wouldn't be Russia' instead of 'why it would,'" Trump said. "I accept our intelligence community's conclusion that Russia's meddling in the 2016 election took place."
"It could be other people also. A lot of people out there," Trump continued, before concluding, reading his own handwriting: "There was no collusion at all."
Trump's admission of a mistake on what he said Monday alongside Putin in Helsinki was uncharacteristic.
"I have great confidence in my intelligence people, but I will tell you that President Putin was extremely strong and powerful in his denial today. He just said it's not Russia. I will say this," Trump said Monday, before adding the phrase he would later retract, "I don't see any reason why it would be."
Trump's Director of National Intelligence Dan Coats quickly reiterated his agency's findings.
"We have been clear in our assessments of Russian meddling in the 2016 election and their ongoing, pervasive efforts to undermine our democracy," Coats said, "And we will continue to provide unvarnished and objective intelligence in support of our national security."
Trump frequently misspells words in his tweets and doesn't appear to consider it a major issue, even when it's part of one of his favorite phrases.