'Trumpocrite': John Boehner Faces Backlash Online After Saying He Voted for Trump's Reelection
Former Republican Speaker of the House John Boehner faced fierce online backlash Tuesday after it was revealed that he voted for former President Donald Trump in 2020.
Boehner admitted that he voted for Trump during an interview published Tuesday by Time magazine. The former speaker was promoting his new book On the House: A Washington Memoir, which was published on the same day. Boehner said he voted for Trump despite admitting that he believed the former president was "a product of the chaos we've seen in our political process over the last 10 or 12 years."
"I voted for Donald Trump," Boehner said. "I thought that his policies, by and large, mirrored the policies that I believed in. I thought the choices for the Supreme Court were top notch. At the end of the day, who gets nominated to the federal courts is really the most important thing a President does."
Boehner went on to say that he did not push back harder on Trump's false claims that massive fraud was to blame for his election loss to President Joe Biden because he is "retired" and prefers to "stay out of the day-to-day rumble of politics." In his memoir, Boehner blasts Trump for inciting the "bloody insurrection" at the U.S. Capitol on January 6.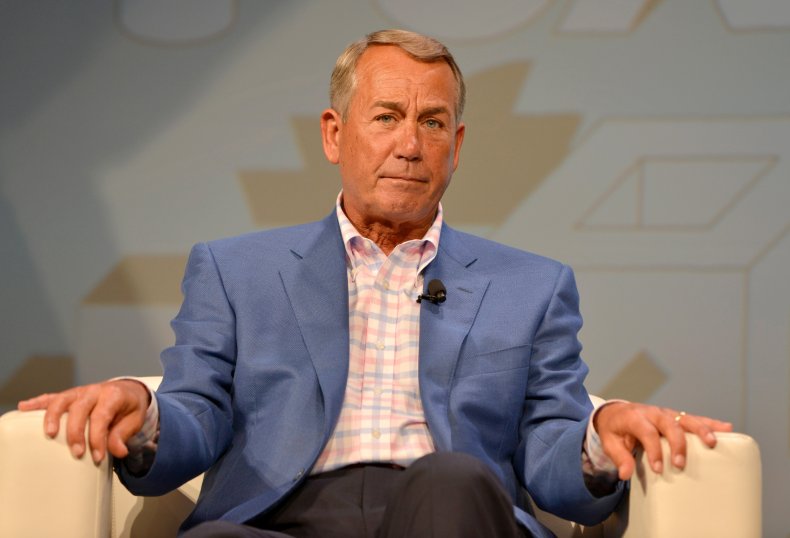 The revelation that Boehner had voted for Trump sparked immediate backlash on Twitter, with many users accusing him of hypocrisy in light of his criticism of Trump and other prominent Republicans like Texas Senator Ted Cruz during other recent interviews promoting his memoir. Boehner was also criticized for serving on the board of a marijuana company despite previously being an opponent of marijuana legalization.
"John Boehner is an opportunistic traitorous #Trumpocrite, pass it on," writer Tara Dublin tweeted.
"After so many of us conservatives & former Republicans lost everything last year opposing Donald Trump and doing whatever we could to help Joe Biden win, along comes John Boehner after all the dust settles to tell us he actually voted for Trump in Nov and we should buy his book," tweeted Joe Walsh, a former GOP congressman who challenged Trump during the 2020 Republican primaries.
"If John Boehner who has been out of politics for years and currently works in the Cannabis industry voted tor Trump then it's time to recognize that there is no post-Trump future for the GOP," podcast host and former Obama adviser Dan Pfeiffer tweeted. "This is who they are and who they will always be and it's why they must be defeated."
"John Boehner was 'unalterably opposed to the legalization of marijuana,' until he saw a way to cash in," Jonathan Goldman, a television producer, tweeted. "Now he's criticizing Trump to sell his book despite voting for him in 2020. Don't be fooled, Boehner is a MAGA dick and just like one he will say anything to get what he wants."
"John Boehner voted for Trump in 2020," former Lincoln Project adviser Kurt Bardella tweeted. "Just because he makes entertaining digs at Ted Cruz or Fox News doesn't mean he's not as morally bankrupt and dangerous as those who is now attacking to rehab his image and profit from his career."
"The man is trash," Jamie O'Grady, a lawyer and former sportswriter, tweeted. "Reinventing himself as some sort of marijuana-friendly, GOP voice of conscience is complete horseshit. Making money — that's all John Boehner cares about."
Boehner said that Trump had "abused the loyalty and the trust that voters had placed in him" during a Monday appearance on The View, calling it "one of the sadder things I've seen in the last 40 years in politics."
He added that he believed Trump's continued false claims of a "stolen" election were explained by the former president being "unemployed" and having "nothing else to do except to cause trouble."
Newsweek reached out to Boehner for comment.