Trump's Approval Rating Is Higher Than Only Three Presidents at the Same Point in Term
With slightly over a month left in office, President Donald Trump currently has a higher approval rating than just three other presidents, at the same point in their terms, according to a new poll.
The poll, conducted by Five Thirty Eight, has been tracking Trump's and other presidents' approval ratings since the beginning of their terms, using averages from various polls conducted across the U.S.
According to the poll, on his 1,425th day in office, Trump currently has an approval rating of 43.3 percent, and a disapproval rating of 52.5 percent. The poll also shows the approval and disapproval ratings for several other past presidents, and indicates that Trump's approval rating is higher than only three other presidents, on their 1,425th day in office.
The three presidents are George H.W. Bush, Jimmy Carter and Lyndon B. Johnson.
Bush (1989-1993) had an approval rating of 41.9 percent on his 1,425th day, according to the poll. Carter (1977-1981) had 33.7 percent. Johnson, who assumed the presidency after the assassination of John F. Kennedy and was in office from 1963 to 1969, had 38 percent on that day.
But Trump's approval rating on his 1,425th day in office is lower than that of Barack Obama, George W. Bush, Bill Clinton, Ronald Reagan and Richard Nixon, among others.
Meanwhile, at the same point in their presidencies, Carter is the only past president to have a higher disapproval rating than Trump's 52.5 percent. According to the poll, on his 1,425th day in office, Carter received a disapproval rating of 55 percent.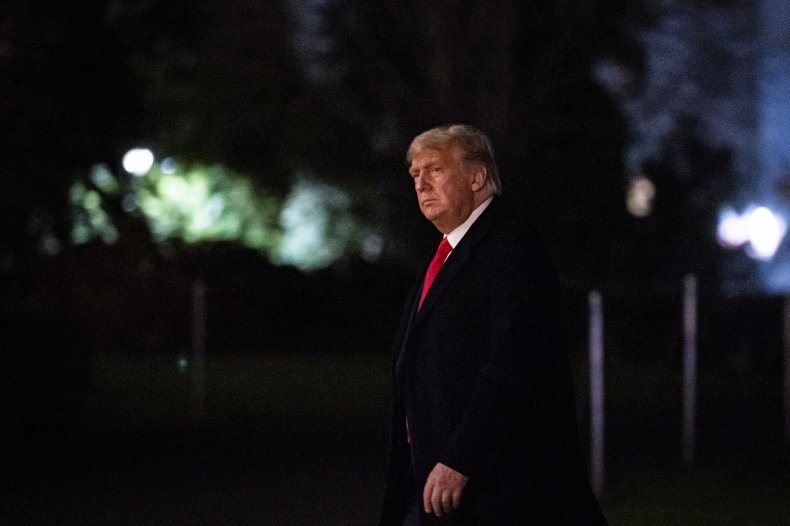 Past presidents such as Obama, Clinton, Bush, Nixon, Reagan and Johnson all received lower disapproval ratings than Trump at the same point in history.
The poll's findings come roughly five weeks before President-elect Joe Biden is set to be inaugurated on January 20 and amid the ongoing novel coronavirus pandemic, which has infected over 16.2 million Americans and caused nearly 300,000 deaths, according to data from Johns Hopkins University.
Following the results of the 2020 election, Trump's legal team and several Republicans have filed dozens of lawsuits across the country contesting the results and making unsubstantiated claims of widespread voter fraud. According to NBC News, among 56 lawsuits filed, including some not directly involving Trump, at least 46 have been denied, dismissed, settled or withdrawn.
On Friday evening, the Supreme Court rejected a lawsuit filed by Texas Attorney General Ken Paxton asking the high court to throw out the voting results in four battleground states: Georgia, Michigan, Pennsylvania and Wisconsin.
"Texas has not demonstrated a judicially cognizable interest in the manner in which another State conducts its elections. All other pending motions are dismissed as moot," the court wrote.
Newsweek reached out to the White House for comment but did not receive a response in time for publication.