Trump's Betting Manhattan Will Save His Business From Ruin
Former President Donald Trump plans to take the stand to defend his company against New York Attorney General Letitia James's $250 million fraud lawsuit that seeks to prohibit the former president and his three eldest children from ever running a corporation in the state again.
During Tuesday's court hearing, Trump's lawyer announced that he intended to testify in the civil case, which is set to go to trail on October 2, 2023, and that the former president would even like to have a jury trial over a bench trial in which a judge decides the verdict.
"They will be here," lawyer Alina Habba, who represents Trump and his company, told a judge, according to a Business Insider report. "All of them."
A possible appearance in court from Trump is unusual. Despite being at the center of several lawsuits since leaving the White House, he has avoided publicly testifying or even being privately deposed.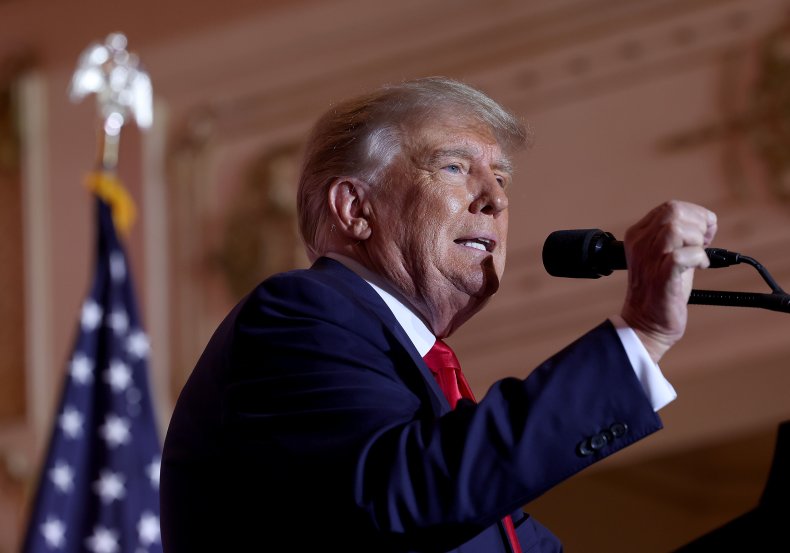 Former Federal Prosecutor Neama Rahmani told Newsweek he was "surprised" that Trump would want a jury trial in Manhattan, where jurors "tend to be liberal and have less favorable views of the former president."
However, Rahmani said the nature of the lawsuit could appeal to the demographic of Manhattan jurors, who might have a better professional understanding of what Trump is up against.
James is directly implicating Trump in the suit, alleging that fraudulent documents purposely inflated "were approved at the highest levels of the Trump Organization—including by Mr. Trump himself." Her lawsuit is not only seeking to punish Trump and his children with a massive fine but also cancel certificates for his businesses, impose wider oversight on the Trump organization and ban the Trump family from serving as officers or directors in any New York business.
"Trump's jury consultant is probably betting that Manhattan jurors are wealthier and have experience with complex financial transactions," Rahmani said.
He explained that "sophisticated" jurors might not convict Trump if they think the company's misstated value of assets were "innocent mistakes rather than 'cooking the books.'" On the other hand, "'Average Joe' jurors may have less experience with and have less sympathy for these types of financial errors."
Criminal defense lawyer Julie Rendelman added that having multiple people "with potentially differing views of the evidence" weighing in on the same case, which is the premise of a jury trial, could also make James' job more difficult than if the case went to a bench trial, where prosecutors would have to make the case only to the judge.
Carl Tobias, a law professor at the University of Richmond, told Newsweek that another reason Trump might be inclined to have a jury trial in New York is because he has lost fewer lawsuits in the state.
Despite those odds, the case is being presided over by New York State Supreme Court Justice Arthur Engoron, whom Trump has claimed to be biased against him. Earlier this year, Trump unsuccessfully fought to have Engoron taken off the case.
The case being brought by James is separate from the criminal trial that the Trump Organization is facing in regard to alleged tax fraud. The charges from the Manhattan District Attorney's Office does not directly implicate Trump and the trial has been ongoing since October.
Update 11/22/22, 4:05 p.m. ET: This story was updated with comment from Julie Rendelman.