Trump's Criticism of Steve Bannon's Border Wall Project Is a Change in Tune
President Donald Trump wasted no time Thursday distancing himself from Steve Bannon, a former White House adviser and campaign official, after he was charged with fraud and money laundering as part of an alleged scheme to raise funds to build a border wall.
Trump told reporters that he "didn't like when I read about" Bannon's We Build the Wall project and felt the private fundraising expedition was "showboating" meant to embarrass his campaign promise of erecting a structure along the entire length of the U.S.-Mexico border—an endeavor Trump has not come close to accomplishing near the end of his first term.
However, the president's stance on We Build the Wall is far more convoluted than he suggested, and Trump only condemned the group after negative news about it surfaced earlier this summer.
Bannon and three other men associated with We Build the Wall—a non-profit whose mission was supposed to be to raise money to privately help Trump carry out the campaign pledge—were charged with fraud and money laundering for allegedly funneling hundreds of thousands of dollars for personal expenses.
Since We Build the Wall's inception in 2018, Trump has not only done little to push back against Bannon's efforts, but several of the people involved in the project have ties to Trump—including Bannon, former Kansas Secretary of State Kris Kobach and Blackwater USA founder Erik Prince.
In addition, one of Trump's sons has given the organization praise; Kobach has said that Trump gave the group his blessing; and Trump pushed for the federal government to award a GOP donor with ties to We Build the Wall a major border wall contract.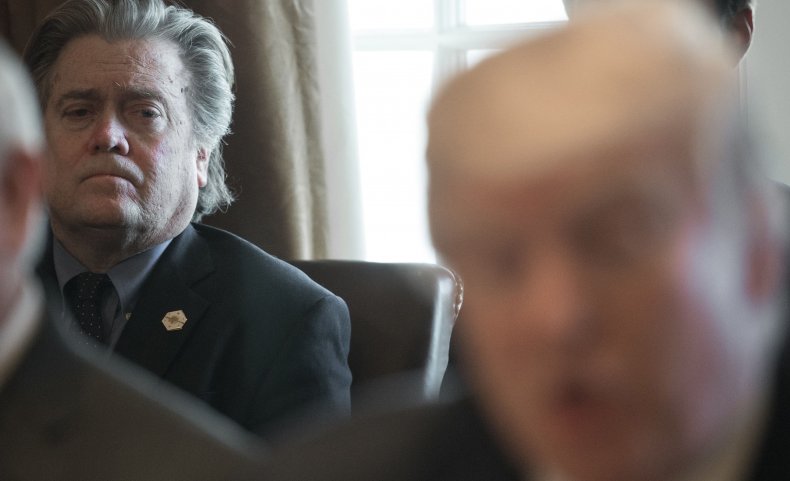 In a statement, White House Press Secretary Kaleigh McEnany highlighted a tweet from Trump last month that derided We Build the Wall. But the criticism came only after it was reported a segment they constructed earlier this year was already bearing signs of erosion.
"I disagreed with doing this very small (tiny) section of wall, in a tricky area, by a private group which raised money by ads," Trump tweeted July 12. "It was only done to make me look bad, and perhaps it now doesn't even work. Should have been built like rest of Wall, 500 plus miles."
Those remarks, as well as the president's comments on Thursday, fly in the face of previous claims and actions that suggest Trump did little to offer pushback and allegedly supported We Build the Wall's efforts.
Trump's eldest son, Donald Jr., has given the organization praise. He is promoted on the group's website for appearing at a 2018 event with Brian Kolfage, the man who started We Build the Wall and who was also arrested Thursday. Two additional men—Andrew Badolato and Timothy Shea—were arrested and charged for their involvement in the alleged scam.
"This is private enterprise at its finest. Doing it better, faster, cheaper than anything else. What you guys are doing is pretty amazing," Trump, Jr. said at the time.
Kimberly Guilfoyle, Trump, Jr.'s girlfriend and top Trump campaign official, also appeared at the event and was featured on the organization's website as saying the effort is "really impressive."
The Trump Organization characterized the praise as a one-time instance and emphasized Trump, Jr. "has no involvement with their organization."
"He never gave them permission to use him as a testimonial on their website and was unaware they included him as one until today's media reports about it," a Trump Organization spokeswoman told The New York Times in a statement. "His previous praise of the group was based on what he was led to believe about their supposed intention to help build the wall on our southern border and if he and others were deceived, the group deserves to be held accountable or their actions."
Kobach, now a Kansas Republican running for the Senate, is general counsel for We Build the Wall. He told The Times back in January 2019 that he was told by Trump that "the project has my blessing, and you can tell the media that."
A North Dakota construction company with a controversial past, that Trump pushed the federal government to award a $1.3 billion contract to build the wall, was also involved in We Build the Wall. Fisher Industries, run by GOP donor Tommy Fisher, who has appeared on conservative news networks, constructed fencing for We Build the Wall prior to his firm being given the contract.
Still, Trump assured reporters in the Oval Office on Thursday that We Build the Wall was something he never supported, while saying he felt "very badly" for his former confidant.
"I said, 'This is for government. This isn't for private people.' And it sounded to me like showboating," Trump said. "It was showboating and maybe looking for funds, but you'll have to see what happens. I think it's a very sad thing for Mr. Bannon. I think it's surprising."