Trump's Dangerous MAGA Kitsch | Opinion
September 17 marks the anniversary of the signing of the U.S. Constitution and is federally recognized as Constitution Day and Citizenship Day. As such, it is a day meant to recognize "all those who had attained American citizenship," and more recently, educate students and federal employees about the Constitution. Using that date as a backdrop, President Donald Trump announced that he will establish a "patriotic education" commission and an educational curriculum meant to let "our sons and daughters...know that they are the citizens of the most exceptional nation in the history of the world."
In doing so, however, Trump has highlighted not American exceptionalism but rather his fondness for political strategies used by regimes that America traditionally defines itself against.
Trump's speech specifically targeted critical race theory and the New York Times' award-winning 1619 Project on the enduring legacy of slavery in the United States, calling them a "crusade against American history" and "toxic propaganda, ideological poison that, if not removed, will dissolve the civic bonds that tie us together. It will destroy our country." As such, the announcement builds off Trump's recent campaign speeches and moves to gut federal training addressing persistent racism and sexism. It also adds to his multifaceted attack on American institutions and ideals in the name of ostensibly protecting those very things.
Considering the limited role that the federal government plays in education, Trump's "patriotic education" announcement was another act of political theater in an election year where the president is struggling to move attention away from COVID-19 and the economy. More precisely, though, it is a form of "political kitsch" that should be familiar not only to those who have followed Trump since his 2016 campaign but also those knowledgeable of life under oppressive regimes.
In writing about his native Czechoslovakia under Soviet control, the novelist Milan Kundera defines "kitsch" in The Unbearable Lightness of Being as a desire to erase everything in life that is found to be "essentially unacceptable." Kitsch's violent denial of all that is deemed unsightly and uncomfortable has long made it attractive to crusaders of various stripes—the more rigidly ideological the movement, the more attractive and powerful is kitsch's pull. "Political movements rest not so much on rational attitudes as on the fantasies, images, words, and archetypes that come together to make up this or that political kitsch," Kundera writes.
Smithsonian Secretary Lonnie G. Bunch III, who was the founding director of the National Museum of African American History and Culture, describes Trump's visit to the museum in his 2019 memoir. Trump officials told him the president "was in a foul mood and that he did not want to see anything 'difficult,'" Bunch writes. Not surprisingly, this week's executive order calls out the Smithsonian as one of the institutions espousing views seen as "contrary to the fundamental premises underpinning our Republic."
Trump's "Make America Great Again" campaign has always been defined by these impulses—the desire to remove "unacceptable" or "un-American" elements, both internal and external. They obstruct his path to an idealized, unblemished American past. "The Grand March is the splendid march," Kundera writes of this concept. "It goes on and on, obstacles notwithstanding."
The president's list of familiar obstacles has included the mainstream press and immigrants. As the election nears, he has added the Democratic Party, those protesting police violence and increasingly our electoral system itself.
In turning to education, Trump is focusing on another group with a history of being demonized in oppressive governments. Sometimes referred to abroad as the "intelligentsia"—or, in the president's words, those responsible for the "left-wing indoctrination in our schools"—they are seen as similarly unacceptable since they, too, complicate the national myth. They ask questions about our collective past, and they accurately state that the United States has always, and still does, struggle with the "self-evident" truth that "all men are created equal" and making "liberty and justice for all" a reality.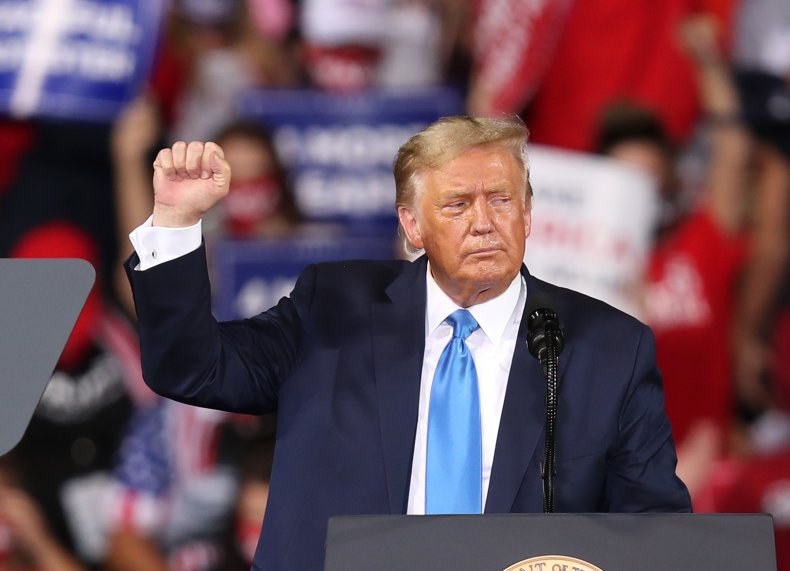 While Kundera's communist Czechoslovakia is separated from us by time, geography and ideology, the consistent underlying logic of kitsch bridges these divides and undermines the myth of American exceptionalism that Trump advocates. As Kundera writes, "In the realm of totalitarian kitsch, all answers are given in advance and preclude any questions. It follows, then, that the true opponent of totalitarian kitsch is the person who asks questions. A question is like a knife that slices through the stage backdrop and gives us a look at what lies hidden behind it."
Trump's persistent public statements call us to follow him in hugging and kissing the flag and brandishing the Constitution, while working to stop us from looking at them as more than props and pomp. To see them as more than symbols is to risk complicating them and giving them substance. Contemporary scholarship, popularized in journalistic efforts like the 1619 Project, pushes us to understand complexity, to face the historical roots of persistent national problems and to try to address them. To do these tasks honestly requires bravery, patriotism and hard work—American values that are antithetical to kitsch's comforting, if violent, fantasies.
Joshua C. Wilson is a professor of political science at the University of Denver. He is the author of The New States of Abortion Politics, The Street Politics of Abortion: Speech, Violence, and America's Culture Wars and most recently a co-author of Separate but Faithful: The Christian Right's Radical Struggle to Transform Law & Legal Culture.
The views expressed in this article are the author's own.