President Donald Trump declared he had "saved the suburbs" during a campaign event on Thursday in Wisconsin, the riot-hit state seen as crucial to his re-election bid.
In a pitch to his core demographic—older, white, and rural voters—Trump called for a ban on burning the American flag during protests and promised billions in aid for farmers disadvantaged by the coronavirus pandemic.
He also condemned sports stars and leagues for allowing demonstrations against racial inequality to go ahead.
Wisconsin is a crucial battleground state, one which Trump won only narrowly—by 22,748 votes, or less than 1 percent—in 2016.
But three polls out this week gave Democratic presidential hopeful Joe Biden a lead of between four and nine percentage points.
An ABC News/Washington Post survey carried out in Wisconsin September 8 to 13 of 605 likely voters put Biden on 52 percent with Trump trailing on 46 percent. The poll had a margin of error of 4.5 percent.
On his fifth visit to the state this year, Trump told a crowd gathered outside an aircraft hangar in Mosinee, central Wisconsin, that the Democrats wanted to "confiscate your guns...shut down the economy [and] destroy the suburbs..."
He continued: "Somebody said you're just doing OK in the suburbs, I said how can I do OK, I saved the suburbs, what I've done has saved the suburbs. I don't have to go into it, but I saved the suburbs."
His remarks were delivered just 200 miles from the city of Kenosha, which became a flashpoint for racial unrest this summer after a white police officer shot Jacob Blake, a black man, in the back seven times.
The shooting triggered days of protests, some of them violent, with hundreds of arrests and more than 20 businesses set on fire.
Trump has sought to use the protests in Wisconsin and across the country to bolster his appeal among voters fearful of further unrest, claiming without evidence that Biden supports riots.
Biden has condemned the violence and accused Trump of failing to denounce 17-year-old Kyle Rittenhouse, who is charged with killing two protesters and injuring a third in what his attorney says was self-defense.
Both candidates visited Kenosha amid the unrest. Biden met with community leaders and Blake's family, and spoke with Blake by phone. Trump didn't mention Blake by name or meet the family during his trip, and blamed the violence on "acts of domestic terror."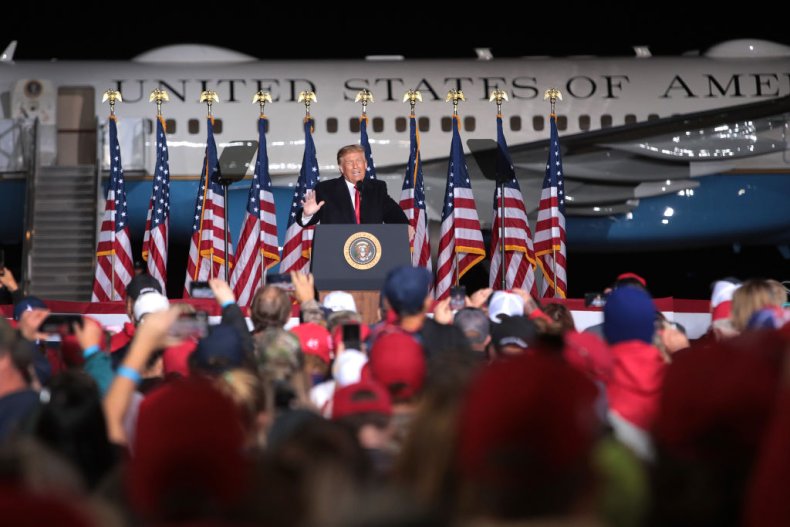 As unrest gripped some U.S. cities, the president has made law and order a central theme of his campaign in a bid to win over suburban voters in swing states like Wisconsin, and has falsely accused Biden of seeking to defund police departments.
"Biden will destroy your neighborhood and your American Dream. I will preserve it, and make it even better!" Trump tweeted in July.
Repeating that message, the president claimed last week that "America's Suburbs will be OVERRUN with Low Income Projects, Anarchists, Agitators, Looters and, of course, 'Friendly Protesters'" if he didn't win in November.
However, a Reuters/Ipsos poll found only 11 percent of white people living in suburbs listed the most important factor behind their vote as whether a candidate was "tough on crime."
That compares to 27 percent of suburban whites who said their priority was a candidate who could successfully tackle the coronavirus, 25 percent who said they wanted a president who would restore trust in government, and a further 19 percent who cited the economy and jobs as their number one concern.
The online poll of 1,358 American adults, including 859 likely voters, had a margin of error of 4 percentage points.
Biden, for his part, has accused Trump of stoking violence in U.S. cities. "He's rooting for more violence, not less, and is clear about that. And what's he doing? He's kept pouring gasoline on the fire. This happens to be Donald Trump's America," Biden said during a speech at the end of August.
Strategists believe Trump will need to do even better in rural and suburban communities in November than four years ago to overcome what is expected will be a large turnout among Democrat supporters in urban areas.
Several polls have pointed to a Biden lead among suburban voters, including one conducted by the USC Dornsife Center for Economic and Social Research, which found 53 percent of respondents said they would vote for Biden, compared with 40 percent for Trump.
The poll surveyed 6,240 suburban Americans from August 11 to 29 with a margin of error of plus or minus 4 percentage points.
Both Trump and Biden will target another battleground state on Friday when they visit Minnesota, which narrowly went to Hillary Clinton in 2016.