Trump's Deutsche Bank Financial Records May Never Be Made Public
The financial records of President Donald Trump Deutsche Bank reportedly handed over to prosecutors may never be made public unless they are called on as evidence in a trial.
The New York Times, which broke the story, also said that the German bank's compliance with the subpoena to provide Trump's personal and corporate tax records is part of an investigation still in its early stages. A legal expert has told Newsweek a release ahead of the November election is unlikely.
The office of the Manhattan district attorney, Cyrus Vance, issued the subpoena last year to the bank according to The Times, citing unnamed people familiar with the investigation. The move suggested a wider probe than the initial one into hush-money payments made in 2016 to two women who said they had affairs with Trump.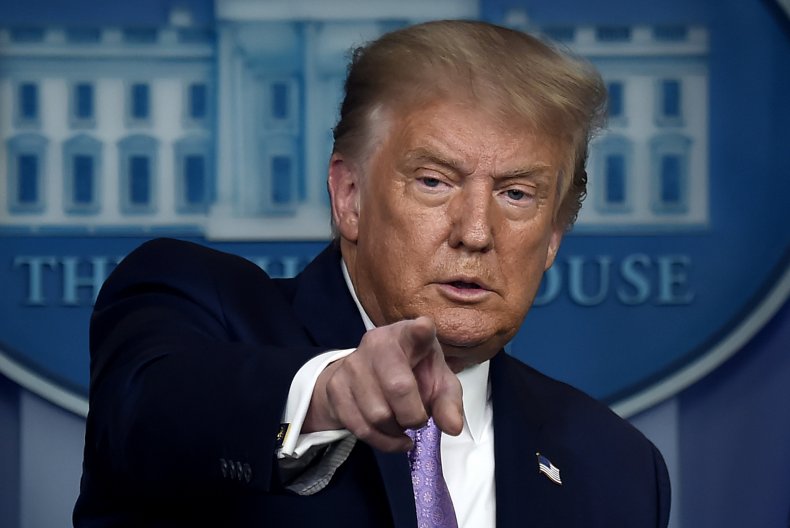 Prosecutors with the district attorney's office suggested it was looking at claims of bank and insurance fraud and that there were public reports of "possibly extensive and protracted criminal conduct at the Trump Organization."
But the records received by the Manhattan prosecutors are subject to grand jury secrecy rules and may never become public unless the district attorney's office brings charges and introduces the documents as evidence at a trial.
"Obtaining documents is usually one of the first steps of an investigation. Then the documents need to be analyzed and then witnesses need to be interviewed to ask them about the documents," former U.S. Attorney for the Eastern District of Michigan Barbara McQuade told Newsweek.
"If the case is complicated, sometimes more records need to be obtained. If charges are filed, we might learn what's in the documents, though the documents themselves would become public only at a trial and only if they are offered as exhibits," she added.
"I think public disclosure before the election is unlikely," added McQuade, who is also a law professor at the University of Michigan.
Even if investigators uncovered evidence of possible fraud, criminal charges could be hard to prove. Valuing real estate assets involves subjective estimates and other assumptions that would make it difficult to prove that someone intended to commit fraud, The Times reported.
McQuade believed that prosecutors already had Trump's Deutsche Bank records and needed documents from Trump's accounting firm Mazars to see whether they matched. This would prove useful in showing unexplained wealth or to show funds coming in from particular sources.
"Bank records can be extremely important in investigating any kind of financial case. We know from the testimony of [ex Trump lawyer] Michael Cohen that there is a basis to investigate bank fraud relating to Trump's interest in buying the Buffalo Bills," she told Newsweek.
"If Trump or others at the Trump Organization inflated assets to qualify for a loan, that could be evidence of fraud, which is defined as a scheme to obtain money by false pretenses.
"Tax records are often important as well to provide data to prove that numbers were inflated in loan applications. If revenues are inconsistent, an inference can be drawn that at least one of them is false," she said.
Trump has dismissed Vance's investigation, describing it as "the worst witch hunt in American history." Newsweek has contacted Deutsche Bank and the White House for comment.